This is AI generated summarization, which may have errors. For context, always refer to the full article.
Clashes lasted 'the whole day yesterday up to 9 pm,' says a military spokesman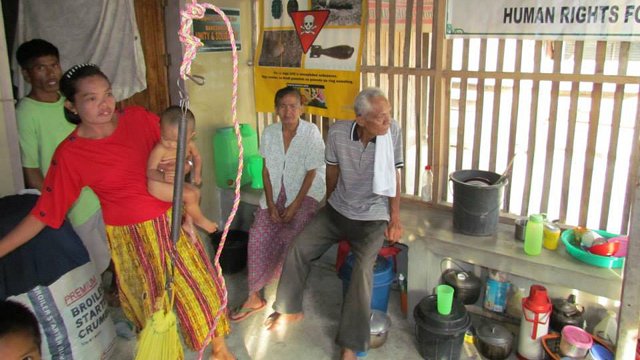 MANILA, Philippines (Updated) – Three child soldiers recruited by hardline Muslim rebels were among 53 people killed in a week of fighting with the Army, a military official said on Friday, January 31.
"They are employing child soldiers with guns and camouflage uniforms. When we encounter them, we cannot discriminate if they are children or not,"  said Colonel Dickson Hermoso, spokesman of the Maguindanao-based Army 6th Infantry Division.
He said that soldiers and local residents confirmed the 3 child soldiers were among the guerrillas buried soon after their deaths, according to Islamic custom.
Clashes between the military and the Bangsamoro Islamic Freedom Fighters (BIFF) in Maguindanao on Thursday, January 30, moved to the villages of Damabalas in Datu Piang town and Dasawao in Shariff Saydona Mustapha.
Clashes lasted "the whole day yesterday up to 9 pm," he said.
The death toll has risen to 53 including the child soldiers and one soldier. The BIFF denied the death toll.
The military offensive is scheduled to end on Saturday, February 1, but the military could ask for another extension depending on new developments. 
Hermoso also said at least 12 wounded BIFF are now getting medical attention in a clinic in Datu Piang.
Hermoso said they overran 2 more BIFF strongholds in the 2 barangays where they clashed – Damabalas and Dasawao.
On Wednesday, the military claimed it also captured BIFF strongholds in barangays Ganta and Bakat, both in Shariff Saydona Mustapha. (READ: Military captures BIFF strongholds, extends operations)
Thousands of residents were displaced by the military offensive. Hermoso said the residents were warned of the military offensive through the local government officials. (READ: Mindanao NGO to military: End operations vs BIFF soon)
Hermoso said they are verifying reports that at least one civilian may have been killed in the crossfire.
The BIFF is a breakaway unit of the Moro Islamic Liberation Front. Fighting erupted hours after the government successfully ended its peace talks with the MILF in Kuala Lumpur. The BIFF wants to pursue an "independent Islamic state." 
The website of the UN special representative on children and armed conflict said that it "continued to receive credible reports that the (BIFF) armed group was actively training and providing weapons to children." – with reports from Agence France-Presse