The CBCP president, Lingayen-Dagupan Archbishop Socrates Villegas, says critics of the Reproductive Health law should 'always be loving'
MANILA, Philippines – In the face of Catholics who reportedly threatened to padlock an international conference on reproductive health (RH), the head of the Catholic Bishops' Conference of the Philippines (CBCP) issued a gentle reminder: "Be loving."
In his first media conference as CBCP president, Lingayen-Dagupan Archbishop Socrates Villegas said the Catholic Church's position on the Philippines' RH law "has not changed, but the reaching out is added to it."
He took his cue from Francis, the Pope who, in the words of Time managing editor Nancy Gibbs, "has done something remarkable: he has not changed the words, but he's changed the music." (READ: Filipino bishops slam 'economy of exclusion')
Villegas told reporters on Monday, January 27, "We must stay by the truth, but we must always be loving as we stand for the truth."
"We might not see eye to eye, but we can work hand in hand for the good of the country. There will be many more disagreements, but let us not allow our disagreements to disunite us further, because we have enough disunity already. So let us look for the things that unite us. That is the spirit," said the archbishop, who once said contraception "corrupts the soul."
"So we still keep the position," he said, "that the Reproductive Health law will be harmful for the spirituality of our country, but we respect those who share a different opinion and, more than that, we reach out to them. And let us be friends beyond the RH law."
'Reach out to critics'
These statements came after Villegas, in a recent speech, said bishops should reach out even to critics – "more importantly those who disagreed with us on the RH law, those who hurl accusations at us, fairly or unfairly." (READ: CBCP head warns vs 'shabu of bishops')
On Monday, Villegas addressed a question on whether the Church has changed its position on the RH law, based on his speech.
The question also referred to the recently concluded Asia Pacific Conference on Reproductive and Sexual Health and Rights, which RH critics sought to stop by filing a petition before the Pasay City Regional Trial Court.
The petitioners said the conference pushes for abortion, and thus "insults and mocks" Philippine law. The court junked their petition.
Pasig Bishop Mylo Hubert Vergara, chair of the CBCP Episcopal Commission on Social Communications and Mass Media, said Villegas "responded so well."
Catholics 'lacking tact'
In a forum at the Loyola School of Theology in Quezon City, Vergara said Catholics, after all, should preach with "proactivity." For him, this means "we should really be a listening Church." (READ: Pope to bishops: Listen to those who left us)
"I acknowledge that there are lay people lacking tact and proactivity, more of reactive," Vergara said in the forum Wednesday, January 29.
"But you see, it also comes with the vine," he said. "There are bishops, too, who are like that. We have to admit that."
He said priests cannot simply "impose" Church teachings nowadays. (READ: Don't be imposing, Pope Francis tells priests)
Vergara said: "We have to be trained in how to communicate what would be the best way to express our stand. At the same time, you express your stand, you're firm, but you are perceived as a listener – like Pope Francis."
He recalled Pope Francis' memorable line on the lesbian, gay, bisexual, and transgender community: "If someone is gay and is searching for the Lord and has good will, then who am I to judge him?" (READ: Pope Francis is gay magazine's Person of the Year)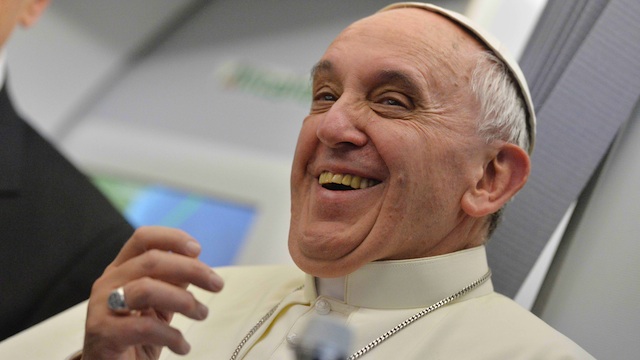 Focus on 'necessary things'
Vergara said of the Pope, "He's able to be firm with the stand of the Church, but he's able to welcome even diverse opinions."
Francis clearly revealed this characteristic in August 2013, when he granted an interview with Fr Antonio Spadaro, editor in chief of the Italian Jesuit journal La Civiltà Cattolica.
The first Jesuit pontiff said: "We cannot insist only on issues related to abortion, gay marriage and the use of contraceptive methods. This is not possible. I have not spoken much about these things, and I was reprimanded for that. But when we speak about these issues, we have to talk about them in a context."
"The teaching of the church, for that matter, is clear and I am a son of the Church, but it is not necessary to talk about these issues all the time," he said.
Francis added: "Proclamation in a missionary style focuses on the essentials, on the necessary things: this is also what fascinates and attracts more, what makes the heart burn, as it did for the disciples at Emmaus. We have to find a new balance; otherwise even the moral edifice of the Church is likely to fall like a house of cards, losing the freshness and fragrance of the Gospel.
"The proposal of the Gospel must be more simple, profound, radiant." – Rappler.com