A leader of a civil society group allied with the administration submits to Senate President Juan Ponce Enrile supposed bank transactions of Chief Justice Renato Corona
MANILA, Philippines – Kaya Natin lead convenor Harvey Keh on Monday, May 7, submitted to the office of Senate President Juan Ponce Enrile purported "transaction records" of Chief Justice Renato Corona's foreign and peso currency accounts.
"I put them in a brown envelope. I also wrote Senator Enrile. I said: 'I got these documents anonymously. I'm not sure of their authenticity. I am submitting them to your office for your perusal,'" Keh told Rappler. A staff received the records at 2 p.m., about the same time that the trial resumed after a long break.
Kaya Natin is a civil society organization advocating good governance. It backed the candidacy of President Benigno Aquino III in the 2010 presidential race and is one of the complainants in a recent forfeiture case filed against Corona with the Ombudsman.
Keh said he found the supposed bank records on Thursday, May 3, in the Kaya Natin office in Quezon City — about 50 pages of bank transaction records placed inside a long brown envelope that was addressed to him.
"When I opened it, I was surprised and shocked. I saw transactions records—the name of the bank, the name of the depositor Renato Corona, the deposits, the dates the account was opened, opening balance," he said.
The bank account numbers were not specified, however.
Keh said there were various banks but many of the records refer to Philippine Savings Bank's (PSBank) foreign currency deposits. Keh said he didn't immediately share the documents because he wasn't sure if they're authentic.
Heavy withdrawals

Keh said the transaction records covered the period January 2011 to December 2011. The total beginning balances of the dollar accounts, as of January 2011, amounted to about US$2 million.
Keh also noted heavy withdrawals after Corona was impeached on Dec 12, 2011, as revealed in the impeachment trial.
There were transaction records for peso accounts but Keh said he didn't compute them anymore because they were already divulged in the trial.
"If these records are authentic, we can safely assume that he did not file his SALN (Statement of Assets, Liabilities, and Net Worth) properly," Keh said.
Euro accounts, too?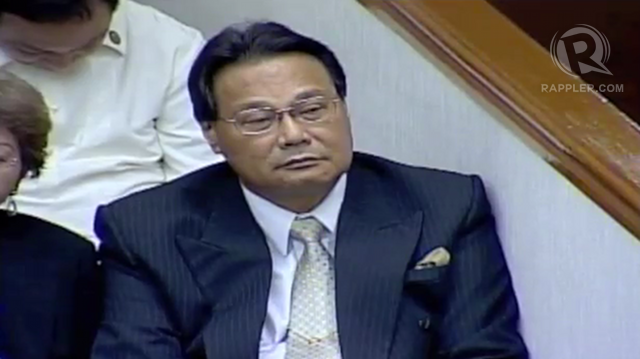 But what surprised Keh more were the euro accounts.
"There were transaction records for two euro accounts. Because there were heavy withdrawals, I looked at the highest amounts," he said.
Keh said one account had up to €116-thousand in one account and €56-thousand in another. Based on the current exchange rate of P55 to a euro, the combined balance is up to P9.5 million.
"I don't think I was the only one who received this," Keh said.
Last week, Rappler received some bank documents that appear to be Corona's. But we have been unable to verify their existence.
On TV Patrol Monday night, May 7, reporter Henry Omaga-Diaz broke a story on Corona's supposed dollar and euro accounts based on an interview with Keh.
Same style
The way Keh told Rappler how he got the documents sounds familiar.
Not too long ago, the prosecution team claimed it received from an "anonymous" source bank documents pertaining to Corona's peso accounts in PSBank. The documents were made as basis for a prosecution request for the impeachment court to subpoena the bank, and testimonies of bank officials later confirmed what's been stated in the documents.
Some details of Corona's peso and dollar accounts were already divulged in his impeachment trial.
As of Dec. 31, 2010, the Chief Justice had a balance of about P20-million with PSBank and P12 million with the Bank of Philippine Islands. The defense panel argued that a chunk of these deposits was not Corona's money. It supposedly belongs to Basa Guidote Enterprises Inc., the disputed family corporation of his wife Cristina.
PSBank president Pascual Garcia also confirmed that Corona had at least 5 dollar accounts in the bank. But the amounts were not disclosed because of a Supreme Court (SC) temporary restraining order (TRO) stopping him from further testifying on Corona's foreign accounts.
Voting 8-5, the SC cited the bank secrecy law, which expressly states that no foreign currency deposits may be examined without the "written permission of the depositor."
The prosecution panel appealed the SC decision, but the High Court has yet to act on it. The justices are scheduled to decide on the matter on June 26 yet. Based on the senators' own timetable, the trial would be over by then.
In a surprise development during the trial break, however, the Office of the Ombudsman launched an investigation on Corona after it received information that he has at least US$10-million in dollar deposits. Information on Corona's dollar deposits came out after the letter-order of Ombudsman Conchita Carpio Morales asking Corona to explain his wealth was leaked to the Philippine Daily Inquirer on April 29.
The Ombudsman got around the bank secrecy law through a waiver that Corona signed in his Statement of Assets, Liabilities and Net Worth (SALN). (Read: How Ombudsman got access to CJ's dollars)
Corona dismissed the Ombudsman's information as "phoney." He also argued that the Office of the Ombudsman has no jurisdiction over him.
But Carpio-Morales maintained that she has the power to investigate impeachable officials for purposes of filing an impeachment complaint. – Rappler.com
Click on the links below for more stories.