President Aquino seeks the support of nations around the world to back the Philippines' protest against China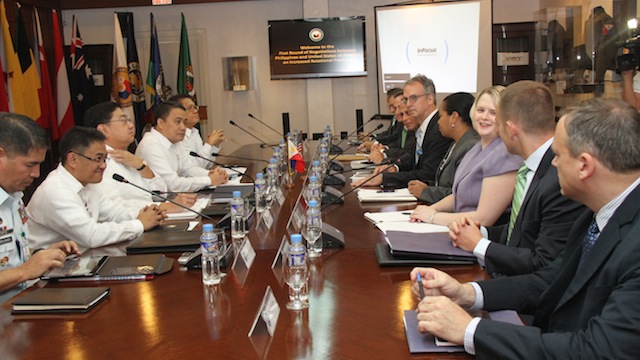 MANILA, Philippines – The Philippines and treaty ally United States are close to arriving at a military-to-military agreement allowing the increased presence of American troops in the Philippines and giving them more access to military bases here, a New York Times report quoted President Benigno Aquino III as saying.
"Mr. Aquino said he thought the Philippines and the United States were close to a long-delayed deal that would allow more American troops to rotate through the Philippines, enhancing his country's security," the US newspaper reported. (READ: Philippine leader sounds alarm on China – New York Times)
Negotiations between the Philippine and US panels resumed last week after an impasse last year. The Philippine panel opposed the US panel's condition that limits Filipino troops' access to temporary facilities that American troops will be building once the access deal is signed. The 2 countries also held informal talks last December. (READ: PH, US bases access talks reach impasse)
"Both sides arrived at common understanding on key issues such as security and related topics while clarifying their respective views on other matters," reads the joint statement of the defense and foreign affairs departments released Wednesday afternoon, Febuary 5.
The statement did not discuss the progress of the negotiations, however. Panel chairman Defense Undersecretary Pio Lorenzo Batino said "key fundamental principles underscoring Philippine sovereignty and interests were fully articulated and amplified."
"The Philippine Negotiating Panel will continue to articulate and promote our national values and interests and will remain guided by the principles of full respect for Philippine sovereignty, non-permanence of US troops and no US basing in the Philippines, mutuality of benefits and respect for the Philippine Constitution, including the prohibition against nuclear weapons," he added.
Defense Secretary Voltaire Gazmin earlier said the Philippines will insist on equal access to the facilities. Round 6 of talks will be held in March.
About China
The Philippines has sought the help of the US, a longtime ally, as tension with China over maritime disputes continue escalate. The request coincides with the US "pivot to Asia," a strategy through which the superpower hopes to retain influence in the region.
Aquino said the Philippines will not renounce any of its territory to China. 
Aquino also sought the support of nations around the world to back the Philippines' protest against China. He recalled how the world watched as Czechoslovakia was forced to surrender part of its territory to Adolf Hitler in an attempt to prevent World War II.
"If we say yes to something we believe is wrong now, what guarantee is there that the wrong will not be further exacerbated down the line?" Aquino told the New York Times.
"At what point do you say, 'Enough is enough'? Well, the world has to say it — remember that the Sudetenland was given in an attempt to appease Hitler to prevent World War II," he added. – Rappler.com