In her 15-page affidavit, Ruby Tuason depicts Senators Jinggoy Estrada and Juan Ponce Enrile as direct recipients of pork barrel kickbacks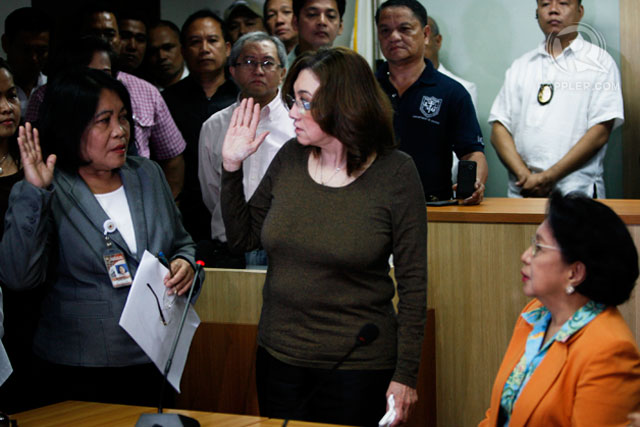 MANILA, Philippines – Described as "slam dunk evidence," Ruby Tuason's testimony is said to pin down Senators Jinggoy Estrada and Juan Ponce Enrile as direct recipients of kickbacks for bogus projects under their Priority Development Assistance Fund (PDAF). 
In her 15-page affidavit sworn to in California on February 4 and re-affirmed before the Office of the Ombudsman 3 days later, Tuason reveals what she knows about the two senators' supposed dealings with Janet Lim Napoles, the alleged brains behind the pork barrel scam. (READ: Pork Tales: A story of corruption)
The ex-aide of former president Joseph Estrada, father of Jinggoy, claimed to be the bagman for the shares of two senators from the illegal siphoning of taxpayers' money.
Philippine authorities questioned Tuason while in California. The transcript of this series of questions and answers later became her affidavit.
Rappler publishes excerpts from her sworn statement, with editor's notes in brackets to clarify certain references:
"I am not a public officer or employee, sir. Any reference to me as a Liaison Officer or Chief-of-Staff of a Senator is not true. I am not employed by any senator either in their private or public capacity."
"I personally know Senator Jinggoy Estrada. I was the Social Secretary of his father when he occupied the highest position of the land. I also know Senator Juan Ponce Enrile, we have been godparents in a wedding. His Chief of Staff, Atty Gigi Reyes, and I were friends before I even met Ms. Napoles."
"Sometime in 2004, my late husband, Mr Carlos Tuason, introduced me to Janet Napoles as a rich woman who might be interested in buying my house in Bel-Air Village, Makati City. On that occasion, Janet Napoles told me that she is into government contracts and requested that I introduce her to Senator Jinggoy Estrada and my other politician friends. Janet Napoles offered a referral commission for every deal she is able to close with the politician that I will refer to her."
"I could say that it [her relationship with Janet Napoles] became good professional relationship. We even invested in a company that would develop beach-front properties. For the purpose of handling the investment, I received small amounts of money from Janet Napoles from time to time to fund the acquisition of properties/expenses of the corporation. At one time, Janet Napoles borrowed my personal check with Metropolitan Bank and Trust Company for a down payment in her purchase of a condominium unit at South Garden, Pacific Plaza, the Fort, Taguig City. Janet Napoles immediately funded the check in the sum of Php 5.0 Million. As to our personal relationship, we became close when her mother Magdalena Lim passed away in 2008 because she asked me, which I obliged, to help her on the arrangement for the food during the wake. From then on, we attended mass together in her house in Forbes Park, Makati City and sometimes in her office at the Discovery Suites Ortigas, Mandaluyong City. She often invited me to parties and I frequented her condominium in the Pacific Plaza upon her invitation for lunch."
"I met them [Reynald Lim, Benhur Luy, and other employees under Napoles] during the course of my dealings with Janet Napoles."
"They know that I pick-up the shares of Senator Jinggoy Estrada and Juan Ponce Enrile, the latter, thru his Chief of Staff, Atty. Gigi Reyes."
"Sometime in 2004, I relayed to Senator Jinggoy Estrada that respondent Janet Napoles wanted to meet him regards his budget from his PDAF. At first, Senator Jinggoy Estrada refused to see Janet Napoles."
"On or about the same time in 2004, when I relayed the offer of Janet Napoles to Senator Jinggoy Estrada, I also relayed the same offer to the Atty Gigi Reyes, Chief-of-staff of Senator Enrile."
"At first, Atty Gigi Reyes refused to see Janet Napoles but agree to course the release of Senator Juan Ponce Enrile's PDAF following the same arrangement that Janet Napoles made to Senator Jinggoy Estrada."
"I know it because I personally received the share of Senator Juan Ponce Enrile from Janet Napoles and personally gave it to Atty Gigi Reyes… [She] picked it up personally in my house or in a restaurant where we agreed to meet."
"The restaurants where Atty Gigi Reyes and myself would meet for this are located in the vicinity of Pasay Road in Makati City or in The Fort, Taguig City."
"Atty Gigi Reyes would pick-up the money alone. I remember occasions when Senator Juan Ponce Enrile would join us when we were almost done, for a cup of coffee."
"He [Senator Enrile] did not stay long. After coffee, he would leave and sometimes he would come to pick up Atty Gigi Reyes."
"While the Senate was hearing the Fertilizer Fund scam, Janet Napoles said that she would be called to testify. So she asked me to introduce her to Atty Gigi Reyes so she could give her side of her involvement. After I introduced them to each other, they became close friends, as I would see them together in social functions." 
Tuason is now under the protection and custody of the DOJ. 
She left the country in August 2013 and flew back on February 7, after a month of long-distance coordination with Philippine law enforcers. – Rappler.com