Malacañang says imposing stiffer penalties on erring bus lines will be up to Congress, but thinks the cancellation of a franchise is a severe enough penalty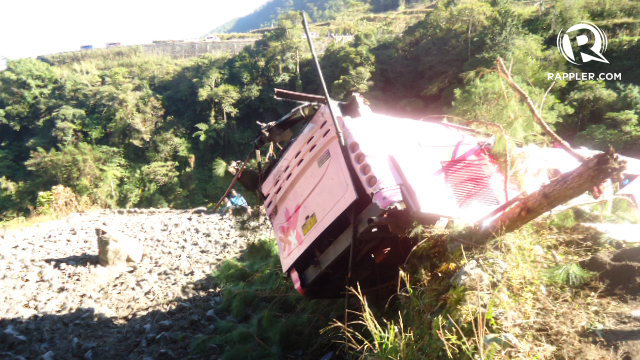 MANILA, Philippines (UPDATED) – President Benigno Aquino III is "very concerned" about the consecutive bus accidents that have resulted in tens of deaths for Filipino commuters in the past months, so much so that he will be calling a meeting among government agencies to discuss road safety issues.
On Monday, February 10, Presidential Spokesperson Edwin Lacierda said Aquino was bothered by the GV Florida Transport accident wherein one of its buses fell into a ravine in Bontoc, Mt Province, killing 14 people. (READ:14 dead in Mt Province bus accident)
"Road safety is a concern and so the President is concerned about this latest incident. And so he will be calling for a meeting of all the relevant government agencies with respect to road safety, and also with respect to our public transport," Lacierda said.
"He's very concerned with respect to the situation with respect to the buses, how things are happening despite the rules that we have in place," he added.
The Bontoc accident comes less than two months after a Don Mariano Transit bus fell off the southbound lane of the Metro Manila Skyway and fell on top of a van plying the West Service Road of the South Luzon Expressway below, killing 18.
A day after the Bontoc mishap, a jeepney accident in Abra killed 5 people and injured 33 others.
Despite the crashes, however, the Palace has no problem with Land Transportation Franchising and Regulatory Board (LTFRB) Chairman Winston Ginez, who Lacierda described as having taken a "proactive stance with respect to road safety."
"I think this is the first time where you saw the entire franchise of a bus transportation canceled, so he has been doing proactive measures to ensure road safety…. We have no problem with the performance of Chairman Ginez," he said.
The LTFRB has since suspended the operations of GV Florida Transport. The suspension will last 30 days and covers 228 buses of Florida and 10 buses of its partner company Mt Province Cable Tours. The companies have been ordered to explain within 72 hours why their franchise should not be cancelled.
Last month the LTFRB cancelled the franchise of Don Mariano because it failed to follow the terms and conditions of its permit, and neglected to ensure safety in its operations.
Franchise cancellation enough?
While the accidents have triggered calls for the possibility of stiffer sanctions for buses, the Palace said taking out a franchise is harsh as it is.
"In addition to legal, judicial actions that may be taken by the aggrieved parties, insofar as the government is concerned, you hit them where it hurts most to them insofar as profitability is concerned. We take out their franchise, they are not able to operate, and that's the very severe penalty on the bus franchises," Lacierda said.
He said stiffer penalties cannot be decided by the Palace and must be left with the members of Congress or other agencies, but said the cancellation of a franchise for now is enough.
"We make sure that they perform, comply with all the standards before they are allowed to operate. Remember that franchise is a privilege and it is not a right under our public transportation laws. And, therefore, by canceling their franchise, it's an effective way of telling them to shape up and for other bus companies to shape up," he said.
Senators want heavier penalties, too 
Like Aquino, lawmakers are also bothered by the series of road accidents and propose heavier penalties on erring bus drivers.
Senator Francis Escudero filed a bill seeking to impose stiffer penalties on bus drivers who commit criminal negligence in road mishaps. 
Under Escudero's Senate bill 123, bus drivers will face imprisonment of 20 years, compared to the one month to 4 years and 2 months imprisonment under the Revised Penal Code. 
"It is strongly [hoped] that an increase [in] penalty for criminal negligence committed by common carriers, especially buses, serves not only [as] a reminder to extant statutory duties to common carriers but as a means to put an end to recklessness and irresponsibility, which at times already appear intentional and malicious," Escudero said in the bill's explanatory note. 
Senator JV Ejercito also filed a bill requiring the installation of electronic speed "limiters" on public utility buses "to strictly enforce the speed limit provided by law."
Ejercito's bill mandates the LTFRB to administer the installation and monitoring of the buses with speed "limiters." 
The senator said the speed "limiter" will be programmed as follows:
at a maximum of 60 kilometers per hour for public utility buses traversing Epifanio Delos Santos Avenue 

at a maximum of 80 kilometers per hour for those traversing expressways such as the NLEX, SCTEX, TPLEX, SLEX, and Star Tollway, unless otherwise provided by law or ordinance. 
Bus operators who fail to comply with the mandatory installation will have to pay a fine of P100,000 and face suspension of the franchise until compliance.
Those tampering with speed "limiters" will have to pay a fine of P50,000 and face imprisonment of 6 months to one year. – with a report from Ayee Macaraig / Rappler.com