The permanent body consists of the Vice President, the Executive Secretary, and the secretaries of justice, foreign affairs, budget, health, labor, and social welfare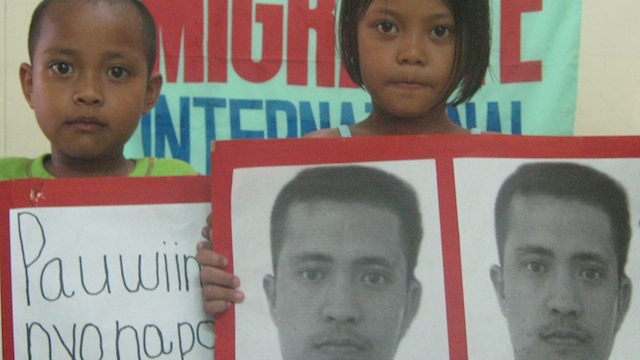 MANILA, Philippines – "We cannot allow our overseas Filipino workers (OFW), our fellow Filipinos to go abroad and leave them when there is a problem. That is unacceptable to the President."
On Monday, February 10 – the same day President Benigno Aquino III awarded outstanding government agencies and private companies in providing decent employment to OFWs – he met with Cabinet members to discuss the need for a clear policy on blood money.
"We know for a fact that our overseas Filipino workers have contributed a lot to our country and there are situations where, for one reason or another, a crime is committed and blood money is required especially in the Middle East nations," Presidential Spokesperson Edwin Lacierda said.
"The President wanted a response, wanted a clear-cut policy on that, and for that reason, the President formed a permanent committee to review each and every case and to come up with clear guidelines on how our government should deal when it comes to each and every case dealing with blood money," he said.
Malacañang said the permanent committee Aquino formed consists of the Vice President, the Executive Secretary, the secretary of justice, secretary of foreign affairs,secretary of budget and management, secretary of health, secretary of labor and employment, and the secretary of social welfare and development.
Lacierda said Aquino asked the committee to study and respond to "all facets of blood money," including who is eligible for blood money, why, and what type of other support the government can provide OFWs.
The committee is also tasked to study each and every case that requires blood money in the future.
In the morning meeting, however, Lacierda said the specific case of Filipino laborer Joselito Zapanta was not discussed. Zapanta is on death row in Saudi Arabia for killing his Sudanese landlord who he killed in a rental dispute in 2009.
He was given until Nov 3, 2013, to raise more than $1 million (around P40 million) to pay the landlord's family. The Philippine government has previously appealed for donations to raise the money to save Zapanta's life but the amount they have collected falls far short. Aquino is also said to have contributed a substantial amount.
About 6.3 million registered Filipinos work around the world, often in menial jobs yet earning much more than they could in the Philippines. Their remittances are a vital pillar of the country's economy and their welfare is often a hot political issue back home. – Rappler.com