From Day 1, President Aquino wanted to remove the Chief Justice, says lead defense counsel Serafin Cuevas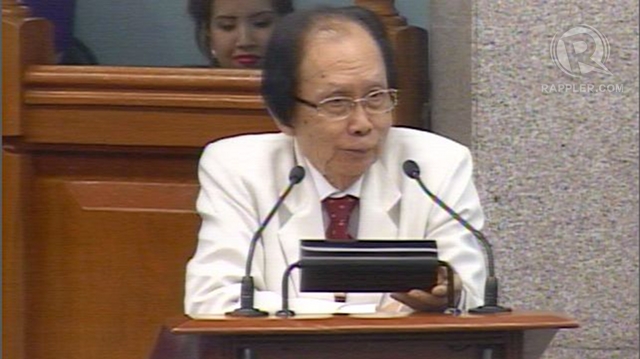 MANILA, Philippines – "It's the only remedy left," said lead defense counsel Serafin Cuevas. Chief Justice Renato Corona has to face the impeachment court or he will likely get convicted.
But when the Chief Justice takes the witness stand, he will drag President Aquino into the fray. The defense panel will cite each instance when the President tried to remove Corona from the High Tribunal.
"I will present him (Corona) to show that right from the very beginning, ayaw sa kanya. Wala pa siyang ginagawang mabuti o ginagawang masama, ang sabi aalisin na sya. Iisa-isahin namin yan," said Cuevas.
It is no secret that President Benigno Aquino III disapproves of Corona. A midnight appointee of former President Gloria Macapagal-Arroyo, Corona has been accused as a protector of Mrs Arroyo. Even as a presidential candidate in 2010, Aquino vigorously criticized his appointment. But the Supreme Court would later uphold Mrs Arroyo's power to appoint Corona during an election ban on appointments.
Aquino is also the first president in recent history who did not take his oath before a chief justice. In his June 30, 2010 inauguration, he did not even acknowledge Corona's presence.
The President took his oath before another SC justice then – Conchita Carpio-Morales, who is now Ombudsman.
Ironically, Carpio-Morales is the trigger for Corona's decision to testify.
In an April 20, 2012 letter revealed by the Philippine Daily Inquirer, she ordered him to explain his alleged US$10-M dollar deposits in various banks, as part of the Ombudsman's process of verifying his declarations in his previous Statements of Assets, Liabilities and Net Worth (SALN). Corona and his counsels have repeatedly said the money doesn't exist.
On Tuesday, May 8, the defense pulled a surprise and asked the impeachment court to subpoena Carpio-Morales to settle the issue once and for all.
Defiant
Amid all this, Corona has been defiant, engaging President Aquino in a long-running word war and accusing him of plotting to control the judiciary.
But Cuevas said Corona is already hurting from the allegations hurled against him and his family.
"He is emotionally involved. Every time we discuss the trial, he is losing his sobriety. Parang masama ang loob nya. Sa magaspang na pangungusap, nililibak na raw sya. Hindi lang siya pati kanyang buong pamilya," Cuevas said.
"I sympathize with him. I'm also a family man. I have kids. Kung kalaban ang buong gobyerno, kalaban mo presidente, saan ka pa pupunta?," Cuevas added. (If you're up against the entire government, where will you go?)
Cuevas maintained there is no prima facie evidence against Corona. He lamented how their arguments are supposedly unappreciated.
"It's a problem. We are speaking in highly technical matters," he said, noting that some senators-jurors are not lawyers.
The prosecution panel is confident that it will get a conviction based on Article 2 of the impeachment complaint—Corona's failure to accurately declare his assets in his SALN. The prosecution cited a number of Corona's real estate purchases and multi-million peso deposits that are not declared in his SALN.
Cristina Corona's corporation
The controversial Basa Guidote Enterprise Inc. (BGEI)—the disputed family corporation of Mrs Cristina Corona—had taken a central role in the defense of the Chief Justice. BGEI has an asset of P34.7-M following the 2001 sale of its lot in Sampaloc, Manila, to the Manila City Hall.
The defense has argued that this is the money that was deposited in Corona's peso accounts. It was not declared in his SALN because the money was not his, but BGEI's. A loan from BGEI also supposedly allowed them to buy at least one real estate property.
The BGEI money may be able to justify Corona's divulged peso deposits and real estate purchases, but the prosecution panel is asking for the money trail.
Suspicious of the defense's storyline, it is demanding for bank documents to show how BGEI's money found its way to Corona's accounts.
Defense: No US$10-million
But the Ombudman's investigation has complicated everything for the defense.
Carpio-Morales's order, revealed by the Philippine Daily Inquirer on April 29 but which has yet to be published in full, supposedly mentions at least US$10-M in deposits. This is equivalent to nearly half-billion pesos.
Corona dismissed the report on his alleged foreign currency deposits as "phoney." He also argued that the Ombudsman doesn't have jurisdiction over him.
But on Monday, May 8, Kaya Natin lead convenor Harvey Keh submitted to the office of presiding officer Juan Ponce Enrile purported documents of Corona's bank transaction records. The prosecution, which claimed they're in the dark about the Ombudsman investigation, wrote the court asking for a copy of Keh's letter.
Citing bank secrecy laws, the Supreme Court earlier issued a temporary restraining order (TRO) stopping the Philippine Savings Bank from testifying on Corona's foreign currency deposits. The Ombudsman got around this TRO through a waiver that Corona himsef signed in his SALN. (Read: How Ombudsman got access to Corona's dollar accounts)
The recent developments prompted the defense panel's decision to make the Chief Justice testify. But as a requisite to Corona's testimony, the defense panel asked the court to subpoena the Ombudsman and the complainants who prompted her investigation.
If they can't show evidence that it exists, Cuevas said the Chief Justice will have nothing to rebut. Cuevas is emphatic that the $10-million deposits don't exist.
"I'll start the cross-examination of all these affiants. They will appear to be merely 'chismis' and concocted stories," said Cuevas.
Keh and the other complainants have said they are willing to testify.
Worried about biased senators
The defense panel admitted they are taking a big risk in making Corona testify.
Cuevas said they are worried that the senators will give Corona a difficult time. "We are very much worried about that kind of eventuality," Cuevas said.
The defense team has complained about instances when the senators, not prosecutors, were able to extract testimonies detrimental to its client.
In February, Corona called on the SC to stop his impeachment trial because his right to due process was supposedly violated by the partiality of some senator-judges.
He identified 6 senators who have supposedly acted more like "prosecutors" than jurors. They are Senators Franklin Drilon, Francis Pangilinan, Teofisto Guingona III, Alan Peter Cayetano, Ralph Recto, and Sergio Osmeña III.
On Monday, his lawyers also asked Sen Edgardo Angara to inhibit as a judge because his son, Rep Juan Edgardo Angara, is one of the prosecution's spokespersons. – Rappler.com
 Click on the links below for more stories.