This is AI generated summarization, which may have errors. For context, always refer to the full article.
The chairman of the Senate committee on electoral reforms doesn't want anymore of the flaws that were used in sabotage and cheating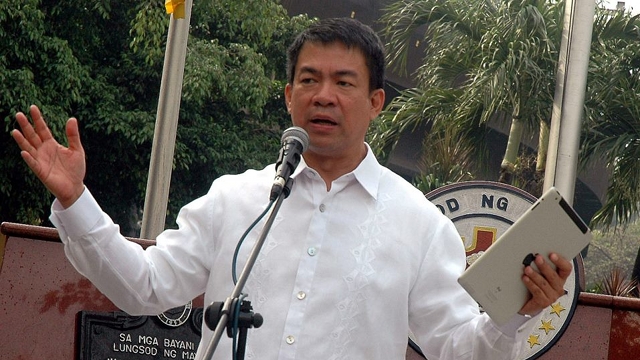 MANILA, Philippines – While the Commission on Elections (Comelec) has just told the House of Representatives options for the technology it might use for the 2016 elections, the chair of the Senate committee on electoral reforms has made up his mind what to suggest to the poll body.
Senator Aquilino "Koko" Pimentel III, in a statement on Friday, February 14, supported the idea of replacing the precinct count optical scan (PCOS) machines with newer technology to ensure the credibility of the 2016 polls.
Pimentel's committee will be conducting a hearing on various election issues on Monday, February 17.
He said flaws and vulnerabilities in the country's previous automated elections "should be addressed to protect the next elections from sabotage or attempts to favor a candidate."
"Accuracy should never be sacrificed to ensure clean, honest and credible elections. Elections are only democratic if they are truly free and fair," said Pimentel, who was himself a victim of electoral fraud during the 2007 midterm elections. (READ: Pimentel, Zubiri slam each other in 2013 election campaign)
Pimentel noted the technical glitches that marred the use of PCOS machines during the 2013 midterm polls.
For instance, he recalled that the PCOS machines "failed the specified minimum accuracy rate of 99.995% or a maximum error rate of .005%" when tests were conducted to determine their accuracy. It registered a 99.975% accuracy rate in a random manual audit (RMA) one month after the polls.
He said that during the 2013 polls, some PCOS machines were found to be defective. Comelec said, however, that only 1,297 out of 78,166 PCOS machines – or 1.7% – malfunctioned on election day, and replacement units were promptly deployed.
Pimentel also raised concerns on the condition of the used machines because of wear and tear.
He added that the Comelec is "responsible and accountable for the fate of the PCOS machines once a decision is reached not to use them in the next elections to save every centavo government had invested in the machines."
"The gains of electoral reforms, among them the full automation of elections, must be preserved and protected, but a fraud-free electoral system must be sought to safeguard the true will of the electorate," said Pimentel.
Comelec on February 10 presented its report on the conduct of the 2013 elections to the Joint Congressional Oversight Committee (JCOC) on the Automated Election System.
It proposed 3 options on what to do with the PCOS machines; one of their options is to replace it with direct-recording electronic (DRE) voting machines. (READ: Depending on technology, 2016 polls to cost P7B to P60B)
DRE voting machines, which use touchscreen technology, were first used together with optical mark reader (OMR) machines during the 2008 ARMM elections.
The automated PCOS machines, supplied by Smartmatic-TIM, were first used in the 2010 national elections. Comelec bought the machines from Smartmatic-TIM in 2012 for use in the 2013 midterm polls. – Rappler.com