The 'nautical road,' said Recto, would help alleviate the 'carmaggedon' that will be caused by 15 major road construction projects in Metro Manila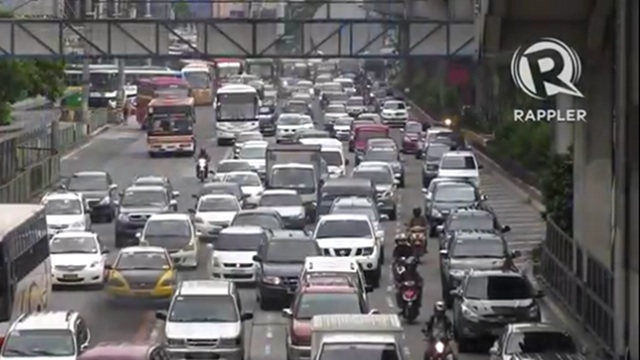 MANILA, Philippines – With the threat of heavier than usual traffic in Metro Manila, Senate President Pro Tempore Relph Recto gave President Benigno Aquino III a suggestion: look out your window.
In a statement released Monday, February 17, Recto urged the President to tap "standby funds" to revive the Pasig River ferry service. The "nautical road," said the senator, would help alleviate the "carmaggedon" that will be caused by 15 simultaneous major road construction projects from 2014 to 2016.
The first major road project – the Skyway Stage 3 – begins contruction Monday, February 17 at 10 pm. 
A ferry service used to operate along the Pasig River, but was shut down in 2011 due to losses. Recto said government shouldn't wait for the private sector to re-open the service.
"Kung hihintayin natin ang private sector, baka tapos na ang mga road projects, ni isang anino ng ferry wala pang lumulutang," said Recto. (If we wait for the private sector, the road projects might be over before we see a ferry in operation.)
The senator said the government could tap the President's P1 billion contingent fund and the P140 billion unprogrammed fund in the 2014 national budget. Tapping the funds are justified, said Recto, because "any monstrous traffic which inconveniences millions fits the definition of an emergency."
Recto added that if the government can subsidize the Metro Rail Transit (MRT) and the Light Rain Transit (LRT), there was no reason it could not shoulder the costs of a ferry service.
The government will increase fares for the MRT and LRT so funds could be "used for other social services." Many have reacted negatively to the planned increase.
Any costs incurred by re-opening the river ferry system, said Recto, would be offset by "billions of pesos" that might be lost because of Metro Manila gridlock. According to a study by the National Center for Transportation Studies, Metro Manila traffic cost the country P137.5 billion pesos in 2011.
The idea of reviving the river ferry system is not new. The Commission on Audit in 2012 urged the Pasig River Rehabilitation Commission to revive the system, because the government was still paying off a P181 million loan obtained from the Asian Development Bank to construct the ferry stations.
In January 2013, Ayala Land floated plans of reviving the ferry service. 
The Metropolitan Manila Development Authority (MMDA) also announced plans to re-open the ferry service by April this year. MMDA Chairman Francis Tolentino told Rappler that no concrete plans have been laid out, and that the proposal would be discussed in detail by March 2014.
Tolentino earlier suggested shortening schools weeks in Metro Manila help ease heavy traffic. – Rappler.com