The President says exempting the online medium from libel when TV, radio, and print media can be subject of it 'gives unequal protection to violators'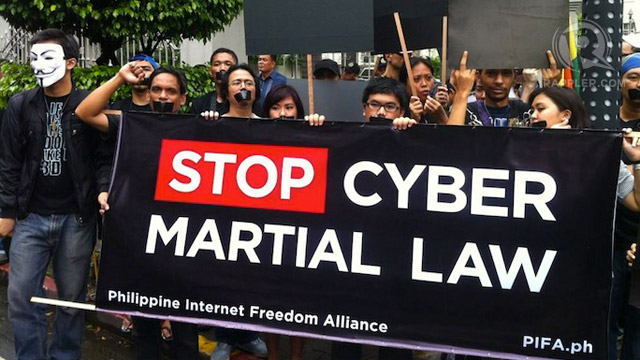 MANILA, Philippines – President Benigno Aquino III does not think the goal of criminalizing online libel is to suppress freedom of expression.
On Wednesday, February 19, Aquino expressed support for the Supreme Court's decision a day earlier, ruling online libel constitutional on certain conditions.
"Will it prevent freedom of expression? I don't think that's the goal," the President said, adding all rights have limits and cannot "impinge on the rights of others."
He also said it does not make sense to exempt the Internet from libel just because it is a different medium. (READ: The road to the Cybercrime Prevention Act of 2012)
"So if there's something wrong in what you say on TV or radio, or what you write in newspapers or magazines, if you move formats, should you be exempted? I don't think you would agree with that. Why? Because that gives unequal protection to violators," he said.
"Let me repeat: if what you said is true, then why would you be unnerved by the issue of libel?"
Watch this video below.
On Tuesday, the Supreme Court upheld as constitutional most provisions of the Cybercrime Law, including the hotly-debated issue of online libel subject to one condition: it only applies to the original author and not netizens who share or react to a defamatory post.
But critics say the ruling is a huge step back for freedom of expression.
Bayan Muna Representative Neri Colmenares said his group was "very disappointed" with the ruling on online libel. He said he will file a motion for reconsideration.
Other lawmakers, like Senators Francis Escudero and Juan Edgardo Angara, said there is no need to appeal the decision or repeal the law. Instead, Congress' next move should be to decriminalize libel, meaning remove the prison penalty.
Under the Revised Penal Code, people found guilty of libel will be fined and imprisoned for 6 months for every count of libel committed. 
International groups like the United Nations Human Rights Council urged the Philippines to decriminalize libel, saying the prison penalty is excessive and violates freedom of expression. – Rappler.com