This is AI generated summarization, which may have errors. For context, always refer to the full article.
The Commission on Appointments confirms the promotion of 2 generals controversial for their alleged human rights violations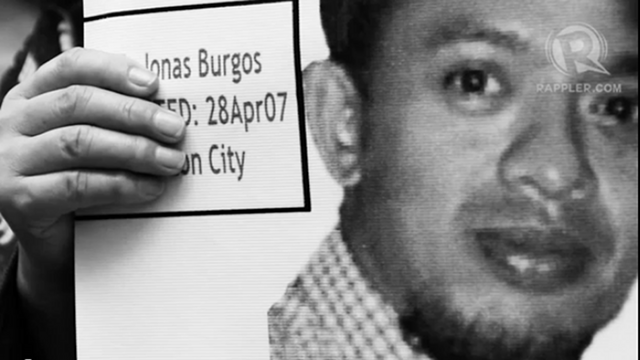 MANILA, Philippines – The Commission on Appointments (CA) confirmed on Wednesday, February 19, the promotion of 2 generals controversial for their involvement in human rights cases.
Major General Eduardo Año, the chief of the Intelligence Service of the Armed Forces of the Philippines, was tagged in the 2007 disappearance of activist Jonas Burgos.
Major General Aurelio Baladad of the 3rd Infantry Division based in Capiz province was the commanding officer of the Army brigade that arrested the so-called "Morong 43."
CA member Cagayan De Oro Representative Rufus Rodriguez questioned the promotion of Baladad on grounds that he is facing pending cases before the Ombudsman. But he was prevailed upon by other members.
Watch this report below.
Baladad replied: "We submitted our affidavits to the CHR (Commission on Human Rights), regional trial courts and DOJ (Department of Justice) in connection with the said cases. This is in connection with the arrest of the Morong 43."
"Morong 43" is the group arrested in February 2010 in Morong, Rizal, tagged by the military as New People's Army members conducting explosives training. Cause-oriented groups such as Karapatan insisted they were health workers training poor villagers, and who were tortured in detention by their soldiers.
Most of them had already been released on President Aquino's orders.
Senator Antonio Trillanes IV, a former Navy officer, defended the 2 general's confirmation. He said the issues against them were already discussed and "exhausted" during the confirmation hearings for their previous rank as brigadier general. 
Baladad and Año were confirmed with 16 other generals.
Below is the complete list of officers confirmed Wednesday:
1) Bayani Gaerlan to grade of Commodore
2) Edmundo Pangilinan to grade of Brigadier General 
3) Roger Salvador to grade of Brigadier General
4) Gregorio Catapang Jr to grade of Lieutenant General
5) Jose Renan Suarez to Rear Admiral 
6) Jet Velarmino to Major General
7) Virgilio Hernandez to Major General 
8) Eduardo Año to Major General 
9) Gerardo Barrientos Jr to Brigadier General
10) Vic Castro to Brigadier General
11) Raul Ubando to commodore
12) Manuel Gonzales to Brigadier General 
13) Alex Capiña to Brigadier General 
14) Hilario Frigillana to Colonel, PAF (reservist)
15) Patrick de Leon to Colonel, medical corps (reservist)
16) Aurelio Baladad to Major General
17) Caesar Taccad to Rear Admiral 
18) Ricardo Jalad to Brigadier General
 – Rappler.com