This is AI generated summarization, which may have errors. For context, always refer to the full article.
Educators say government should instead phase out old vehicles or intensify road constructions on weekends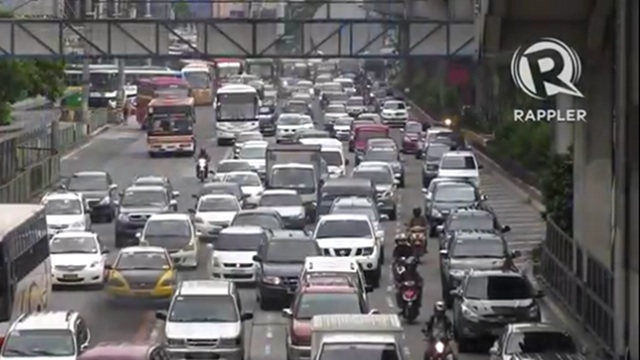 MANILA, Philippines – "'Di naman kami ang nagko-cause ng traffic." (Schools are not the ones causing traffic.)
This was how the private education sector on Thursday, February 20, expressed their concern over the proposal of Metropolitan Manila Development Authority (MMDA) for a 4-day school week to ease traffic in Metro Manila.
This is not the solution to the problem, officials of the Coordinating Council of Private Educational Associations (Cocopea) said, suggesting instead of practical and concrete ways to address the metro's traffic woes, such as making people obey traffic rules and phasing out old vehicles.
But the decision to shorten school weeks, the group said, should be left for the affected schools to make.
"It disrupts the normal run of things in education…. If you have these problems, let the schools deal with it. Let them have their own adjustments," Cocopea vice chair Narciso Erguiza. The proposal is the "wrong response to a problem."
He also urged a more proactive way of responding to situations that affect education in the country.
MMDA Chairman Francis Tolentino earlier said the proposed 4-day school week – which his agency is copying from at least 21 states in the US – can "[lessen] traffic congestion and [reduce] education and energy costs." (READ: 4-day school week to ease Metro traffic?)
Heavier Metro Manila traffic is foreseen in the next few years as the construction of Skyway Stage 3 began this week, with at least 14 more projects lined up for construction. (READ: Traffic? Brace for more, check this list)
Find other ways
The Commission on Higher Education said a 4-day school week in higher education is "an interesting possibility" that needs to be studied and planned carefully.
Education Secretary Armin Luistro this week announced the creation of a task force that will look into the proposal. If implemented, the new schedule will begin next school year, and will only apply to schools affected by the projects. (READ: Palace backs carpooling, working from home to ease traffic)
But the implementation of the proposal only in specific areas is also not practical, said Antonio Abad, corporate secretary of Cocopea, since not all students necessarily live near their schools.
Instead, better traffic management should do the trick. Abad suggested the phasing out of old vehicles that are 10 to 20 years old to decongest the metro's already narrow roads.
Erguiza, meanwhile, said the Department of Public Works and Highways can intensify construction during weekends, minimize work during weekdays or at least do them at night rather than day.
Education first
Joseph Noel Estrada, the association's legal counsel, said schools can help in many other ways, like conducting research on how to improve traffic.
"Educational institutions should not be looked upon as public utilities where the government can simply shut it down whenever it pleases," he added.
Vicente Fabella from Cocopea member-association Philippine Association of Colleges and Universities noted that slicing 20% of the school week means slicing 20% of a student's contact time with the teacher – a factor "highly correlated to learning."
The school calendar of the Department of Education consists of 200 school days, including 20 buffer days for class disruptions. A minimum of 180 days contact time (or 45 contact days a quarter) is required in both elementary and highschool. – Rappler.com