Brigadier General Noel Miano is suspended on the same day the case filed by his former part-time secretary was docketed at the Sandiganbayan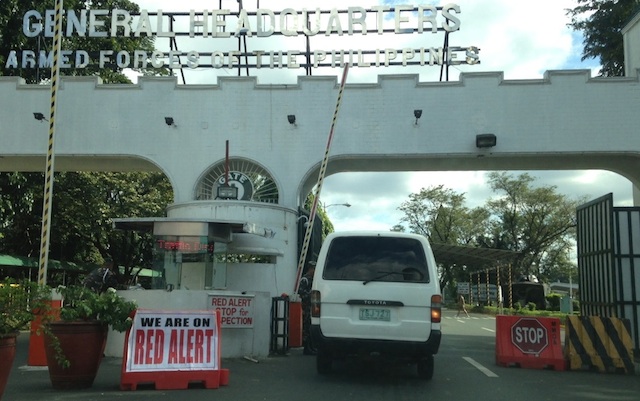 MANILA, Philippines – The military announced the suspension of Brigadier General Noel Miano on Thursday, February 20, the same day the sexual harassment case filed against him was elevated to the Sandiganbayan. 
"He is suspended and he is serving his 6 months suspension," said Armed Forces spokesperson Lieutenant Colonel Ramon Zagala. Miano was relieved as the commanding officer of the AFP Munitions Control Center in Camp Aguinaldo.
Records submitted by the Office of the Ombudsman show the case was filed by a female part-time secretary who was also a classmate of Miano's daughter. She said it happened in March 2011 when she was alone with the accused during a trip in Lucena City. 
The complainant claimed Miano suprised her by kissing her nape and brushing his arm against her breast. She said he also groped her chest and thighs.
Miano denied her allegations in a counter-affidavit. He said he hired the complainant to help her family out of financial difficulties. But the prosecution dismissed his explanation.
"(Miano) himself admitted that the complainant's father challenged him to a duel, which is a natural reaction coming from the father of a victim," the Ombudsman said in its decision to indict the general.
The prosecution said Miano violated Republic Act 7877 or the Anti-Sexual Harassment Act of 1995. He took advantage of his position as senior military officer to solicit sexual favors.
A 1981 graduate of the Philippine Military Academy, Miano is a classmate of Armed Forces chief of staff General Emmanuel Bautista.
The Office of the Ombudsman filed the case last week, February 14, but it was only docketed at the Sandiganbayan on Thursday. – Rappler.com