This is AI generated summarization, which may have errors. For context, always refer to the full article.
Extending the privilege to others sectors – such as call center agents and doctors – has been suggested, but poll watchdogs are wary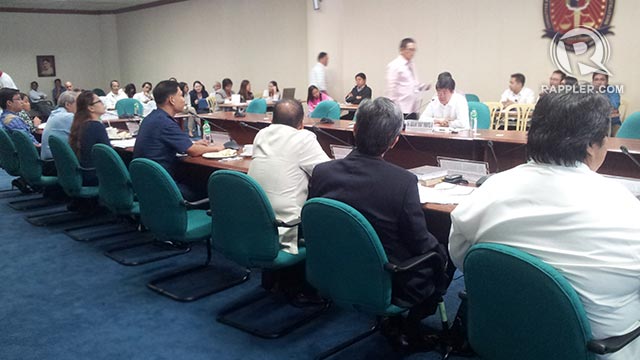 MANILA, Philippines – Lawyers and staff of electoral candidates who cannot vote on election day due to election duties might be allowed to vote early in the 2016 polls, if two Senate bills would be approved.
Senate Bill 1440, introduced by Senator Miriam Defensor-Santiago, seeks to extend local absentee voting to members of the Integrated Bar of the Philippines (IBP).
Senator Lito Lapid filed Senate Bill 924, seeking to provide local absentee voting for the electoral staff of national candidates and national political parties. Electoral staff are employees or volunteers assisting a candidate or political party in election-related activities. 
These were discussed during a Senate electoral reform committee hearing, chaired by Senator Aquilino "Koko" Pimentel III, on Thursday, February 20.
The IBP fully supports SB 1440, with deputy general counsel Manuel Buenaventura saying that some lawyers who monitor the conduct of elections are stationed in areas far from their polling precincts, making them unable to vote.
Buenaventura suggested, however, that lawyers be allowed to vote for local officers as well. The law allows absentee voters to vote only for national positions, including the party list.
Meanwhile, lawyer Marjorie Martin, deputy director for legal affairs of the ruling Liberal Party (LP), supported both Senate bills.
"We are giving them the chance to exercise their right to vote. It is a fundamental right that we should give them. At the end of the day, they are Filipinos, and they are entitled to vote," she said.
Currently, only soldiers, policemen, members of the board of election inspectors (BEI), and media practitioners can avail themselves of absentee voting arrangements. Overseas Filipino workers avail themselves of the overseas absentee voting (OAV).
Why not early voting for all?
During the hearing, absentee voting was mulled for call center employees and medical practitioners. Prison detainees and people confined in homes and hospitals due to illness were also suggested.
Due to this, Parish Pastoral Council for Responsible Voting (PPCRV) vice chairman Johnny Cardenas said that extending local absentee voting to too many people may pose a problem.
"How many of these kinds of voters would we allow? Maybe we have to review how many are involved, and see how safe would it be if we allow it," he said.
This also led to the proposal that early voting be made available to all registered voters.
"We realized that there are various laws on extending this right to a particular sector or group. Why not open it to all voters, for them to have the right to early voting or advanced voting?" asked Eric Jude Alvia, secretary general of the National Citizens Movement for Free Elections (Namfrel).
Pimentel said there is a difference between early or advanced voting and local absentee voting. Early voters can vote for all elective positions, while local absentee voters are limited to national candidates.
He also noted that no Senate bill has been filed yet for early or advanced voting. However, there is a House bill for this, which was filed by Cagayan de Oro Representative Rufus Rodriguez, according to Ramon Casiple, executive director of the Institute for Political and Electoral Reform. – Rappler.com