Sarmiento was never involved in or complicit to any human rights violations, says Justice Secretary Leila de Lima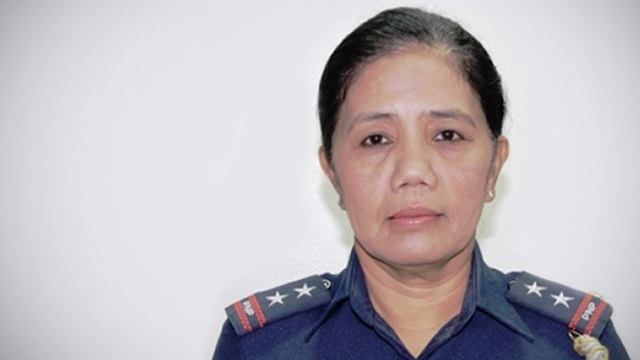 MANILA, Philippines – Justice Secretary Leila de Lima defended police general Lina Sarmiento, following criticism that she is not fit to head the newly-convened claims board for human rights victims during Ferdinand Marcos' Martial Law regime.
In a statement released Thursday, February 20, De Lima said Sarmiento has a sterling track record in the Philippine National Police (PNP) where she retired January 2014 – months ahead of her mandatory retirement in September.
Sarmiento made history at the PNP, being the first female two-star general. It is her tenure at the PNP, however, that's drawing flak.
Critics – including leftist lawmakers Neri Colmonares and Carlos Zarate – maintain Sarmiento shouldn't have been considered for the post in the first place.
"Gen. Sarmiento was a member of the Philippine Constabulary (PC) and later PNP during martial law, and we are sure she has tolerated the many tortures which were openly done during martial law… Now, the one who will approve my application for recognition as a human rights violations victim was a member of the very organization that tortured me? This is absurd," Colmenares said.
The PNP is a civilian organization that abolished the PC, which was part of the military. Many officers in the defunct PC led a military revolt that triggered the 1986 EDSA revolution that toppled the Marcos dictatorship. They include former PC chief Fidel Ramos, who became president in 1992.
Presidential spokesperson Edwin Lacierda on Monday, February 17, said Sarmiento "was not a part of the leadership during Martial Law. In fact, none of the present PNP leaders were members of the dreaded PC. What I mean, they are not part of the leadership of the PC then. And Lina Sarmiento is viewed as a reformist – she is known as a security sector reformist."
Colmenares, who was an 18-year-old student-activist under Marcos, is one of the authors of the Human Rights Compensation law or Republic Act (RA) 10368 enacted in 2013. 
RA 10368 provides compensation for activists who were imprisoned, tortured, or whose relatives disappeared during the dictatorial regime.
Standards in place
De Lima said she understands "how some sectors feel about the choice on account of her coming from the PNP," but added that Sarmiento was never involved in or complicit to any human rights violations.
De Lima chaired the Commission on Human Rights (CHR) in 2008 when Sarmiento was head of the PNP Human Rghts Affairs Office.
Colmenares and Zarate earlier cited cases of abuses Sarmiento allegedly had a hand in, including her alleged refusal to investigate the 2007 case of 32-year-old Renante Romagus. Romagus is said to have survived detention and multiple stabbing by men in military uniform.
"Gen. Sarmiento openly defended former President Gloria Arroyo from charges of human rights violations and extra judicial killings, practically tolerating the human rights record of the Arroyo regime," Colmenares added. "Surely, this is a violation of the criteria requiring a member of the compensation board to have a clear commitment to human rights protection and promotion."
But standards were in place in choosing the members of the board, De Lima said.
Geographical diversity, immersion in human rights advocacy work, and other legal requisites were considered in the nominating process, she explained. De Lima was among those who presented a short list of nominees to President Benigno Aquino III.
HR advocacy work
De Lima said the board is "devoid of any agenda" except "truth, justice, reparation and remembrance."
Rappler's own check showed that the 8 other appointees to the board have background in human rights work.
Other members of the claims board include:
Wilfred Asis, 

member of the Free Legal Assistance Group (FLAG)

Galuasch Ballaho, 

member of the Mindanao Human Rights Action Center

Byron Bocar, lawyer who worked for the CHR

Jose Luis Martin Gascon, 

Undersecretary for Political Affairs and member of the government peace panel in peace talks with the National Democractic Front

Glenda Litong, 

member of FLAG and the Women's Legal and Human Rights Bureau Incorporated.

Jacqueline Veloria Mejia, 

CHR Executive Director

Aurora Corazon Parong, 

Amnesty International section director

Erlinda Senturias, 

HIV consultant at Christian Conference of Asia 
– Rappler.com