Justice Secretary De Lima says Dennis Cunanan's affidavit is 'essential and corroborative' of the earlier testimony of principal whistleblower Benhur Luy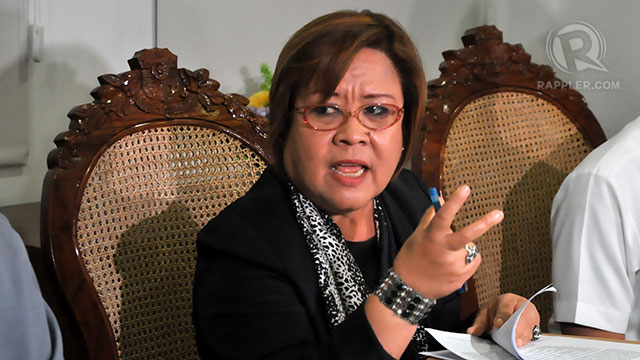 MANILA, Philippines – Department of Justice (DOJ) Secretary Leila de Lima said on Friday, February 21, she has provisionally approved the application as state witness of former Technology Resource Center (TRC) chief Dennis Cunanan in the plunder cases against senators involved in the controversial multi-million-peso pork barrel scam. 
De Lima said Cunanan's affidavit was "essential and corroborative" of the earlier testimony of principal whistleblower Benhur Luy implicating Senators Jinggoy Estrada, Juan Ponce Enrile, and Bong Revilla.
"Hindi totoo yung sinasabi po ng tatlong senador sa kanilang respective affidavits na wala silang kinalaman sa pagpili ng kanilang NGOs…na ang kanila daw mga signatures o kaya signatures ng kanilang authorized agents…ay forged daw," she said.
(It is not true what the 3 senators said in their respective counter-affidavits that they have nothing to do with the selection of the non-government organizations [that will be recipients of their discretionary funds]…that their signatures or the signatures of their authorized agents… are forged.) 
Cunanan's affidavit was supported by documents such as letters of endorsement, memorandum of agreement (MOA), project summaries, and project proposals, said de Lima. She added that the DOJ had submitted these documents before to the Office of the Ombudsman.
TRC also had copies of the documents, which Cunanan submitted to DOJ. DOJ's copies were previously sourced from the Commission of Audit. 
De Lima said she will be comparing the documents from COA to the ones submitted by Cunanan.
Watch this video report below.
The MOA shows that the senators "endorsed as legitimate and bonafide" and "with good standing" the NGOs linked to alleged scam mastermind Janet Napoles, de Lima said. They were documents that were coursed through the TRC.
Cunanan applied for admission to the DOJ's Witness Protection Program in 2013. He is among the 38 charged in relation to the illegal siphoning of lawmakers' funds to fake non-governmental organizations. – Rappler.com