The inquiry is being conducted after the Senate filed a complaint against the alleged rice smuggler for supposedly lying about his identity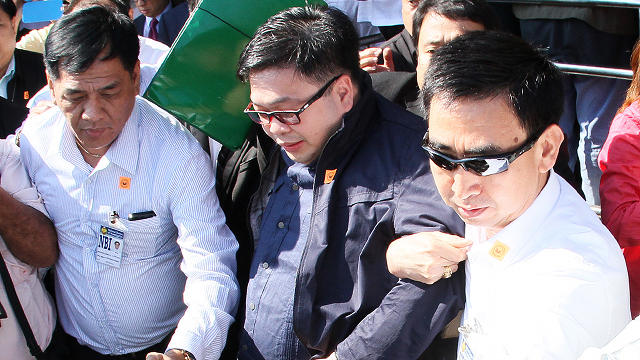 MANILA, Philippines – Alleged big-time rice smuggler Davidson Bangayan filed on Wednesday, February 26, his counter-affidavit in the perjury complaint filed against him before the Department of Justice (DOJ).
Prosecutor General Claro Arellano said in a text message that Bangayan subscribed to his affidavit Wednesday afternoon before Prosecution Attorney Loverhette Villordon.
The first day of preliminary investigation (PI) – meant to determine if a perjury case against Bangayan can stand in court – is scheduled Thursday, February 27. Bangayan no longer needs to show up, having filed his sworn affidavit ahead of time.
The perjury complaint was filed by Horace Cruda, the Legislative Committee Secretary of the Senate Committee on Agriculture and Food.
Bangayan on Monday failed to show up in a Senate hearing on the issue of rice smuggling where he was again summoned, saying he had to get medical attention for his back pain.
2005 libel case
Bangayan, who is allegedly the same person as DOJ-pinned smuggler David Tan, appeared as a resource person during Senate hearings on January 22 and February 3. Under oath, he denied being David Tan.
His pronouncement before the Senate, said affiant Cruda, contradicted a 2005 affidavit that he filed for a libel case. In that sworn statement 9 years ago, he referred to himself as "Davidson Bangayan a.k.a. David Tan."
The libel case was filed by Bangayan against Federation of Philippine Industries Chairman Jesus Arranza, Eric and Lian Thong, Henry Chin Hee Loong, Teodoro Locsin Jr, and Elaine Ramos for imputing Bangayan and his company, Advanced Scrap Specialists Corporation, of wrongful acts including swindling. 
The affidavit was filed on April 26, 2005. Arranza also testified in the Senate that Bangayan sued him for libel.
Bangayan, however, maintained that he is not the reported smuggler David Tan. 
Bangayan said he had to refer to himself as "a.k.a. David Tan" based on the newspaper report, which called him David Tan and was the basis of the libel case.
He said he signed the complaint-affidavit in the 2005 libel case using the name Davidson Bangayan, which proves he is not Tan.
How he was cited in contempt
Cruda said an additional evidence also points to the oneness of Bangayan and Tan. A certification dated April 22, 2005, confirmed Bangayan's ownership of the company, where Bangayan was also identified as "Davidson Bangayan a.k.a. David Tan."
But during Bangayan's first appearance in the Senate, he said he didn't know why he was being confused with a certain David Tan. He also said he does not remember anyone with that name.
"My name is Davidson Bangayan. I'm not David Tan," he expressly said during the early part of the hearing.
DOJ Secretary Leila de Lima then presented the affidavit that Bangayan filed for the 2005 libel case against Arranza and 5 others, where Bangayan referred to himself as "a.k.a. David Tan."
Enrile, who had knowledge of the 2005 libel case, challenged Bangayan to tell the truth about his identity. He told Bangayan he could go to jail if he lied.
In the February 3 Senate hearing, Enrile repeated the question, saying he is giving him a chance to reveal his true identity.
Bangayan maintained his stand.
The National Bureau of Investigation arrested Bangayan for a case on electricity pilferage after the February 3 hearing, and he was released after posting bail. – Rappler.com