Her lawyer says she's negotiating to sell a property so she can raise P40 million to return to government. The amount represents her kickbacks from the PDAF scam.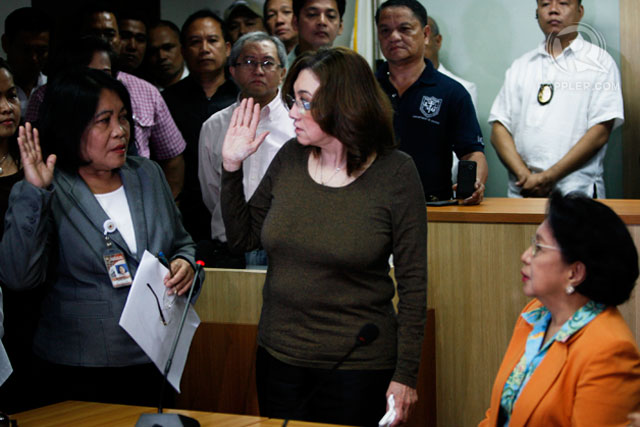 MANILA, Philippines – The Department of Justice (DOJ) has allowed Ruby Tuason, a provisional state witness in the pork barrel scam, to leave the country for Los Angeles, California, supposedly to secure funds so she can return to government the commission she earned from the illegal transactions.
Her lawyer, Dennis Manalo, said Tuason is negotiating with "people who are interested in buying [her] property" in the Philippines.
Manalo said in a phone interview on Wednesday, March 5, that his client coordinated with the DOJ for her travel.
"There is no hold departure against her, so she does not need permission. She left to attend to personal matters, foremost of which is to finance her commitment to return P40 million to the government," he also said in a text message to reporters.
Manalo said Tuason left for Hong Kong in the afternoon of Sunday, March 2.
He added that she was only on a transit flight and was bound to Los Angeles. Tuason's return trip is on April 5, he said.
The lawyer said, however, that Tuason is prepared to go back to the Philippines "at any time she is called by the NBI, the DOJ, or the Senate."
He also denied that Tuason is meeting with people linked in any way to the illegal diversion of lawmakers' Priority Development Assistance Fund (PDAF) to allegedly fake non-governmental organizations.
Tuason was admitted provisionally under the DOJ Witness Protection Program (WPP) after she promised to return a portion of what she received as conduit for Senator Jinggoy Estrada and the former chief of staff of Senator Juan Ponce Enrile in their PDAF scam transactions.
Justice Secretary Leila de Lima believes Tuason's testimony will pin down both senators as direct recipients of kickbacks from the illegal siphoning of taxpayers' money. (READ: DOJ: Tuason testimony 'slam dunk' vs Estrada, Enrile)
Information is 'confidential'
De Lima was furious at the release of reports about Tuason's whereabouts. On Wednesday, she met with Bureau of Immigration (BI) chief Siegfred Mison to discuss a statement by the bureau's spokesperson confirming Tuason's March 2 flight to Hong Kong. 
"I'm asking Commissioner Mison to require that spokesperson to explain why she made such an announcement," De Lima said in an ambush interview, who neither confirmed nor denied Tuason's trip.
"That is a WPP matter, covered by confidentiality provision, but any such announcement by that spokesperson is not authorized, and therefore I asked Commissioner Mison to ask her to explain," she added.
Senator Estrada, who has been implicated in Tuason's testimony, said Tuason is free to travel as she pleases as long as the DOJ approves.
"Wala naman yatang naghahadlang eh. Wala naman yata siyang hadlang para hindi umalis dito sa ating bansa. So she is free to go wherever she wants to go," he said. "Kung pinayagan siya ng DOJ, wala tayong magagawa."
(There is nothing holding her back. There is nothing hampering her to leave the country. So she is free to go wherever she wants to go. If the DOJ allowed her, we cannot do anything.) – Rappler.com