The court order preventing any 'transaction, transfer, removal, conversion, concealment or other disposition' of properties and accounts covers other PDAF scam suspects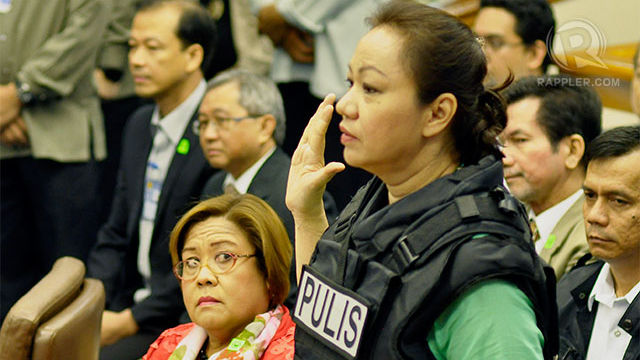 MANILA, Philippines – Alleged pork barrel scam mastermind Janet Lim Napoles and other members of her family are prohibited by court from touching select assets in their name, including bank accounts and insurance policies, until mid-March.
The Provisional Asset Preservation Order (PAPO) issued February 26 by the Manila Regional Trial Court (RTC) Branch 22 also covers other suspects in the illegal siphoning of lawmakers' Priority Development Assistance Funds (PDAF). They include former Napoles employees who have turned whistleblowers in the multi-billion-peso scam.
They are prevented from making any "transaction, transfer, removal, conversion, concealment or other disposition" of their properties.
Judge Marino dela Cruz Jr said there is reasonable cause to believe that the subject properties are "related to unlawful activities." Included in the coverage of the PAPO are bank accounts, monetary instruments, motor vehicles, and real properties.
The PAPO is effective for 20 days. Forfeiture proceedings on the alleged ill-gotten wealth will be heard on Friday, March 7.
The Court of Appeals on August 16, 2013, ordered bank accounts of Napoles, family members, relatives, and staff to be frozen. The order was effective only for 6 months, up until February 2014. 
The Anti-Money Laundering Council, during its financial investigation, discovered "highly suspicious transactions" in the bank accounts and insurance policies now covered by the PAPO.
The Napoleses, it was found out, have no other legitimate sources of income that would justify the huge funds being transacted in their accounts. (READ: Napoles businesses earned less than P1M)
A study of the transactions in their accounts show that there were "spikes" during the material dates of the pork barrel scam. Motor vehicles and real properties under their names were also acquired during said period.
Select properties of other personalities involved in the scam were also covered by the PAPO, including those of principal whistleblower Benhur Luy, his mother Gertrudes Luy, Energy Regulatory Commission (ERC) Chairperson Zenaida Ducut, and potential state witness Ruby Tuason. 
Properties of Napoles' non-governmental organizations (NGOs) were also included in the order.
The diversion of lawmakers' PDAF to bogus projects is allegedly masterminded by Janet Napoles, whose NGOs serve in paper as beneficiaries of the funds.
The sham was revealed by principal whistleblower Benhur Luy, who was rescued by Philippine authorities in March 2013 after being illegally detained by Napoles and her brother Reynaldo "Jojo" Lim. – Rappler.com