Benhur Luy's new lawyer Raymond Joseph Ian Mendoza denies allegations that he has links to politicians who want to control Luy's testimony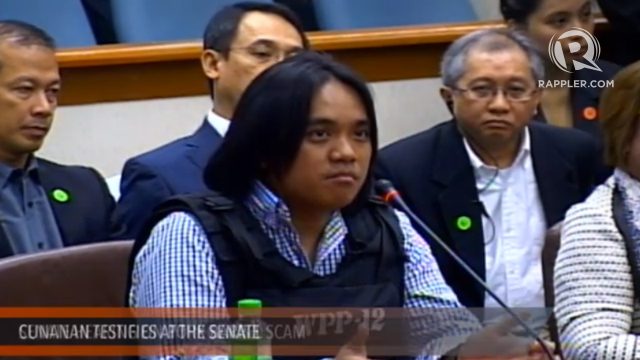 MANILA, Philippines – The new lawyer of pork barrel scam whistleblower Benhur Luy denies having links with politicians who want to influence the outcome of the pork barrel scam investigation either way.
Lawyer Raymond Joseph Ian Mendoza on Thursday, March 6, dismissed allegations by some quarters that people are trying to control Luy's camp on what they would further reveal about the siphoning off of lawmakers' Priority Development Assistance Fund (PDAF) to benefit fake NGOs, the lawmakers themselves, and officials of government agencies.
Mendoza is a senior partner at the Mendoza Antero and Bautista law firm.
"I have never worked for the Luys before. As to the allegation of political interference, I categorically deny it and have no knowledge of it. I believe the best person to answer that allegation is the person or source making the allegation," he told Rappler.
Mendoza said his firm was recommended by Luy's long-time friend. The person who made the referral was neither part of his firm nor a lawyer, he added.
"He (Luy) was personally referred to me by our common friend. That person is Ben's best friend whom I met in 2007," he shared.
On Thursday – two days after Luy relieved his original lawyer Levito Baligod – Mendoza accompanied Luy to the Senate hearing, where the principal whistleblower came face to face with potential state witness Dennis Cunanan, whom Baligod had taken in as client.
One of the reported reasons Luy dropped Baligod was that the lawyer agreed to be counsel to Cunanan when Luy already pointed out that their testimonies would not jibe. Luy maintained Cunanan earned from the PDAF scam while Cunanan denied this. (READ: Poe on Cunanan: Who needs a dubious witness?)
Baligod told a TV news program that Luy dropped him as counsel because he was blocking people who wanted to control Luy. He didn't name names. Justice Secretary Leila de Lima belied this, saying the protocol within the DOJ Witness Protection Program (WPP) leaves no opportunity for politicians to access witnesses in their custody. (READ: DOJ: Benhur Luy free from influence of politicians)
Watch Luy's explanation for dropping Baligod below.
Cases handled
The Mendoza Antero and Bautista law firm is located in Ortigas Center, Pasig City.
Luy during the Senate hearing Thursday refused to confirm any falling out with Baligod.
Responding to a statement by Senator Jinggoy Estrada that Luy's camp is "disintegrating" as evidenced by his change of counsel, Mendoza said the evidence in the hands of the Department of Justice would speak for itself. 
"I respect the statement of the Honorable Senator from San Juan. Personally, the case anchors on the strength of the evidence and not solely on the advocate," he said.
Along with senators Juan Ponce Enrile and Ramon "Bong" Revilla Jr, Estrada faces a plunder complaint before the Office of the Ombudsman in relation to the PDAF scam.
Also on Thursday, lawyer Patrick Maglinao from the same law firm as Mendoza filed an entry of appearance before the Makati City Regional Trial Court Branch 150 to access copies of documents related to Luy's illegal detention case against Janet Napoles and her brother Reynaldo "Jojo" Lim.
The diversion of lawmakers' PDAF to bogus projects is allegedly masterminded by Napoles, whose NGOs served on paper as beneficiaries of the funds.
The sham was revealed by Luy, who was rescued by Philippine authorities in March 2013 after allegedly being illegally detained by the two siblings, his cousins.
– Rappler.com