The DOJ files 6 counts of willfull attempt to evade tax and 6 counts of failure to file income tax return against the dismissed chief justice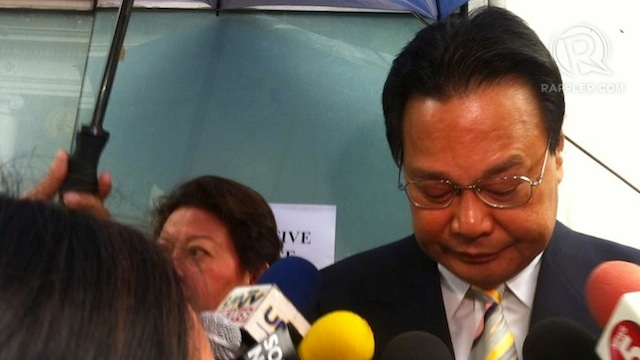 MANILA, Philippines – The Department of Justice (DOJ) on Monday, March 3, filed 6 counts of willful attempt to evade tax and 6 counts of failure to file income tax return against dismissed Chief Justice Renato Corona before the Court of Tax Appeals (CTA).
State Prosecutor General Claro Arellano told reporters Thursday, March 6, the DOJ denied the former chief magistrate's motion for reconsideration (MR) against the tax evasion complaint filed by the Bureau of Internal Revenue (BIR) before the justice department on August 30. 
"Last year, the panel found probable cause for tax evasion versus CJ Corona. CJ Corona filed MR. We denied MR last week," he said. (READ: DOJ approves tax evasion raps vs Corona)
Corona is indicted for failing to pay P120.5 million in taxes and file his income tax return for 6 years – 2003, 2004, 2005, 2007, 2008 and 2010. The subject income is supposedly outside of his compensation as a Supreme Court (SC) justice.
"After a careful perusal of the arguments raised in the motion for reconsideration submitted by the respondent (Corona), the undersigned resolves to deny the same for utter lack of merit. The respondent merely reiterated his defenses averred in his counter-affidavit and rejoinder-affidavit. However, the undersigned panel of prosecutors already ruled on these claims in the issued resolution, dated 26 April 2013," the DOJ panel headed by Senior Assistant Prosecutor Edna Valenzuela stated.
The arraignment of Corona is set on March 26 at 1:30 pm at the CTA 3rd Division. Another arraignment is set on April 2, at the CTA 2nd Division, Arellano said.
An order dated March 4 was issued by the CTA for Corona's provisional liberty, after he posted a P120,000 bail.
The impeached chief magistrate said he was "a victim of insatiable gluttony of senators and congressmen."
"I was a victim of PDAF and DAP anomaly that whetted the insatiable gluttony of many Senators and Congressmen for public funds," Corona said.
Corona was dismissed in 2012, the year when senators who declared him guilty of violating the Constitution supposedly received millions through the Aquino administration's spending program, the Disbursement Acceleration Program (DAP).
The DAP is now the subject of deliberations by SC justices, after its constitutionality was assailed before the High Court. – Rappler.com