The belligerent Senior Supt Conrad Capa continues to speak against his boss despite instructions to stop talking to the media
MANILA, Philippines – If they can lie to the Palace, who else can they deceive?
It's a question sacked Task Force Tugis head Senior Superintendent Conrad Capa is asking, days before he is set to leave the Philippine National Police (PNP) Headquarters in Camp Crame for an unexpected assignment in Cebu.
Capa was referring to a statement made by Palace spokeperson Abigail Valte on questions about the "suspicious" timing of his relief.
Barely a week after arresting wanted businessman Delfin Lee, Capa was relieved from his Crame-based position and moved to Cebu to pave the way for "promotion," according to Chief PNP Director General Alan Purisima.
Said Valte on March 14: "I was speaking to the PIO of the PNP, si [Chief Superintendent Theodore Sindac], and he did tell me that they were actually planning a ceremony, a congratulatory ceremony for Task Force [Tugis] and that it was supposed to be a surprise but because of recent events that they had to say that yes, something was, indeed, in the works for… and then for his eventual transfer."
Capa told Rappler a "surprise" ceremony was remote, since activities like that required a process and use of resources. "Ano ako, bata? 7-year-old na may surprise?" he said. (What am I, a 7-year-old child?)
While it's a small detail, Capa said it was "worrying" that the PNP top brass would misinform the President's spokesperson.
Nonetheless, Task Force Tugis, which runs after fugitives, will be formally recognized during the PNP's "Parangal Sa Pulis" program on April 1. Capa will likely fly back to Manila for the ceremony which, he joked, might be the first time he and Purisima will see each other again.
'Misleading public'
Capa continues to speak to media despite earlier instructions to stop. "What's important is the dysfunctions [in the PNP] are exposed to the public," he told Rappler.
This is not the first time Capa has criticized Purisima for what he describes as the PNP chief's "inaccuracies."
A former security aide of the late President Corazon Aquino, Purisima became PNP chief in 2012 largely on account of his close ties to the Aquinos. As a member of the Presidential Security Group then, Purisima was assigned specifically to guard the young Benigno Aquino III who would later become president, too. Purisima enjoys the trust of the President.
But all this apparently does not intimidate Capa.
Earlier, Capa told Rappler Purisima was "misleading" the public and said his relief and reassignment was not a reward for arresting a fugitive. The possibility of a promotion to a star-rank is possible, but may take time. Day in and day out, Capa gets congratulatory calls from friend and colleagues. Each time, he explains the move to Cebu isn't exactly a promotion. 
"The position, [Deputy Regional Director for Operations], is not a general rank. If I stay there for 6 month, one year, I will not be promoted," said Capa in a previous interview. Capa, a Philippine Military Academy (PMA) graduate, said 3 of his classmates in the PNP are already generals or on a clear path to becoming a general.
Purisima and Capa go a long way. Both are graduates of the PMA: Purisima belongs to Class 1981 while Capa is more junior – Class 1985.
They started working together in Nueva Ecija, when Capa was only a lieutenant. From the PNP Police Regional Office 3 to the National Capital Region – where Purisima went, Capa followed.
Cold shoulder
And yet the two have yet to speak to each other since Lee's arrest, not even after Capa received his relief orders. The two were supposed to speak on Thursday, March 13, the same day the PNP announced Capa's relief during a joint press conference. But this never pushed through, said Capa. 
The Palace has been downplaying speculation surrounding Capa's reassignment. "I would not see anything behind the Chief PNP [Purisima's] decision," said Valte.
Capa called his reassignment a "spin."
The reason behind his sacking is still a mystery to the former Task Force head. The irony in his story, he said, is that he was told he could not go up one rank because the task force had yet to arrest anyone on the most wanted list. Yet after he arrested Lee, he's moved somewhere else.
Asked if he sees himself moving up to a star rank in the near future, Capa said he doubts it as long as Purisima is chief of the PNP. As senior superintendent, Capa is one rank away from being a chief superintendent, the equivalent of a general in the military.
Capa claimed a promotion doesn't matter to him as much anymore. Capa is set to retire in 2016, almost a year after Purisima's mandatory retirement in November 2015.
"I am alone in this battle," Capa said, smiling.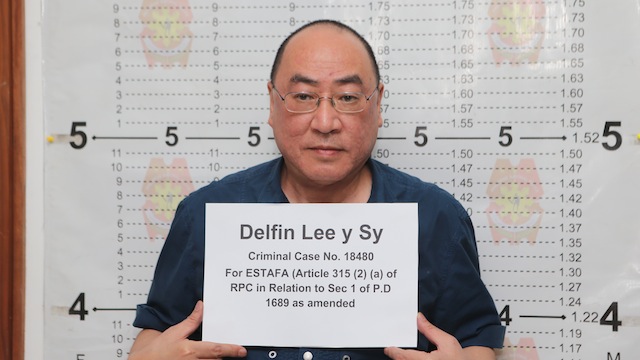 Not true
Capa was also quick to dismiss claims made by an official from the Housing and Urban Development Coordinating Council (HUDCC) that PNP officers were discussing the release of Lee the night of his arrest.
HUDCC Assistant Secretary Daniel Subido, in a statement, said police officers were discussing the release of Lee, on the basis of a Court of Appeals (CA) decision to quash the warrant against Lee which was issued by a Pampanga court.
Capa said when Subido arrived, Lee had already been booked and processed. He denied that any negotiations happened after or during Lee's arrest.
A Camp Crame lawyer said that at the time of Lee's arrest, the warrant was in "limbo." While the CA quashed the warrant, it was not yet executory since the justice department filed a petition before the Supreme Court (SC) questioning the CA decision.
It didn't help that Lee's team had in their possession a letter from Purisima that said the PNP was in the process of "de-listing" Lee from the list of most wanted. A letter and a certification from the PNP's Criminal Investigation and Detection Group, meawhile, reaffirmed Lee's "delisting" and certified the absence of arrest warrants against Lee. (READ: PNP, Delfin Lee and 2 conflicting letters)
But Task Force Tugis was sure the arrest warrant was still valid since they double checked with the Pampanga judge who had issued the warrant. At the time of his arrest, releasing him was not even an option, explained Capa.
Six days after Lee's arrest, the SC issued a temporary restraining order (TRO) against the CA ruling. The following day, the CA junked Lee's petition to release him from detention, citing the SC's TRO. Lee is currently detained at a Pampanga jail. (READ: Delfin Lee to SC: Resolve my case immediately)
The Camp Crame lawyer said Lee's questioning of the warrant was academic, since it had already been served. He added that this is the risk policemen face when running after suspects even as motions and petitions are filed before the court. – Rappler.com