Senator Ralph Recto calls this 'community policing,' which can save government millions of pesos from asking IT company to create police notification software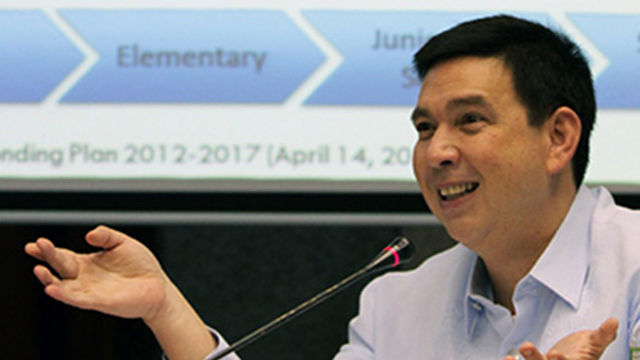 MANILA, Philippines – With more Filipinos on social media sites like Facebook and Twitter, warning the public about wanted fugitives could be as easy as posting mugshots online.
Senator Ralph Recto on Saturday, March 22, urged law enforcement agencies to start tapping social media as a tool to inform the public of those on the run from the law.
He also said this allows the government to involve citizens in "community policing" if they know who to look out for.
The senator said agencies like the Philippine National Police, the National Bureau of Investigation, the Philippine Drug Enforcement Agency, and the Philippine Overseas Employment Administration can benefit from using social media sites like Facebook and Twitter.
"Uploading the pictures and profiles of these wanted criminals on Facebook is easy and free. It is not that complicated," Recto said.
He added that using existing tools that citizens are familiar with can also do away with the need to spend millions for an IT company to create police notification software.
Social media reach
Recto added his proposal to create a "rogue's gallery" to help catch criminals can work in the Philippines, which has been often dubbed the social media capital of the world.
In 2012, the Philippines had more than 27 million users on Facebook alone, putting it at rank 8 globally in the number of Facebook users. It's estimated that about 5 Filipinos open a Facebook account every minute.
With the Philippines having the fastest growing Internet audience in Southeast Asia, Recto said tapping social media allows for the easy dissemination of information and can help "make the arm of the law longer."
"Social media can aid in the arrest of a serial child rapist, for example," he said.
Recto said having the photos readily available and viewable on social media sites can help citizens avoid becoming victims of criminal groups.
"We only know the faces and identities of these criminal groups after they have victimized someone," Recto said.
He added: "The information always comes after the incident. Why don't we permanently put up their names and faces on one site so anyone can view these at any time?"
Sanctions for erroneous info
The senator said there are many ways of disseminating criminals' names and faces through social media, in lieu of the old practice of posting "wanted" posters.
"It's not just Facebook, there's also Twitter. If we can Instagram the mug shots of wanted persons, the better.  We can also post in Youtube the footage of their capers which have been caught on cam," Recto said.
He also emphasized the need for a comprehensive registry that will include those who are not on the Top 10 most wanted persons list.
But while social media is a fast and easy tool for information dissemination, Recto said authorities should be careful about publishing information online.
"Data must be triple-checked, verified, peer-reviewed, carefully examined, and panel-approved before they are posted online," he said.
"There must be sanctions for posting erroneous information. And a person who was wrongfully included in the wanted list should be financially compensated if only to deter carelessness," he added. – Rappler.com