(UPDATED) Other schools can opt to change their calendar as long as they inform the CHED 15 days before the prescribed June start, and get approval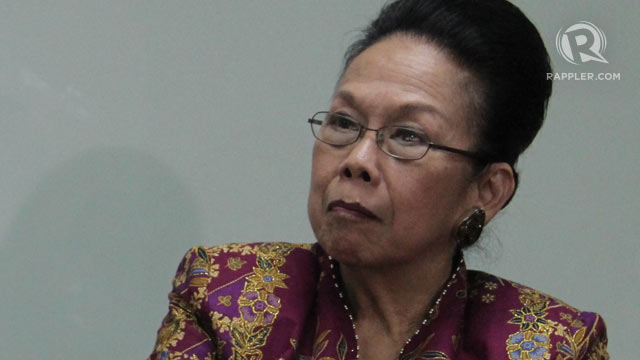 MANILA, Philippines (UPDATED) – After reviewing the issue for months, the Commission on Higher Education (CHED) said shifting the academic calendar is not advisable.
In a statement Wednesday, March 26, CHED Chairperson Patricia Licuanan said while autonomous higher education institutions (HEIs) have the option to move the start of their school year as long as it is within the law, CHED still "does not advise a change in the academic calendar."
Republic Act no. 7797, which sets the school calendar to a maximum of 220 class days, states the school year should start on the first Monday of June but not later than the last day of August.
For other HEIs, the Commission still prescribes a June opening but should they opt to change their calendar, they must inform CHED in writing not later than 15 days before the prescribed June opening of classes, and get CHED's approval.
Different school openings, as long as "within the boundaries of law" is "acceptable" and "as a matter of fact actually already exists," Licuanan said.
Licuanan said what should be the common concern among schools is meeting the required academic hours for an academic year.
As per Memorandum Order (CMO) No. 1, series of 2011, one unit of college credit is equivalent to a total of not less than 17 lecture or recitation hours in a term, while 2-3 hours of laboratory work, drafting, shop or field work is equivalent to one hour of classroom lecture or recitation work.
Three HEIs have already decided on the shift. This year, the University of the Philippines and the University of Santo Tomas are set to move the start of their academic calendar year 2014-2015 from June to August and July, respectively. (READ: UP Diliman to shift school calendar to August)
The Ateneo de Manila University, meanwhile, will start its school year in August starting academic year 2015-2016.
June opening 'most feasible'
After looking at socio-cultural implications and the basic education calendar, Licuanan said a June opening is the "most feasible."  (READ: CHED: School calendar shift not for all)
She said families from farming and fishing communities are concerned with the difficulty of an August school opening "because agricultural cycles cause them to run out of financial resources in August."
Furthermore, the Department of Education (DepEd) also advised against an August opening after considering the high temperatures and the long holidays during summer.
Licuanan said a June school opening is "better harmonized" with basic education. A separate DepEd survey even showed a 95%-support for a June to March academic year. (READ: Luistro: 'No compelling reason' for school calendar shift) 
(WATCH: #TalkThursday: The UP academic calendar)
Internationalization is one of the main reasons why different HEIs started considering an academic calendar shift.
Licuanan said, however, that the best way to internationalize is for schools to "intensify their quality assurance, capacity-building, and institutional development programs."
She said this means putting a premium on research – "the currency of the global academic community" – producing competent graduates so it can attract international faculty and researchers.
Address gaps
Until then, schools should address gaps to fully engage the international academic community: requirements for work permits, tax regulations, and the issue of tenure for non-Filipino academics (for public HEIs).
As for the impending 2015 ASEAN regional integration, Licuanan said two concerns should also be addressed – the quality of college students and graduates produced by the country. (READ: 8 ways PH higher education can prepare for ASEAN 2015)
CHED expressed the need to check on whether Philippine colleges and universities are producing graduates with the professional skills and competencies that are in line with the ASEAN Qualifications Reference Framework. (READ: The road to ASEAN 2015: Why are PH colleges lagging behind?)
"This is the essence and challenge of ASEAN Integration, and the academic calendar is not a major issue. There is no provision in ASEAN Integration about synchronizing academic calendars of HEIs in the region," the chairperson said.
Meanwhile, the issue of weather has also been a point of concern for those who oppose the shift. But the technical working group convened by CHED noted that tropical cyclones in the last 10 years happen between July and September.
"Thus, shifting the start of the academic calendar from June to August would not make much of a difference," Licuanan said. – Rappler.com