De Lima's estranged husband says he went to the NBI to greet former NBI chief Nonnatus Rojas a belated happy birthday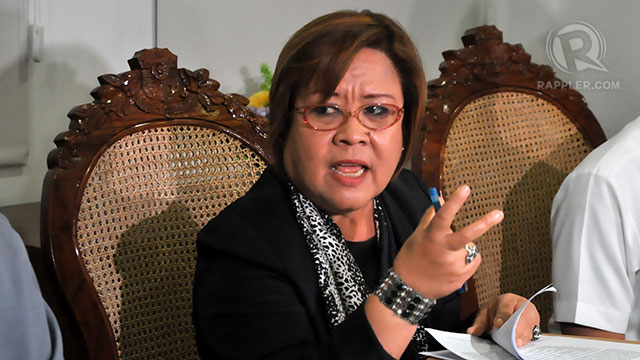 MANILA, Philippines – The former husband of Justice Secretary Leila de Lima, lawyer Plaridel Bohol, refuted claims he met with alleged pork barrel scam mastermind Janet Lim Napoles at the National Bureau of Investigation (NBI) in May 2013. (READ: Sacked NBI exec: De Lima's ex-husband in NBI-Napoles meeting) 
On Wednesday, March 26, dismissed NBI Deputy Director Reynaldo Esmeralda said that NBI Deputy Director for Regional Services Rafael Ragos and former NBI chief Nonnatus Rojas were among those who met with Napoles on May 23, 2013 at the office of Rojas. Esmeralda also said that Napoles was accompanied by 3 lawyers – among them, Bohol, the estranged husband of De Lima.
In a statement sent to the media on Thursday, March 27, Bohol said he wanted to "cut short the spin" being peddled by former NBI officials. He was referring to Esmeralda and NBI Deputy Director for Special Investigation Services Ruel Lasala who have been relieved by De Lima ove what she described as "lingering integrity issues."
In a statement, Bohol said, "I would like to state that I did not arrange that meeting. I was there to greet Director Rojas a belated happy birthday since the day before was his birthday. We were having lunch when Atty Freddie Villamor arrived and subsequently his client Janet Lim-Napoles who complained to Director Rojas that the NBI agents guarding her brother at the St. Luke's hospital were intruding on the private room of her brother every now and then causing inconvenience to him after a heart bypass surgery."
Bohol also said that Napoles pleaded with the NBI that her brother be allowed to recuperate well, after which she left.
"At that time I had no knowledge or inkling that the same woman would be the center of the PDAF controversy since there was no news yet about the said PDAF scam. I just hope that I am not being linked to this issue to connect me in a malicious way to the Secretary of Justice," Bohol said.
De Lima earlier refused to comment on her ex-husband's alleged meet-up at the NBI so as not to "preempt the investigation" of the NBI adhoc committee.
She recommended the relief of the two deputy directors over issues that, she said, would block reforms being pursued by the new leadership. – Rappler.com