A breakaway group of the MILF promises to continue the fight for independence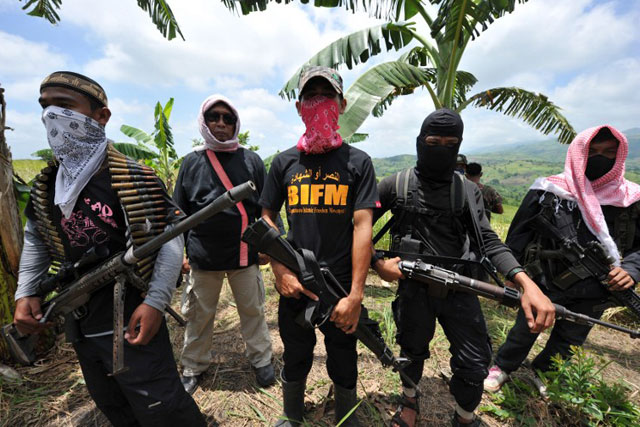 MAGUINDANAO, Philippines – A day after his former comrades in arms signed a treaty to end 42 years of bloodshed in the Philippines, an aging Muslim guerrilla leader packing a rusty handgun vowed to fight on.
"We want independence… through armed struggle," Abu Misry Mama, spokesman and senior leader of the breakaway Bangsamoro Islamic Freedom Fighters (BIFF), told Agence France-Presse (AFP) on a visit to his rural stronghold in the south.
Mama's former comrades in the Moro Islamic Liberation Front (MILF) signed a peace treaty Thursday, March 27, that is expected to see them gain power under a self-rule setup in the Catholic nation's Muslim-populated southern areas.
Mama, 62, is the public face of the BIFF, which split from the 10,000-member MILF in 2008 amid a row on how best to advance the interests of the 10 million Filipino Muslims.
The Muslim rebellion that began in 1972 left tens of thousands of people dead and consigned the area of the proposed autonomous region to brutal poverty and lawlessness.
Wearing rubber flip-flops, horn-rimmed glasses and a colorful scarf atop a bronzed and craggy face, Mama casually rode a motorcycle Friday through dirt roads bisecting green rice paddies.
A rusty .45-calibre pistol was stuck in his holster as he led visitors to an empty schoolyard, about three-and-a-half hours' drive from a major southern city.
Fifteen similarly dressed guerrillas, carrying assault rifles, emerged from nowhere to stand guard as he spoke to AFP for half an hour.
Nearby, a group of young men played basketball and residents sat by their windows or in front of their wood and straw huts in the late afternoon.
"The MILF have their own way and we have mine too," said Mama, who spoke fluent English and Filipino, the country's official language.
He said he fought for the MILF and was now the number-three leader of the BIFF under its founder Ameril Umrakato, who the military said has been incapacitated by illness.
The BIFF founder was accused of leading his men in attacks across the south in 2008 that left more than 400 people dead and displaced hundreds of thousands of civilians.
The farming region, more than a thousand kilometers (600 miles) south of Manila, is dotted by small military camps and checkpoints.
Small military units and motorists have been frequent targets of deadly BIFF attacks as the group sought to disrupt the peace process, somehow withstanding repeated government assaults against it.
As he presided over the peace treaty signing in Manila on Thursday, President Benigno Aquino vowed that armed opponents of the pact "will be met with a firm response based on righteousness and justice".
After more than 50 of its members were killed in a major military operation in late January, the BIFF has about 460 guerrillas left, military spokesman Lieutenant-Colonel Ramon Zagala told AFP.
"We have diminished their threat but we are still monitoring them because of the possibility that they will continue to spurn the peace," Zagala said, adding they were now led by a man named Mohiden Animbang, alias "Karialan".
Zagala said Mama was apparently an alias and the man was considered by the military as a BIFF spokesman.
Mama said the BIFF would only consider peace talks if the government would allow the creation of a separate Muslim nation, something Aquino has ruled out.
"There would be no condition in the talks. They just have to leave our homeland," Mama said. – Rappler.com