This is AI generated summarization, which may have errors. For context, always refer to the full article.
The IRR as drafted by the government's technical working groups may undergo revisions after month-long public consultations that begin next week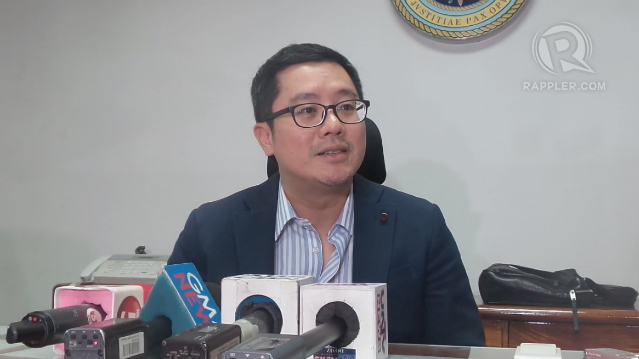 MANILA, Philippines – The Department of Justice (DOJ) is now ready for public consultations on the Implementing Rules and Regulations (IRR) of the controversial Cybercrime Prevention Act of 2012. 
DOJ Assistant Secretary Geronimo Sy on Thursday, April 3, said the IRR "simplifies and explains the law" especially "for the technical and procedural aspects."
The Cybercrime Law – ruled constitutional by the Supreme Court (SC) with select provisions struck down – defines and penalizes crimes online. It also penalizes online libel with respect to the original author of the post. (READ: SC rules online libel constitutional) 
The law will be implemented after the publication of its IRR. The IRR is drafted by the government's technical working groups (TWGs) and may undergo revisions after month-long public consultations.
"We are ready to listen to all stakeholders from different sectors starting with the first IRR public consultation next week and for the whole month of April," Sy said.
Sy is the head of the DOJ Office of Cybercrime.
"As promised, we continue with the principles of transparency and dialogue in mind backed up by diligent research and doing our homework," he added.
Three TWGs were involved in drafting the consolidated version of the IRR.
The IRR, he said, reflects "the priorities in implementation and the realities on the ground." 
Sy earlier clarified that online libel is not among its priorities in implementing the law. (READ: E-libel not necessary – cybercrime office)
International cooperation sought
With the borderless nature of cybercrimes, the IRR outlined guidelines on bolstering international cooperation to combat the online offenses. 
The country will now "provide assistance to a requesting nation in the real-time collection of traffic data" in relation to online criminal activities outlined in the law.
"Criminal law enforcement is essential for cyberspace, and we intend to make a dent against criminals online to protect legitimate Internet users and help victims of crimes," Sy concluded.
 – Rappler.com