Delays mark plans to build bunkhouses for families displaced by the Zamboanga siege. Badjao families have another problem: they have to live by the sea, but gov't wouldn't let them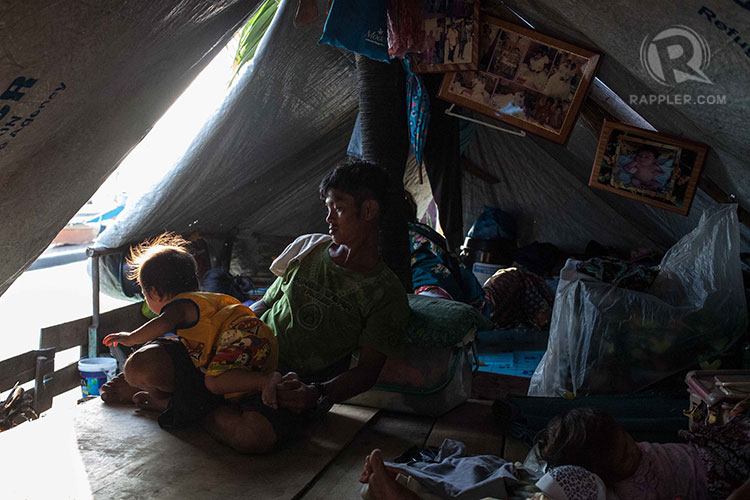 ZAMBOANGA CITY, Philippines – "We want to go, but there's no sea there," said Rufaida Marrudin as she held her grandson inside her makeshift shelter, a house on stilts on the shoreline of Cawa-Cawa Boulevard.
"How can we make a living?" Marrudin asked of the city government's plans to transfer thousands of internally displaced persons (IDPs) from their shelters to another temporary site while the government leads the construction of bunkhouses.
Seven months since the Philippine military and the national police ended the deadly standoff against the Moro National Liberation Front (MNLF), about 64,000 IDPs are still waiting for government to allow them to return to their communities, according to data from the New York-based Human Rights Watch (HRW).
These IDPs based in evacuation centers and other homes across this city are mostly located on the southern tip of the island in a region that serves as a main port for nearby Basilan, Jolo, and other island provinces.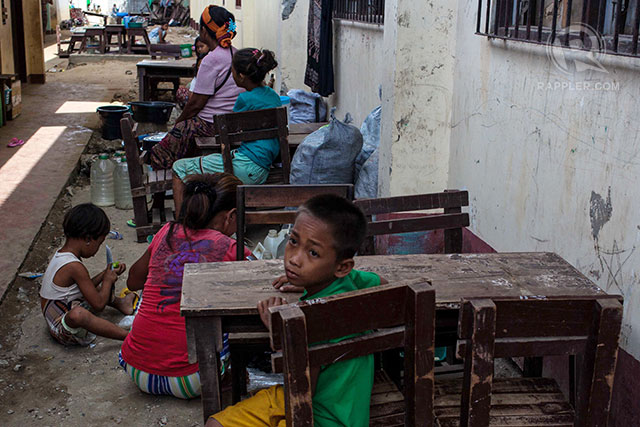 In his visit to Zamboanga City in December 2013, President Benigno Aquino III announced that P273.8 million was spent on relief aid and cash-for-work programs while P3.5 billion was allocated to support rehabilitation efforts in the area. But since the immediate aftermath of the armed conflict, long-term solutions have yet to materialize.
The main evacuation centers are located a few kilometers from where heavy mortar shelling remains visible on structures in Sta. Catalina and Sta. Barbara streets, in the southern areas of the city. (READ: The Children of Sta. Barbara)
Tied to the sea
Of the more than 64,000 IDPs, an estimated 13,520 live in the Joaquin F. Enriquez Sports Complex, locally known as the Grandstand. Around the corner from the Grandstand, 4,000 IDPs, mostly belonging to the Badjao tribe, live on the shoreline and roadside of Cawa-Cawa. Thousands of IDPs also reside in bunkhouses or are home-based in host communities.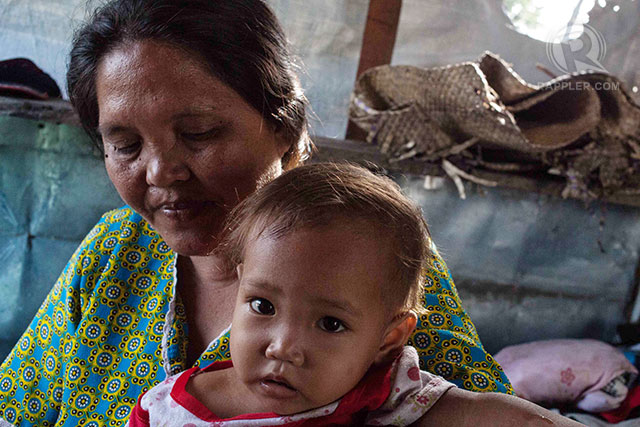 Marrudin, 38, is from the Badjao tribe, an indigenous population whose culture and livelihood are tied to the sea. Their traditional homelands in Rio Hondo and Mariki were the entry points used by MNLF rebels during the siege. The government has since declared parts of these villages as "no-build zones" and designated them for environmental protection under the National Integrated Protected Areas System Act (NIPAS Act).
"There's a double victimization of the Badjao IDPs," said Carlos Conde, the Philippines researcher for the New York-based Human Rights Watch. "First they're being victimized as IDPs, then second as Badjao."
"Based on what we're seeing now, their way of life is not being taken into account by the city government," Conde told Rappler.
The Badjao are more vulnerable to economic hardship when they cannot fish or gather seaweed to sell, which is the primary source of their earnings on Cawa-Cawa. Their culture is also deeply connected with a seafaring tradition.
"Even though the fighting is over, our hearts still hurt," said Mirayda Aslani, recalling how her family, including a daughter who is paralyzed, escaped gunfire in their seaside home in Rio Hondo.
"I cry when I think of us jumping out of our house and when I had to throw her into our boat. She couldn't move," Aslani said.
Planned rehabilitation efforts have been characterized by delays.
From one site to another
Along with thousands of Badjao and Tausug IDPs, the city's Muslim minority, Aslani, 40, and her family have been transferred from one temporary site to the next with little to no advanced notice. They are not given information on the length of stay or the certainty of return to their places of origin.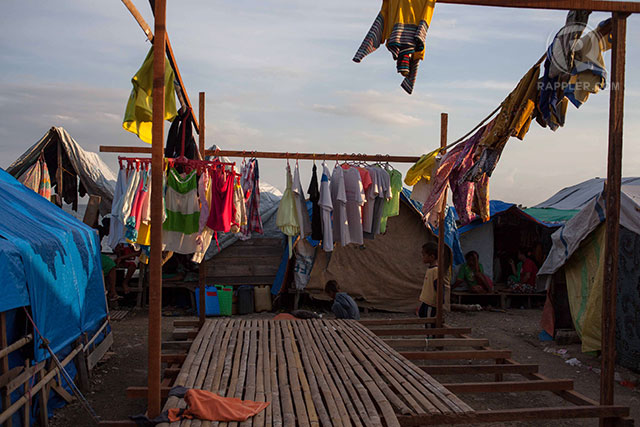 In addition to the makeshift tent camp along Cawa-Cawa, families also live in bunkhouses in the Grandstand, Tulungatung, Taluksangay, Rio Hondo, and the Philippine Tuberculosis Society compound.
According to an upcoming humanitarian report with data from the Department of Social Welfare and Development (DSWD), the health stations of Tulungatung and Taluksangay are inadequately equipped and are understaffed to meet the health needs of an increasing number of relocated internally displaced families.
In Cawa-Cawa, a mobile health center is closed on weekends, but provide basic health care on weekdays. An ambulance is parked at the western end of the boulevard to respond to emergencies.
Aftermath of the Zamboanga crisis in numbers
24,546 IDPs (5,014 families)* in 7 evacuation centers and 5 transitory sites or bunkhouses (data from DSWD, as of March 24)
50.93% of IDPs are at the Joaquin F Enriquez Sports Complex
39,763 home-based IDPs (6,055 families)
Total of 109 recorded IDP mortalities from camps and transitory sites. Nearly half (48%) were children under 5 years of age
Source: UNOCHA
 * The figure excludes the almost 40,000 home-based IDPs.
Third wave
Earlier this month, the city government began a third wave of relocating IDPs from Cawa-Cawa to communities on the eastern outskirts of the city and into newly-leased spaces in the elementary and high schools of Mampang and Arena Blanco.
Completion of bunkhouses in Mampang and Arena Blanco were scheduled for mid-April, but will be finished in late May, so the IDPs can vacate the schools in time for the start of classes in June.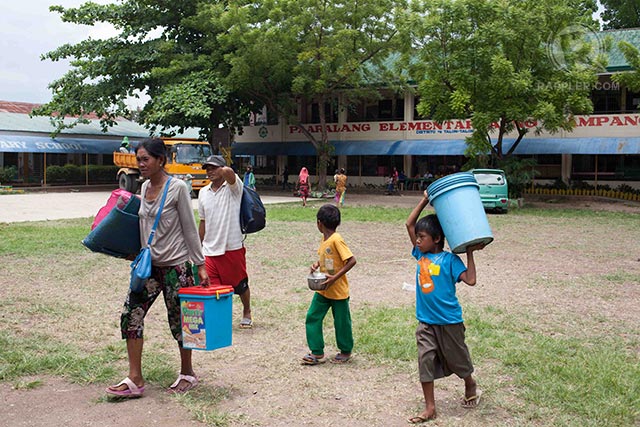 In the afternoon of April 13, families boarded vehicles and trucks with all of their belongings packed in plastic containers and wilted bags. They could not bring their main source for livelihood – fishing boats that were left tied along the shoreline and watched over by other IDPs who chose to stay.
After an 8-kilometer drive, past a military checkpoint on the narrow Talon-Talon Road leading away from Cawa-Cawa, IDPs arrived in schools to make another temporary home.
Mampang and Arena Blanco are both coastal towns. In Mampang, the sea is about 3 kilometers away, while the shoreline is also near the schools of Arena Blanco. Badjao fishermen don't have their boats, however, to make use of the proximity of evacuation centers to the sea. 
Many also voiced fear of running into the seaweed owned by non-IDPs in the area if they were to bring their boats. If seaweed are destroyed, the already financially burdened fishermen would have to pay for any damages.
Right to return
When order is restored in the areas they had to flee, the IDPs should have the right to return, according to the United Nations Guiding Principles on Internal Displacement.
"The question now is why are they are not being allowed back?" Conde said.
International aid organizations have urged the city government to decongest overcrowded facilities and to secure available land for permanent housing, so major evacuation centers can be closed down.
In an upcoming report seen by Rappler on the humanitarian response, finding durable solutions in a timely manner is one of the highest concerns. The right to return needs to be addressed, according to the report.
"Our concern is that the minority population isn't included in the reconstruction and rehabilitation plans," Peter Deck, the UN refugee agency head of operations in Mindanao, told Rappler.
"You can't declare a place a 'no-build zone' and at the same time your reconstruction plan has reconstruction taking place in that 'no-build zone.' Reconstruction doesn't include traditional dwellings for the Badjao. It's something completely different," Deck added.
The Zamboanga Action Plan is set to publish by the end of April.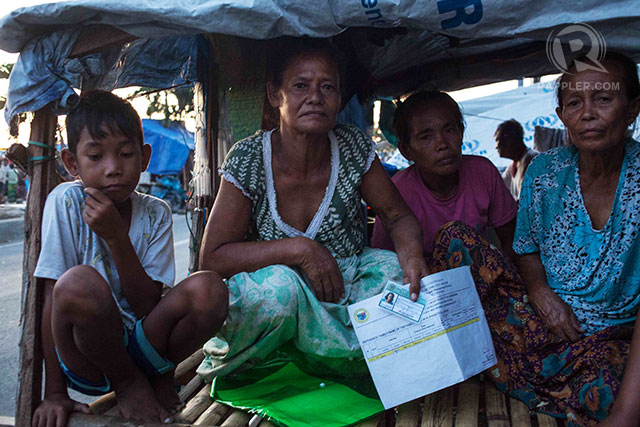 "The projects consist of houses that will be provided to IDPs," Zamboanga assistant city administrator Elmeir Apolinario told Rappler.
"New boardwalks and a totally new city in providing them amenities so that they can move back," he said of planned reconstruction in the coastal communities of Rio Hondo and Mariki.
"We're also making headway on transferring them," Apolinario added.
According to Apolinario, the 18-month timeline for the completion of reconstruction in affected areas that was supposed to begin in January will start by the end of May.
Yet obstacles remain.
The city government's current concern is that many who reside in temporary sites like Cawa-Cawa were not displaced from the armed conflict, but receive relief in the form of food items, water and cash-for-work programs that has come at inconsistent times since the aftermath of the conflict.
"We were able to identify non-IDPs," said Apolinario, counting 400 non-IDPS. "We explained to them that they're not part of the program and siege."
Yet according to UNCHR, the majority of the 4,000 IDPs on Cawa-Cawa were born and raised in Mariki and Rio Hondo. "There's this further confusion added that some IDPs are not from Zamboanga," said Deck.
Deaths in evacuation centers
Meanwhile, the city government has been stepping up its efforts this month to decongest evacuation centers in response to the 109 deaths recorded in the centers. (READ: Kids die in Zambo evacuation camps)
Children and the elderly represented the majority of mortalities recorded in camps and transitional sites. Diarrhea ranked as the leading cause of the rising death toll. Acute gastroenteritis and pneumonia were also primary causes, but decreased in prevalence in recent months.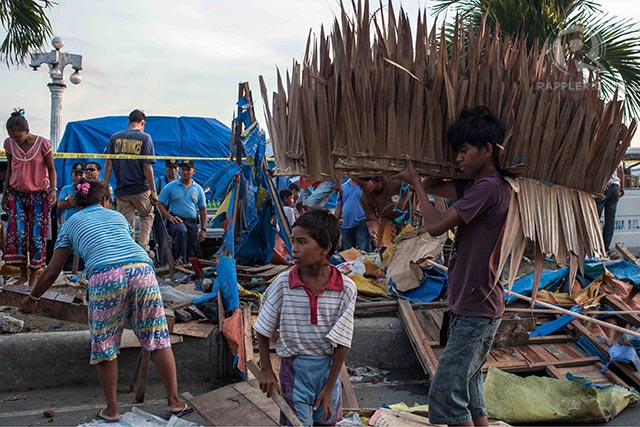 "What we want is for us to go back to Rio Hondo directly," said Muktar Juljain, 24, "[and] not to be shuffled in and out of temporary shelters."
The city government has distributed to FAQ documents to IDPs, declaring some areas "no-build zones" under the NIPAS Act. According to the FAQs, the areas are "hazard prone."
But the NIPAS Act of 1992 does not designate areas on this basis. An area is protected under the NIPAS Act if it has "unique physical and biological significance," recommending the area to be "protected against destructive human exploitation."
In a draft of an upcoming advisory from the Philippine Commission on Human Rights seen by Rappler, the commission concludes that "referring to the purportedly hazardous nature of a particular area as a rationale for preventing restitution incorrectly suggests to IDPs that such a policy is being imposed for their benefit, which is not the objective of the NIPAS and therefore liable to mislead."
The commission also details concern over the city government's lack of genuine consultation with IDPs, citing instances of inadequate information on resettlement options and various stages of the humanitarian response.
"If they want us to go, it should be where we're from," said Surida Cobello from inside her shelter on Cawa-Cawa's shoreline.
"Even if they let us go, we don't need anything else, just materials to rebuild. We don't need government projects," Cobello, 30, said.
Not the city, please
For now, Badjao families are spending their first days inside the schools of Mampang and Arena Blanco. Goods from the first sari-sari store inside Mampang Elementary School hung across red metal gates as children mixed donated noodles in plastic cups for breakfast.
There was also another new experience as many of the children and adults sat on school chairs and desks for the first time, not for lessons, but because of a promise that after a month or two, they will be transferred to temporary bunkhouses and, in 18 months' time, will return to where generations of Badjao before them fished and swam.
As city officials facilitated the dismantling of tents on the middle margin of Cawa-Cawa's roadside, across the street, Hamdurai Sairali held on to a document declaring that her family has lived in Rio Hondo for more than 50 years. But under another column, the Badjao family is considered illegal settlers.
Sairali who is about 40 to 50 years old and only speaks Badjao has trouble understanding the city government's announcements.
"We want to go back to our homes," she said over the noise of traffic and crackling wood from hands demolishing shelters. "We can't live in the city. We are Badjao."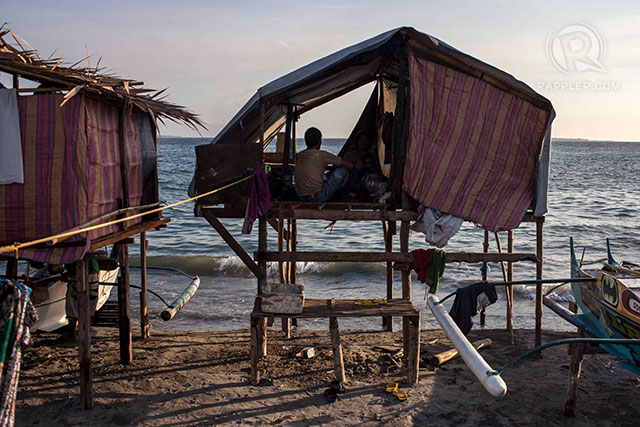 – Rappler.com
Coleen Jose is a multimedia journalist and documentary photographer. She is currently reporting an international series on youth unemployment in the Philippines for the GlobalPost while also writing for Rappler and other publications.
Twitter account: https://twitter.com/ColeenJose
Website: http://coleenjose.photoshelter.com/