In a complicated world of wine-making and the already foreign-dominated Philippine wine market, 22 housewives brew wine for 8 years, carving a niche in the wine market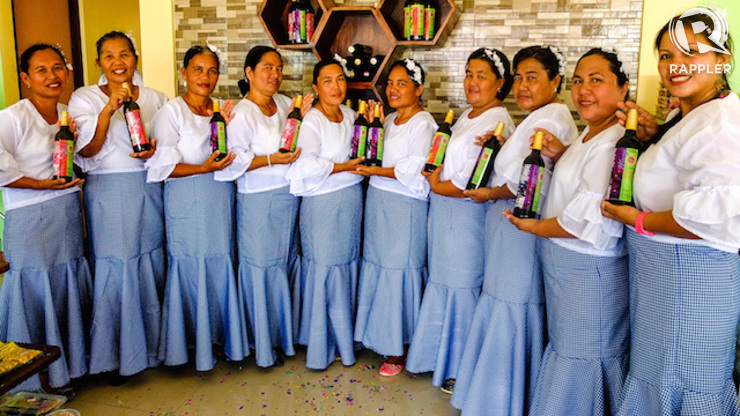 El Salvador City, Misamis Oriental – In a town that hosts a number of companies that brew beer and other alcoholic products, a group of 22 women is also brewing their own wine commercially.
In a complicated world of wine-making and the already foreign-dominated Philippine wine market, the 22 housewives from this city have been brewing wine for 8 years, carving a niche in the wine market.
Producing around 4,200 liters of wine every 4 months made from duhat (black plum), cashew and watermelon, the micro corporation and community-based Bolisong Women Winemakers, Incorporated, (BWWM) make use of what was once they considered useless fruit, but which is abundant in their community.
BWWM has 3 harvest seasons per year.
According to BWWM president Nila Dominguez, their community in Barangay Bolisong is lined with duhat fruit and they just fall on the ground. "Useless to us once, we didn't know what to do with it," Dominguez said.
They also have an ample supply of waste cashew fruit after the nut is harvested.
And what was once a useless fruit has proven to be a gold mine with the help of the Department of Trade and Industry, the local government, and the Department of Social Welfare and Development.
The 22 housewives that comprised the BWWM, has been brewing duhat and cashew wine since then.
Seeking the help of the City Social Welfare and Development for wine-making and with the help of the Agricultural Training Institute (ATI), the group was trained to use cashew fruit.
As a livelihood program of the LGU and the DSWD's Angat Kabuhayan Program, there's still room for improvements and product development.
Judy Aclan, product senior Trade and Industry development specialist of DTI-Misamis Oriental, said that since its inception in 2006, the BWWM trained in harnessing what is naturally around them and making wine.
"It just started as a simple training to make the best of the duhat and cashew which is ample in their village," Aclan said.
That training and initial product development paved the way for them to be the national awardee of DOLE's Kabuhayan Award in 2010, an award handed to groups or individuals that achieved success for their enterprise.
In the regional competition of the Kabuhayan Award, the group got P50,000 besting other women's groups in the region. As the national awardee, the group received P150,000 at the 108th Labor Day celebration in Manila in 2010.
Aged through time
When the women stared their wine processing in 2006, a complex and careful process, the group went through trials and errors, a necessary step in perfecting their homegrown wine products.
For the BWWM women, it was a long and arduous road to determinign the viability of their produce. Before they were able to construct their wine-making facility in Barangay Bolisong, the women made their wine in their individual homes.
It was also a challenging task to move forward with a government-funded livelihood project; they did not have much of a vision of where to take their product beyond their program. They also lacked the necessary fund to start their production.
It was also a case of a government-initiated project without a clear enterprise direction and institutional support.
The women themselves were only armed with the basic knowledge and tools for wine-making. The market for their wine was also obscure and uncertain, as the women were also unsure about who would sell their first batch of produced wine.
They also wanted answers for their question, "Who will buy our Salvadore?"
With the help of inter-governmental agencies in Region 10, like the DTI, DSWD, Department of Agrarian Reform, and with the help of Xavier University's Food Tech Center, the women were empowered and prodded to take their business seriously.
Medicinal
DOLE and ATI provided a grant up to P110,000 to enable them to acquire equipment, utensils, raw materials and packaging bottles to start their regular production.
Now, with an average net income of P320,000 per year, a far cry from the more established wines, the women hold their ground marketing their product as medicinal and naturally fermented fruit liquor compared to imported and much cheaper carbonated wines.
As a medicinal wine, the Salvadore wine contains nutritional supplements known to provide energy and substance to stimulate appetites and aid digestion.
The Salvadore wine contains flavonoids or cathechins believed to be anti-oxidants, and resveratrol which boost the immune system, blocks cancer formation, and possibly protects against heart attacks.
The wine also helps preserve the cognitive function of the elderly, prevents or postpones Alzheimer's, Parkinson's and other forms of dementia.
Small- and medium-enterprise 
Aclan also classifies BWWM as within the small, medium-enterprise (SMEs) categories.
The BWWM has a market valuation of 1.6 million. "This is based on their physical processing plant and equipment," Aclan said.
BWWM is also awaiting the arrival of their new equipment that is expected to increase their output.
Aclan said that the new equipment, valued at around P600,000 will exponentially expand the BWWM operation and increase its annual net income.
"We are waiting for our new pressing machine so we can extract more from the essence of the fruits," Dominguez added.
Currently, the women and sometimes their husbands help in extracting the juice by hand. New fermentation tanks are also expected to arrive this year which will also help in bringing out the fuller flavor of the wine.
Sweet success
Nila Dominguez said they have learned their craft and enterprise the hard way, but it was harder not to do anything at all.
Dominguez said that their small enterprise was able to help them and their families.
"Some of our members were able to send their children to college, some already graduated from college," Dominguez said.
Department of Labor and Employment Secretary Rosalinda Dimapilis-Baldoz, who once visited their winery, admired the perseverance of the Bolisong women in pursuing their dreams of a better life.
Dominguez said that when their production season starts, the women gather in their new facility, with work equally divided among them.
The women have also started to purchase fruit concentrates as their production has increased.
Dominguez, who is also Barangay Bolisong's record keeper, said that they are proud and excited about where the product is headed.
Aclan said that since they are aware of the stiff competition from imported wine, they have packaged the Salvadore brand as a medicinal fruit wine.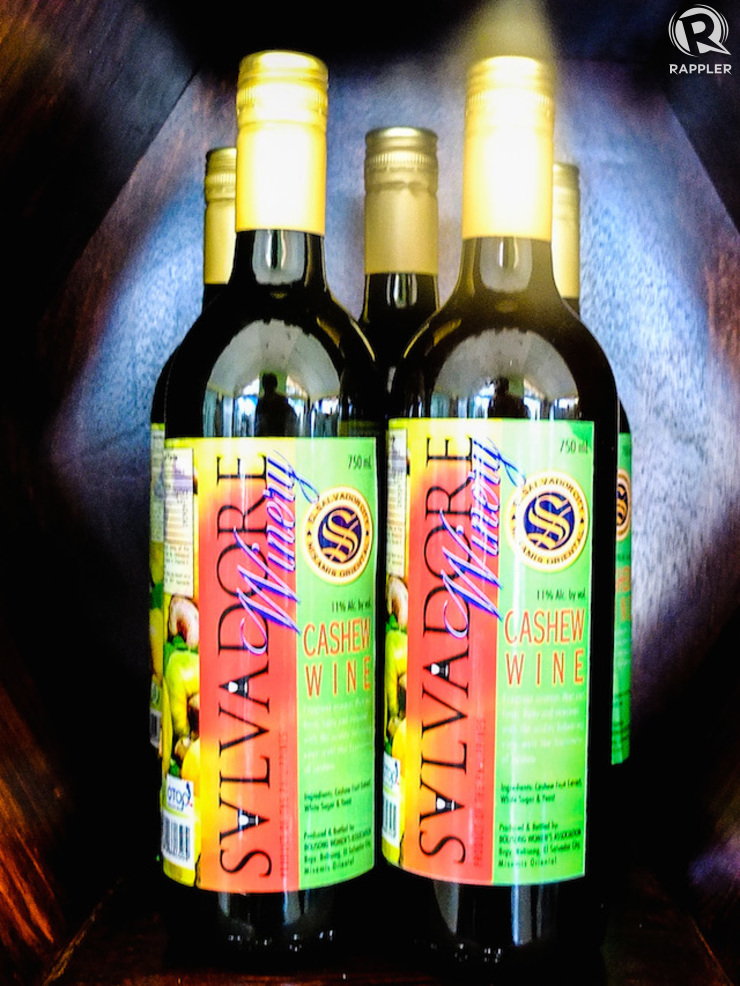 "We also bring them to fair trade road shows, an edge to support home-grown product and fair trade practices," Aclan added.
Aclan said the Salvadore wine products hold so much promise as it is unlike any other wine. "Where the term wine usually only refers to wine produced by grapes, we make use of what is naturally abundant to us, and help women better their lives in the process," Aclan added.
The Salvadore wine brand is also displayed in pasalubong centers across the region and in national fair trade shows like El Salvador City's "One Town, One Product."
Little by little, the wine has started to expand its market to Cagayan de Oro City via consignments and in bars and restaurants and convenience stores.
Aclan also shared that some established brands in the region have sought the help of the BWWM in repackaging their wines and carrying their brand name. But BWWM declined as they wanted to retain the Salvadore wine brand.
Aclan also said that BWWM is set to conquer the national market this year, upping the ante for their product. "Not one wine maker in Mindanao has penetrated the national market, and this is what BWWM is determined to do," Aclan added.
For Dominguez, their awards and recognition are a testament to their hard work and persistence.
Manufacturing process 
The Salvadore wine brand goes through the natural fermentation process with no additives added. Each bottle of wine is made with utmost care, following strict food safety and sanitation standards and Good Manufacturing Practices (GMP) in their new P1-million production facility.
A GMP is a system for ensuring that products are consistently produced and controlled according to quality standards. It is designed to minimize the risks involved in any food production that cannot be eliminated by final product testing.
GMP covers all aspects of production from the starting materials, premises and equipment to the training and personal hygiene of staff.
Detailed, written procedures are essential for each process that could affect the quality of the finished product.
There must be systems to provide documented proof that correct procedures are consistently followed at each step of the manufacturing process – every time a product is made. 
The Salvadore wine brand is guaranteed at 10%-11% alcohol per volume and zero ethanol content as tested by the University of the Philippines-Los Banos-Biotech laboratories. – Rappler.com