Chief Justice Renato Corona takes the last stand as he testifies before the Senate. Here's a preview of his make-or-break testimony.
MANILA, Philippines – "The time will come. They should just wait," said Chief Justice Renato Corona in his media blitz back in March.
The long wait will be over on Tuesday, May 22, when Corona testifies in his impeachment trial. Day 40 of the trial is the "due time" that he and his lawyers have been referring to as the moment when he will finally tell all.
Corona is his last and most important witness. As his lawyers like to put it, his defense will "rise and fall" on his own testimony; it is the last stand, the endgame.
Will the Chief Justice's testimony be the deal breaker that it is expected to be?
The Palace expects Corona to turn his testimony into a "political theater." One of President Benigno Aquino III's key advisers told Rappler they received information that the Chief Justice intends to name two government officials who reportedly spoke with him through emissaries and persuaded him to quit.
The Chief Justice's lawyers refuse to divulge the contents of their client's testimony. In fact, Corona skipped last Sunday's, May 20, scheduled meeting with his counsels.
Yet in the past days, the counsels, analysts and the chief magistrate himself have hinted at what he is going to say.
It appears the Chief Justice will dwell on 3 key themes: a presidential conspiracy against him and the judiciary; the existing legal constraints on the disclosure of dollar accounts; and his view that the Ombudsman has absolutely no jurisdiction over impeachable officials like him and that she has produced an "incredible" report about his bank accounts.
Based on these, here are 10 things that we believe the Chief Justice will say on the witness stand:
1. 'I have neither 82 dollar accounts nor $12 million.'
Corona is expected to rebut the testimony of his former colleague, Ombudsman Conchita Carpio-Morales, that he has 82 dollar accounts. His spokespersons said the Chief Justice has only 3 to 4.
The defense makes the distinction between "transactional balances" and account balances.
Lead defense counsel Serafin Cuevas explained, "If there are 10 accounts, it doesn't mean there are 10 different deposits. The others were closed, moved here, got a big interest, say 6%, that's why they say it's the mother account."
Corona's lawyers are also contesting Morales' statement that Corona has $12 million. The defense said she erroneously summed up the transactions instead of getting the net result.
Corona called Morales' figures bloated and her presentation a "lantern of lies."
Still, he has more to explain. Defense counsel Tranquil Salvador III admits this. "A senator-judge would probably raise that even if only one account exists, the question is did he declare it in his SALN (Statement of Assets, Liabilities and Net Worth). That is what the Chief Justice will clarify."
2. 'I'm not required to declare my foreign accounts.'
In announcing Corona's decision to testify, counsel Jose "Judd" Roy III emphasized the defense panel's position that the chief magistrate is not obliged to declare his dollar deposits. The panel said the Foreign Currency Deposit Act exempts public officials from disclosing foreign denominated accounts.
Days later, Cuevas echoed Roy during an interview with reporters. "The grant of confidentiality is absolute."
Estrella Martinez, a retired director of the Bureau of Internal Revenue (BIR), supported the defense's position.
Corona, however, will have to convince Senate President Juan Ponce Enrile, who said that regardless of "characterization," any asset must be declared in the SALN.
3. 'I cannot open my dollar accounts.'

Corona earlier promised to open his dollar accounts. Roy also indicated as much when senators asked him if Corona will waive his right to bank secrecy.
"There is a very strong possibility that he will disclose everything," said Roy. Watch: 
Lately though, Cuevas sounded hesitant to honor his client's commitment. He cited Corona's petition asking the Supreme Court to stop the disclosure of his bank accounts.
"There will be a legal battle over that," said Cuevas. "Meron nga kaming petition sa Supreme Court, eh 'di kung ganoon, dinismiss na namin 'yun." (We have a petition before the Supreme Court, if we were to disclose the dollars, we should just have dismissed the petition.)
4. 'Morales' testimony is inadmissible.'
Corona will likely affirm the statement of his lawyers that Morales' testimony is incredible. Aside from what it calls unbelievable amounts, the defense team rejects Morales' testimony on grounds that she has no personal knowledge of the data from the Anti-Money Laundering Council (AMLC).
The panel will block the admission of Morales' testimony and documents as evidence because it says the alleged $10 million was not in the impeachment complaint. Defense counsels could also refer to a point made by Sen Miriam Defensor-Santiago on May 15, that the the Ombudsman did not follow the process spelled out in the Anti-Money Laundering Act. 
Corona's counsels also reiterate that the Senate already struck out ill-gotten wealth from Article 2 of the Articles of Impeachment.
5. 'The money is not mine.'
The defense said that assuming but not conceding that the dollar accounts belong to Corona, there is an explanation for this.
Defense counsel Ramon Esguerra told dzMM, "Let's say he admits he has 10 dollars. He can say it's not mine. He can say he is holding the money in trust for somebody."
It is possible Corona will say that the money came from his wife's family corporation, the Basa-Guidote Enterprises Inc. (BGEI). Basa-Guidote earned P34.7-M from the sale of a lot in Sampaloc, Manila in 2003.
Yet if his deposits exceed the amount, that will be another case entirely. The prosecution also said Corona will have to explain how the BGEI money ended up in his bank accounts.
6. 'I borrowed P11 million from BGEI.'
As stated in his 2003 SALN, Corona borrowed P11-M from BGEI to pay for some of his properties.
Based on the defense presentation, Corona will likely say that he was able to do so because his wife, Cristina, is BGEI's assistant corporate secretary and his daughter, Carla Corona-Castillo, bought shares representing 91% of the company.
It is unclear though if and how Corona will explain allegations he used his position and connections so his wife and daughter will gain control over BGEI, as claimed by Mrs Corona's relatives.
The Chief Justice might also be asked about supposed irregularities in his daughter's purchase of the shares for a much lower price.
7. 'My properties were belatedly delivered.'
Corona is accused of belatedly declaring some of his real estate properties. His lawyers, however, differentiate the sale of the property from the delivery.
For example, Corona and his wife bought a condominium unit at The Columns in Makati in 2004 but his lawyers said he only took "actual possession" in 2009. The property was declared only in his 2010 SALN. 
His lawyers wrote, "CJ Corona refused to accept delivery in order to preserve his right to pursue legal remedies against the developer for the repair of the defects and damage."
8. 'I am only one vote.'

For the remaining Articles 3 and 7, Corona will likely address charges that he intervened in Supreme Court cases to favor Philippine Airlines and his ex-boss, former President Gloria Macapagal-Arroyo.
In a speech before the Supreme Court last December, Corona said the high tribunal acts as a collegial body.
"We each have one vote and we are on equal footing. My vote has the same weight as the vote of the newest appointed magistrate. The force of my views is equal to that of the views of any other justice," he said in Filipino.
9. 'It's all about Hacienda Luisita.'
Beyond the merits of the case, Corona is expected to venture into the political aspect of his trial as he has done in the media. He says the root of his impeachment is Hacienda Luisita. 
Corona claims President Benigno Aquino III is out to pin him down for a Supreme Court decision ordering the distribution of the sugar estate to farmers. Aquino's family (the Cojuangco side) owns the property but the President has divested his shares. The government, through the Solicitor General, also supported the land's distribution to farmers.
The Chief Justice told GMA7 in March, "Why do they want to remove me in that impeachment? Because I opposed their (Cojuangcos) bid to get P10 billion in compensation …. And for that to be paid, they need my head and my removal."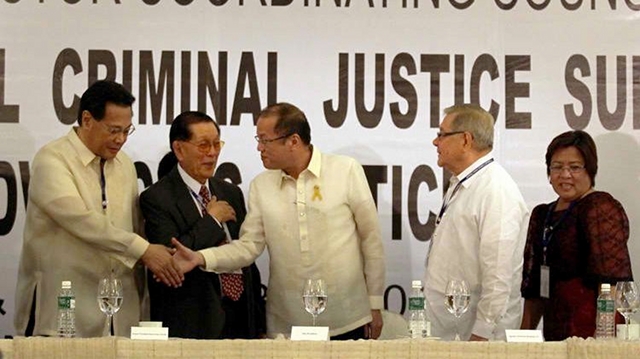 10. 'No to Aquino dictatorship.'
Cuevas admitted that Corona will attack Aquino on the witness stand. "It's the only remedy left," he said.
Corona's top defender said his client will point out that Aquino never liked him from the start, with his administration orchestrating a plot to remove him from office.
Corona may also tell all about supposed meetings with Aquino intermediaries for an alleged term-sharing offer and to ask him to resign. He is expected to name the players in the supposed Aquino conspiracy to oust him.
Even before his trial started, Corona had no qualms about trading blows with Aquino. He accuses him of undermining judicial independence.
"Ako'y tumututol sa walang tigil na pang-aalipusta, panduduro at pananakot.  Ako'y tumututol sa dahan-dahang binubuong diktadura ni Pangulong Benigno Simeon Aquino III!" (I oppose this relentless persecution, intimidation and bullying. I oppose this dictatorship that President Benigno Aquino III is slowly establishing!) – Rappler.com
Click on the links below for more.