Labor attachés in the Middle East have been ordered to get the Philippine addresses and contact numbers of OFWs before they return to the country
MANILA, Philippines – The Department of Health (DOH) failed to track down within the 14-day incubation period the last 10 co-passengers of an overseas Filipino worker (OFW) who initially tested positive of the MERS Coronavirus.
The incubation period ended Monday, April 28, according to Dr Lyndon Lee Suy, head of the DOH committee for emerging infections.
He admitted difficulty in finding the remaining 10, as some of them changed addresses and other contact details.
"Meron tayong hinahawakang pangalan na may information pero ongoing ang pagva-validate ng address at telephone number," he said in a press conference Tuesday, April 29. (We have names with information, but validation of addresses and telephone numbers is still ongoing.)
Of the 414 passengers of Etihad Airways flight EY 0424 – the OFW's flight last April 15 – 404 were already tracked as of Monday. Four of them were foreigners who had since left the Philippines.
Of the 400 Filipinos who were tracked by the DOH, 394 were already examined, with 371 testing negative of MERS. The rest are still awaiting their results.
The OFW initially tested positive of the MERS virus while at the United Arab Emirates, making him the first laboratory-confirmed case of the MERS virus to get to the Philippines. He, however, tested negative when he was reexamined upon his return. 
The MERS or Middle East Respiratory Syndrome Coronavirus is a highly fatal, influenza-like illness characterized by fever, cough, and often with diarrhea. (FAST FACTS: The MERS Coronavirus)
As of Saturday, April 26, the World Health Organization (WHO) reported 261 laboratory-confirmed cases of infections, 93 of which resulted in death, worldwide.
A 41-year-old Filipina nurse died of MERS on August 29, 2013, while another OFW reportedly died of the virus last April 10.
No symptoms
Lee Suy said if the remaining 10 Filipinos did not experience the symptoms for the past 14 days, "it's safe to say wala nang problem (there are no more problems)."
Dr Mario Panaligan of the Philippine Society for Microbiology and Infectious Diseases agreed.
"Kapag ganun [na] walang naramdaman, most likely wala sila. Kung nagkaroon man, nag-negative na 'yun," Panaligan said. (If they did not experience symptoms, it is most likely they don't have MERS. If ever they acquired the virus, they're already negative by now.)
He cited reports from WHO and the Centers for Disease Control and Prevention that said cases with no symptoms have "very, very low" possibility of transmitting MERS to others.
Despite this, the department is still tracking down the last 10 Etihad passengers. (READ: OFW's co-passengers asked to check for MERS)
To avoid similar problems in the future, Labor Secretary Rosalinda Baldoz has given orders for Middle East labor attachés to get the Philippine addresses and contact numbers of OFWs getting their Overseas Employment Certificate.
"Ang naisip natin, magbigay na ng mga pangalan nila bago pa bumalik sa Pilipinas so that if ever magkaroon ng isang kaso na maaaring siya ay positive o kailangang i-isolate madali na natin siyang makita," said Carmelita Dimzon of the Overseas Workers Welfare Administration.
(We asked OFWs to give their names even before they go back to the Philippines so that if ever someone tests positive of MERS and needs isolation, we can easily find him or her.)
Stay alert
While the Philippines remains free of the MERS Coronavirus, Lee Suy said the country cannot remain complacent because the threat remains. (READ: PH boosts MERS monitoring after UAE nurse scare)
"There are more countries reporting MERS now. Thousands of Filipinos are coming home from the Arabian Pensinsula. We're not saying it won't happen here, but then we're hoping it won't happen here," he said.
Any person with travel history to the Middle East and with severe respiratory illness are advised to be tested for MERS. (READ: MERS alert: 11 things OFWs should do)
Lee Suy asked the cooperation of Filipinos to keep the virus out of the country, urging those experiencing symptoms to get tested despite the stigma. 
"Mas nakakahiya kung alam mong ikaw ang p'wedeng magkalat ng problema. Hindi ka nag-cooperate, hindi nagpa-examine – mas nakakahiya if at the end of the day ikaw ang maging dahilan ng pagkalat ng sakit sa conmmunity," he said.
(It would be more shameful if you know you can spread the problem. You did not cooperate, you did not get examined – it would be more shameful if at the end of the day you become the reason for the spread of the disease to the rest of the community.)
Lee Suy said a PhilHealth benefit package for the MERS Coronavirus is still being finalized, wherein PhilHealth will cover the medical examination of patients suspected with the virus.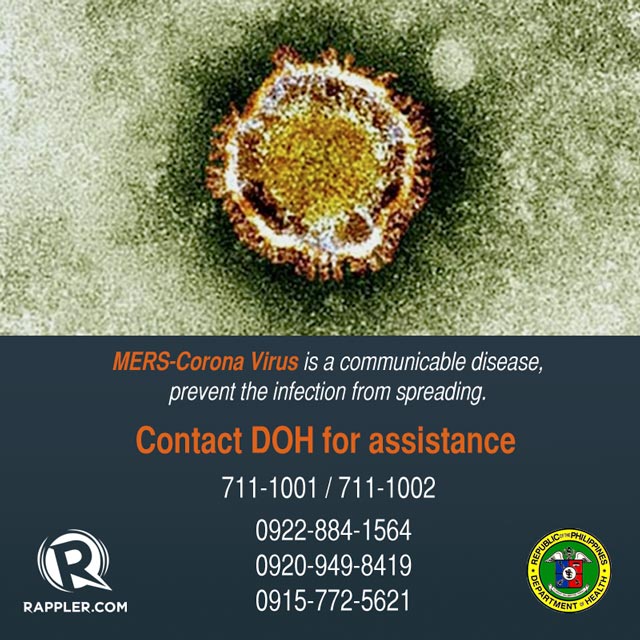 – Rappler.com