It's the next logical question. What is the source of CJ's multi-million deposits?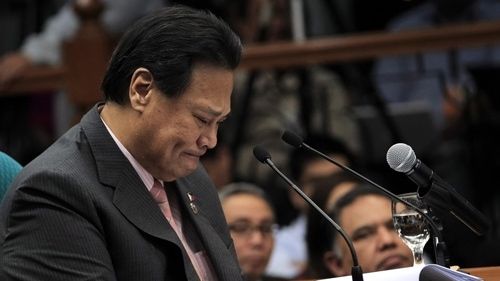 (UPDATED) MANILA, Philippines – It's the next logical question. His money or not, what is the source of Chief Justice Renato Corona's multi-million peso and dollar deposits?
In his testimony in the Senate, Corona admitted he has US$2.4-M in dollar accounts and P80-M in peso deposits. These were undeclared in his Statement of Assets, Liabilities and Net Worth supposedly because 1) the peso deposits are commingled funds and 2) the dollar deposits are protected by the confidentiality of foreign deposits.
Corona maintained that his multi-million dollar deposits came from legitimate sources. He supposedly started investing in dollars in the late 1960s, when he was still a college student. The investment earned interest over a span of 35 years. Banking experts however pointed out it was illegal to engage in dollar trading in the 60s.
Corona denied the computation presented by Ombudsman Conchita Carpio-Morales showing that he has at least US$12-M in fresh deposits. She cited records of the Anti-Money Laundering Council (AMLC), which she said, were certified.
Transaction patterns

But Corona's critics are not convinced by his testimony on the amount and the source of his deposits. The Chief Justice did not show bank documents to prove his claims but eventually issued a waiver that would allow banks to disclose information on his dollar deposits. After ignoring months of calls to open his bank accounts, Corona issued a waiver in a last-minute attempt to explain his deposits.
Lead defense counsel Serafin Cuevas said Corona's testimony relies on his credibility as Chief Justice.
But the Senators ruled they could not act on the waiver because, as Senator-judge Juan Ponce Enrile said, "We cannot subpoena any other person mentioned here, given the fact that we are not supposed to produce evidence for the defense nor the prosecution."
Based on AMLC bank transaction records, Morales noted heavy transactions during the 2004 and 2007 elections, and the week after he was impeached by the House of Representatives.
While the prosecution panel acknowledged that the source of Corona's dollar deposits is no longer the subject of the impeachment trial, members are nevertheless intrigued.
In earlier interviews, they suggested two ways to determine source of the Chief Justice's deposits. 
One, deputy speaker and prosecution spokesperson Lorenzo Tañada III said, is to compare the dates of the bank transactions with the dates of important Supreme Court rulings.
Another way, prosecution spokesperson Juan Edgardo "Sonny" Angara said, is to look into the source accounts. This information, however, is not available in the AMLC records submitted by the Ombudsman to the Senate court.
Earlier in the trial, the prosecution tried to link the P10-M "reduction" that Corona got for his Bellagio penthouse unit with a ruling that he himself penned favoring the condominium's builder, Megaworld. The builder lost in 2 other Supreme Court cases, however, weakening the prosecution's theory.
The prosecution also questioned Corona for accepting perks from Philippine Airlines (PAL) when it has a pending case before the Supreme Court. PAL is asking SC to reconsider a supposedly final ruling ordering PAL to reinstate retrenched employees, the members of the Flight Attendants and Stewards Association of the Philippines (FASAP).
The Chief Justice and his wife were given PAL Platinum Cards, which entitled them to "unlimited courtesy travel." It was the SC division then chaired by Corona that granted PAL's motion to reconsider the final ruling. He would later inhibit from the case.
Senate President Juan Ponce Enrile disallowed evidence on PAL because he said bribery is not part of the allegations in the impeachment complaint. The prosecution argued, to no avail, that it was evidence for Article 3 of the complaint–to show that Corona lacked independence.
Coincidence?
Following Tañada's route, Rappler compared dates of supposedly questionable SC rulings cited in the impeachment complaint with the dates of bank transactions in the AMLC report. The comparison yielded the following:
SC ruling

Date/Transactions

FASAP*

Sept. 16, 2011 / Philippine Airlines lawyer Estelito Mendoza writes 2nd letter to SC Clerk of Court asking for the reconsideration of FASAP victory

P1-M deposit

P1-M deposit

(same day, BPI)

Oct. 17, 2011 / FASAP files motion questioning SC ruling granting Mendoza's petition to reconsider what is already a "final and executory judgment"

$373,634.24 Withdrawal

$374,086.25 Purchase Security/Asset
$373,634.24 Withdrawal

$373,634.24 Credit Memo

(2 days later, BPI)

League of Cities**
 
Dec 21, 2009 / Reversing an earlier ruling, SC votes 6-4 to declare 16 questionable municipalities constitutional

P1-M deposit

(same day, BPI)

P8.5-M miscellaneous trans
$225,937.95 credit memo
$254,729.25 debit memo
$225,937.95 miscellaneous trans

P8.5-M deposit

(1 day later, BPI & PSBank)

$471,678.46 credit memo
$471,678.46 debit memo $254,729.25 credit memo

(2 days later, BPI & PSBank)

June 28, 2011 / SC issues a resolution to immediately implement ruling on League of Cities

P4-M deposit
P2-M debit memo

(5 days earlier, BPI & LandBank)

P17-M miscellaneous trans
P17-M deposit

(1 day later, BPI and PSBank)

Nov 17, 2011 / SC issues TRO on travel ban versus Pampanga Rep Gloria Arroyo

$373,634.24 withdrawal
$374,086.25 Purchase Security / Asset
$373,634.24 withdrawal
$373,634.24 credit memo

(2 days later, BPI)

Sept 13, 2010 / Then Ombudsman Merceditas Gutierrez files petition to stop impeachment proceedings against her in the House of Representatives. TRO was issued the following day.

P700,000 deposit
(same day, BPI)
**Refers to the "flip-flopping" SC decisions on the cityhood of 16 municipalities. The High Court issued 3 rulings on the case — initially declaring the conversion of the 16 towns into cities as unconstitutional on May 21, 2009 and ending it with a 3rd ruling reversing the decision on July 2011. The final ruling exempted the 16 towns from the requirements of cityhood under the Local Government Code (LGC). The LGC specifies that municipalities can be converted to cities only when they have a population of at least 150,000, are at least 100 square kilometers in size, and have a P100-M locally-generated income.
Is it a fair comparison?
Two lawyers whom Rappler consulted said the comparison sought by the prosecution was not fair.
"Unless there's another basis, it is unfair," said Ateneo School of Government Dean Antonio La Viña.
"It's like comparing apples and oranges," added University of the Philippines College of Law professor Theodore Te.
But Supreme Court Appointments Watch (SCAW) convenor Vincent Lazatin said it's a valid comparison.
"I think it is fair. The source of those funds is really now starting to come into question. The Chief Justice claimed that a lot of the money that has surfaced thus far has come from Basa Guidote Enterprises Inc. With the report coming from the AMLC, we're seeing a lot more money than the original money that he was claiming came from the P34 million BGEI money," Lazatin said.
"People are asking the next logical question. Where did they come from? If you look at it in the framework of corruption, you have to see if there are any links between the timing of the inflows with, say, important decisions like FASAP. Or even as the Ombudsman said, in time with the elections," Lazatin added. – Rappler.com
Click on the links below for more of Rappler's special coverage of the Corona trial.