This is AI generated summarization, which may have errors. For context, always refer to the full article.
The #ScrapPork network reminds the justice secretary that the people have the right to know the content of the list, while an opposition lawmaker wants her compelled to release it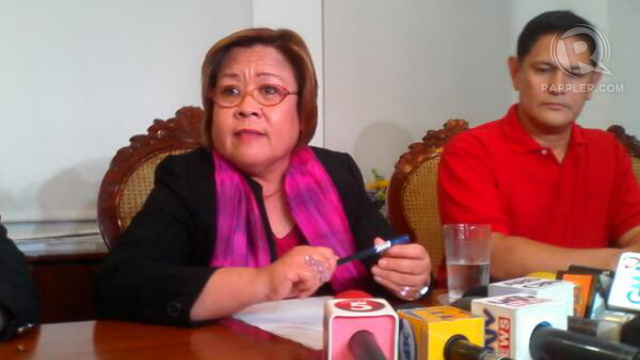 MANILA, Philippines – With various camps expressing fears that the list of lawmakers implicated by Janet Lim-Napoles in the pork barrel scam would be manipulated to exclude crucial names, Justice Secretary Leila de Lima asked for the public to trust her as she vowed to continue exercising cautious judgment in vetting Napoles' testimony.
"You just have to trust me that I am not gonna do that, na isa-sanitize ko 'yung listahan. Pangako ko po 'yan sa taong bayan, na hindi ko gagawin 'yan, na hindi ko isa-sanitize. Pangako ko rin sa taong bayan na gagawin ko 'yung mandato ko in a very responsible and prudent manner," she said in a chance interview Tuesday, May 6.
(You just have to trust me tha I am not gonna do that, that I will sanitize the list. That is my promise to the people, that I will not do that, that I will not sanitize. I also promise the people that I will fulfill my mandate in a very responsible and prudent manner.)
A civil society group on Tuesday asked the Department of Justice (DOJ) head to make public the controversial Napoles list, which has since quickly become the subject of speculation and concern among lawmakers. 
The #ScrapPork network wrote to De Lima, saying disclosure of the names Napoles implicated is well within the people's constitutionally guaranteed right to information.
The network was formed months after the corruption scandal broke out in 2013, and has been clamoring to secure the conviction of individuals involved in the illegal diversion of lawmakers' Priority Development Assistance Fund (PDAF) to bogus non-governmental organizations associated with Napoles.  
"Delaying the release of information from Mrs Napoles will only cast doubt on your actions. We express hopes that public support for your good work will increase; for a fair, impartial, and timely handling of the PDAF scam," the letter read. (Read the full letter below.)
Firm on non-disclosure
Also on Tuesday, United Nationalist Alliance secretary general and Navotas Representative Toby Tiangco filed a resolution urging the House of Representatives to conduct an investigation in aid of legislation to compel De Lima to release Napoles' affidavit. 
Tiangco said further delays in the disclosure of the affidavit not only casts doubt on the integrity of its content but also makes every lawmaker a suspect in the scam. 
"There is a compelling need for the House of Representatives to protect the integrity of every member by conducting an investigation and directing the Justice Secretary to disclose the Affidavit of Mrs Napoles containing the names of lawmakers and government officials identified by Mrs Napoles in the aforesaid Affidavit," Tiangco said in House Resolution 1082. 
But the justice secretary finds no reason to release the Napoles list as of now, reassuring the public that any manipulation would be easily detected by Napoles' camp anyway.
"Paano ko masa-sanitize 'yan, hindi naman galing sa 'kin 'yang listahan na 'yan? Malalaman naman natin 'yan kung merong idadagdag diyan o aalisin diyan. Madali rin namang tanungin si Mrs Napoles kung iniba ko ba o hindi ang listahan niya," she said.
(How can I sanitize that, when that list did not come from me? We will know if there were added or excluded names. It's very easy to ask Mrs Napoles if I changed the list or not.)
De Lima added that the vetting process will involve making sure the names implicated by Napoles are backed up by documentary evidence, as it is "theoritecally" possible for Napoles to name people who weren't really involved in the scam.
"I'm sure people would not want me to take her (Napoles') word for it," De Lima said.
Napoles met with De Lima at her hospital room on the evening of April 21 to submit the subject list and her first documented statement, detailing what she knew of the scam. The DOJ team has gone back for another session with Napoles to gather more information, but is eyeing for a full statement in writing instead.
Prior to the initial 5-hour meeting, Napoles was seen as the brains behind the illegal fund diversion. She has since denied this.
De Lima earlier said there might be details about the scam only known to Napoles, making her testimony crucial in putting together the bigger picture. (READ: DOJ: Some solons may have dealt directly with Napoles)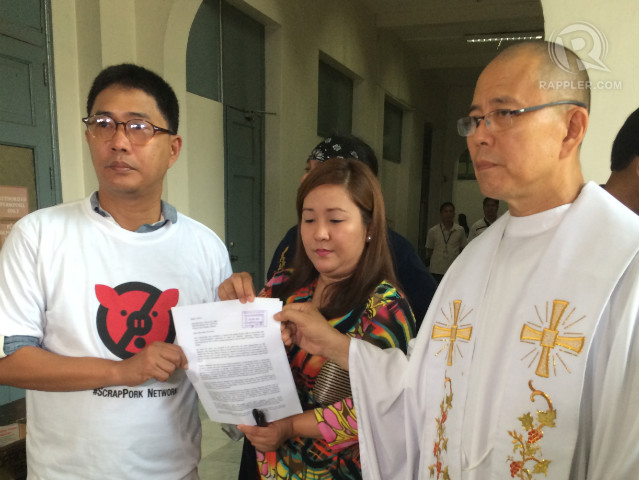 #MillionPeopleMarch Part 2?
The #ScrapPork network, whose members were among the organizers of the #MillionPeopleMarch that saw diverse groups gathering for the abolition of the PDAF, said the movement is keen on staging another picnic-rally should the list stay undisclosed.
Lawyer Argee Guevarra also said the group will be exhausting available legal remedies to access the Napoles list, including petitioning lower courts and even the Supreme Court, should their letter fail to convince De Lima. – with a report from Angela Casauay/Rappler.com