This is AI generated summarization, which may have errors. For context, always refer to the full article.
(2nd UPDATE) A Philippine police official says the Chinese fishing boat is intercepted 60 nautical miles off the coast of Palawan, bearing 500 turtles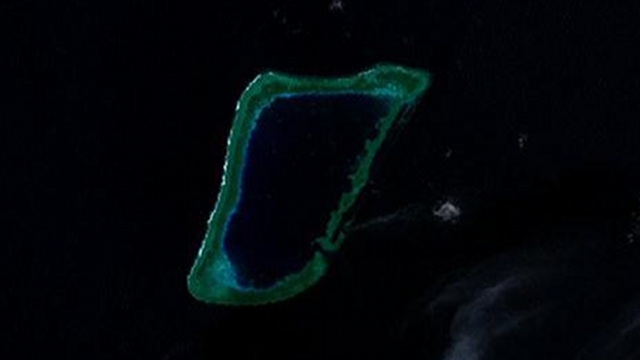 MANILA, Philippines (2nd UPDATE) – The Philippine National Police (PNP) maritime group intercepted a Chinese fishing boat with 500 turtles on Tuesday, May 6, off the coast of Palawan, a PNP official confirmed to Rappler.
PNP spokesperson Senior Superintendent Theodore Sindac said that the Chinese boat, with a crew of 11, were found on Hasa-Hasa Shoal (Half Moon Shoal), which is just  60 nautical miles off the coast of Palawan.
"At about 7 am, May 6, 2014, at the Half Moon Shoal, Palawan, 2 vessels were captured. One is a local boat with 5 Muslim passengers carrying more or less 40 turtles. The other one is a Chinese boat with 11 passengers and carrying more or less 500 turtles," Sindac said in a text message.
Watch this report below.
The Chinese fishing boat Qiongqionghai 09063 was manned by a certain Chen Hi Quan and 10 Chinese crew.
The fishing boat is being towed to Palawan, where appropriate charges will be filed.
Sought for comment, the spokesperson of the Philippine military's Western Command (Wescom) based in Palawan said the PNP is the lead agency in the operation.
"As for Wescom, we have coordinated with the PNP to secure the safety of everyone involved," sid Wescom spokesperson Lieutenant Cheryl Tindog told Rappler.
The Department of Foreign Affairs in a statement said relevant authorities in Palawan will address the case "in a just, humane, and expeditious manner."
"The seizing of the Chinese fishing boat…and the apprehension of its crew…were undertaken as actions to enforce maritime laws and to uphold Philippine sovereign rights over its EEZ," the statement read. 
China state news media Xinhua earlier posted a report  on the 11 "missing" fishermen. 
"They (Chinese fishermen) were on board fishing boat Qiongqionghai 09063, which was intercepted by an unidentified armed vessel at about 10 am in waters off the Half Moon Shoal of Nansha Islands," Xinhua reported. 
Xinhua said China has mobilized fishing boats to search for the missing fishermen.
China and the Philippines are engaged in a bitter maritime dispute over the West Philippines Sea (South China Sea).
Hasa-Hasa Shoal is frequented by Chinese fishermen. It is located at about 60 nautical miles off the coast of Palawan – well within the Philippines' Exclusive Economic Zone (EEZ) based on the United Nations Convention on the Law of the Sea (UNCLOS).
In 2012, a Chinese naval frigate was stranded in the same area. (READ: Chinese ship rescued in Half Moon Shoal)  – Rappler.com