The Balikatan 2014 war games continue in Crow Valley in Tarlac. In a maritime security scenario, Philippines and US troops operate to take over a key enemy position.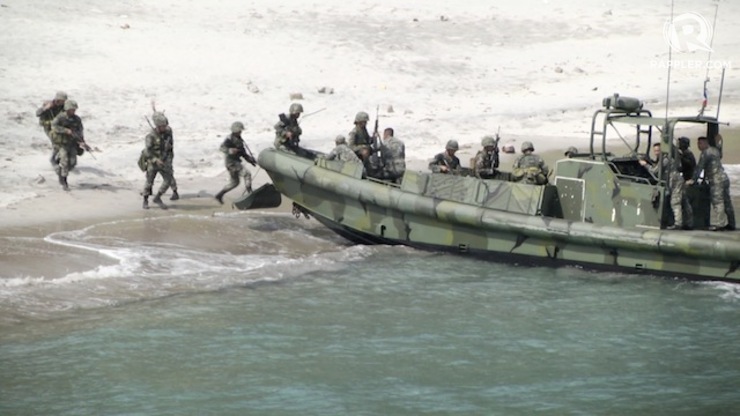 MANILA, Philippines – A US aircraft dropped bombs and marines tore forward under artillery fire in war games in Crow Valley in Tarlac City on Thursday, May 15 – weeks after the allies signed a defense deal against a backdrop of flaring Chinese tensions with its neighbors.
"It's a maritime security scenario," Filipino Navy Captain Annaleah Cazcarro said. "We don't have a target country," she emphasized.
Watch this report below.
As F/A-18 and A-10 aircraft unloaded their payloads, US Marines spokesman Lieutenant-Colonel Jay de la Rosa added, "We're training to take over a key enemy position."
The live rounds made a dull thud and kicked up dust as they rained down on a dry riverbed in the northern Philippines at the start of the hour-long maneuvers, involving about 100 American and 200 Filipino marines.
Artillery shells also poured down from nearby hilltops before V-22 Osprey aircraft and conventional military helicopters made paratroop drops of marines on the simulated battlefield, later joined by colleagues aboard armored vehicles.
PH offers US bases facing South China Sea
Bound by the 1951 Mutual Defense Treaty, the Balikatan annual war games are yearly activities held by the two militaries to improve their interoperability.
The newly-signed Enhanced Defense Cooperation Agreement steps up their defense cooperation allowing two new activities: storage and prepositioning of defense assets and building or upgrading facilities inside select Philippine military bases. 
Armed Forces of the Philippines chief of staff General Emmanuel Bautista had enumerated 3 military bases that will be offered for the use of US troops:
Naval detachment in Palawan's Oyster Bay. It faces the West Philippine Sea and it's near the disputed Kalayaan Group of Islands (Spratlys). The government has allocated P313.6 million to improve the pier, harbor, and to construct support facilities there. (READ: PH to upgrade naval detachment facing Spratlys)

Naval Education & Training Command (NETC) in San Antonio, Zambales. It also faces the West Philippine Sea and is near the disputed Panatag (Scarborough) Shoal.

Fort Magsaysay in Nueva Ecija. It is one of the biggest military bases in Asia and where Balikatan war games are usually conducted. 
All 3 provinces have been the site of Balikatan activities this year although activities in Palawan's Western Command were off limits to the media.
Escalating tension with Beijing
The war games in Crow Valley on Thursday came at the end of 10 days of annual war games between the US and the Philippines, involving 5,500 troops. They happen this year, addressing security issues in the flashpoint South China Sea.
China is engaged in increasingly tense rows with both the Philippines and Vietnam in the area, which is believed to harbor vast oil and gas resources and which China claims almost in its entirety.
Thursday's event was held at Crow Valley, a former gunnery range for American forces stationed at two nearby large military installations until 1992.
The allies signed a deal in April to give US forces greater access to Filipino bases in the former US colony.
The US has said it does not take a position on the territorial disputes, but has criticized what it said were "provocative" acts by China to assert its claims. (READ: How far will the US go to defend the Philippines?)
US President Barack Obama, in a state visit to Manila in late April, also made an "ironclad" pledge to defend the Philippines.
The Philippines released photographs on Thursday to back its claim that China is reclaiming land on a disputed reef in the South China Sea, in an apparent effort to build an airstrip.
In Vietnam, anti-China riots on Thursday triggered by the communist neighbors' own territorial dispute left a Chinese worker dead and 100 injured.
The Chinese claims to the South China Sea also overlap those of Taiwan, Malaysia and Brunei. – with reports from Agence France-Presse.