Cuevas says it's an option they will study carefully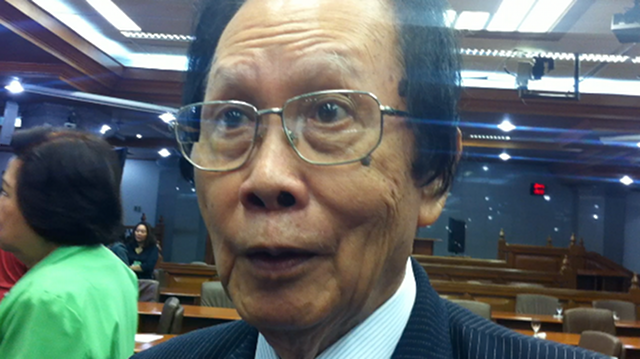 MANILA, Philippines – Defense lead counsel Serafin Cuevas is not ruling out the option of calling for a mistrial. If Chief Justice Renato Corona is convicted next week, he said they will review the transcripts of the trial to see if senator-jurors committed "grave abuse of discretion" during the trial.
"We will exhaust all legal resources, constitutional at that. Maski saang laban, pwede mo bang sabihin na sige kung matalo ka pahinog ka na matulog ka na talo ka. Hindi naman siguro iyon ang inaasahan ng iyong klieyente," Cuevas told reporters when asked about reports that the defense panel will call for a mistrial.
"If it will amount to what is known as known as grave abuse discretion. Then we will avail of it as ground for petition for review," Cuevas said.
But it's too early to make that conclusion said. Cuevas said it's an option they will study carefully. "Hindi naman lahat ng error ng court ay grave abuse of discretion sufficient to raise the issue of mistrial," Cuevas said.
Senator Franklin Drilon said, however, that a mistrial does not apply to impeachment courts.
In petitions before the Supreme Court and the impeachment court, Corona accused 7 senators as biased against him. He accused Drilon and senators Francis Pangilinan, Teofisto Guingona III, Alan Peter Cayetano, Ralph Recto, and Sergio Osmeña II of helping the prosecution build a case against him. More recently, he filed a motion for Sen Edgardo Angara to inhibit from the trial because his son Aurora Rep. Sonny Angara is the prosecution spokesperson.
Nevertheless, Cuevas said they are still counting on the senator-jurors to appreciate the evidence they presented.
Cuevas maintained the prosecution has no case against the Chief Justice because he declared all his properties in his Statement of Assets, Liabilities, and Net Worth.
"Hanggang ngayon umaasa kami na makukumbinsi naming sila na walang kasalanan si Chief Justice," Cuevas said.
Last card: SC?
Cuevas told the court on Wednesday, May 23, that Corona has filed a motion with the Supreme Court for the early resolution of his petition to nullify his impeachment trial.
"We prayed that oral arguments be scheduled. Hanggang ngayon, wala," Cuevas said.
In his petition, Corona argued that there's no probable cause in impeaching him. Cuevas added that it was railroaded. In the trial, the defense panel presented Rep. Toby Tiangco to testify on the alleged railroading of the impeachment complaint.
But Cuevas conceded that an intervention from the SC may be too late with the Senate deciding next week.
"Baka di na aabot. Sabi nga kung patay na ang kabayo, aanhin mo pa ang damo? E di ibigay mo sa kalabaw," Cuevas joked. – Rappler.com