This is AI generated summarization, which may have errors. For context, always refer to the full article.
The PNP Region 4A, which has custody over Napoles, says they're ready to move her back to Fort Sto Domingo in Laguna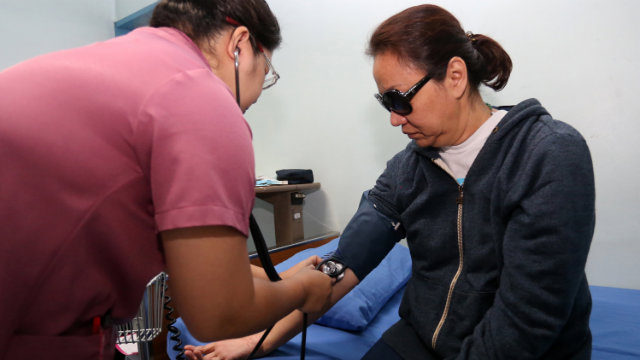 MANILA, Philippines – With no legal or medical reasons to justify a longer stay in the Ospital ng Makati (OsMak or Makati Hospital), alleged pork barrel mastermind Janet Lim Napoles will be back in her Laguna detention center before the week ends.
Judge Elmo Alameda of Makati Regional Trial Court Branch 150 denied Napoles' motion for further hospital confinement "due to lack of merit."
In a resolution released Tuesday, May 20, Alameda ordered police from the Philippine National Police (PNP) Regional Office 4A "to escort [Napoles] on her return to Fort Sto Domingo…from the Ospital ng Makati….The authorities concerned are directed to implement the order on or before but not later than May 23, 2014."
Alameda earlier said the court would stick to its earlier statement that Napoles will only have until May 23 to stay at the hospital.
Chief Inspector Dr Magnolia Ruth Bermudez from the PNP Region 4A Health Services told the court Fort Sto Domingo is ready to receive Napoles.
In late March, Napoles was transferred to OsMak from her detention center in Laguna to surgically remove a mass in her uterus. The surgery was performed almost a month ago, on April 23.
Napoles was previously detained at Fort Sto Domingo in Laguna for serious illegal detention charges filed by former aide turned pork barrel scam whistleblower Benhur Luy.
Conditions in Laguna
Napoles, through her lawyers, asked the court to let her stay in the hospital longer while she recovered from a total hysterectomy. Witnesses from previous hearings, however, have all said hospitalization is not essential for her to recover fully.
The controversial figure needs to undergo weekly check-ups a month after her surgery, check-ups once every two weeks a month after that, and monthly check-ups for during months 3 and 4.
"[A] comfortable home, comfortable place where she is free from the risk of infection," Napoles' personal physical Dr Efren Domingo said when asked about the conditions needed for Napoles to avoid infection and other complications.
Bermudez confirmed that although the conditions at Fort Sto Domingo were not perfect, they would be sufficient for Napoles – free from possible sources of infection.
Aircon, water issues?
"The biggest problem would be the heat. [The detention center] has one big window and on the side, one more. Inside her room, there's a window. The place is ventilated but given the weather now, it might be too hot there," Bermudez said in a mix of English and Filipino.
One solution, she said, would be to bring in an air conditioner inside. Drinking water was not available from the tap, but Alameda insisted this was not an issue. "But nobody now is drinking directly from the faucet. Everybody now is drinking bottled water or water from drinking stations," he added.
Since Fort Sto Domingo is a PNP Special Action Force (SAF) camp, Bermudez said people cannot come and go freely. Possible sources of infection for Napoles, she said, would be her visitors and security personnel. Otherwise, nothing inside the camp is a health hazard.
Napoles' food would not be an issue, Bermudez added. It turns out that Napoles had been rejecting food provided for by Fort Sto Domingo, opting instead to eat food from visiting family and friends.
Finishing the affidavit
Napoles' team of lawyers, however, argued the extension of her stay at OsMak was needed so she could finish her affidavit on the pork barrel scam.
But Alameda said this was not a concern of this particular court, since it is the Sandiganbayan's concern. Napoles' lead counsel Stephen David said they would file an urgent motion asking for an extension of the hospital stay to finish the affidavit.
They also plan to file an urgent motion asking the court to allow them to bring computers and other equipment to Laguna so they could finish the affidavit.
David, however, could not say the extension period they need. "Last time, I thought that we could finish it last week but then several other congressmen came out from the documents of Mrs. Napoles and that's why we need to include this," he said.
The affidavit supporting Napoles' list of lawmakers allegedly involved in the scam is already half-finished, David said. – Rappler.com