The Commission says the public should expect quality education from these schools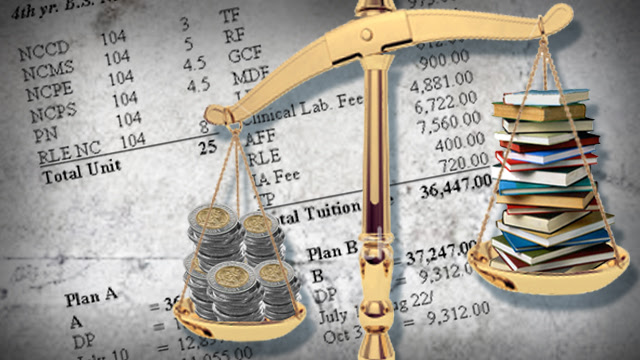 MANILA, Philippines – The Commission on Higher Education (CHED) on Tuesday, May 20, approved the tuition hike in 171 private tertiary schools in the Philippines.
Based on the latest reports submitted by CHED regional offices, 361 out of 1,683 Higher Education Institutes (HEIs) sent letters of intent to raise school fees. (READ: 353 private colleges want higher tuition)
The approved tuition hike of the partial list averages 9.30% or almost 37 pesos per unit.
Requests from Region 2, 12, and NCR are still being processed, according to the Commission.
Watch this report below.
Decrease in petitions
CHED Chairperson Patricia Licuanan said that the number is slightly lower than the 451 schools in 2013. 
The recent disasters that hit the Philippines may have been the reason for the decrease in petitions.
Licuanan also clarified that no Yolanda-affected HEI filed for intent to raise fees, possibly in consideration of the aftermath. The Commission however granted 60,000 scholarships to students in Eastern Visayas, which was battered by the super typhoon.
"One of their problems is precisely their students who were stripped of capability," she said. "But we increased grants for Yolanda-affected areas."
The huge allocation, Licuanan explained, can be attributed to the overall increase in the number of grants given to students in the Philippines. Regions 6, 7, and 8 were prioritized due to the recent disaster.
No state university or college is also increasing its fees this year. CHED has talked to the administrations to not take that action. (READ: Public colleges to freeze tuition hikes?)

"We assume that no SUC (State Universities and Colleges) will raise tuition this year," Licuanan said. "They get the picture that they are not supposed to be doing this."
In exchange for the subsidy given by the government, students from SUCs are expected to give back by enriching their communities.
No power

While militant groups clamor for a moratorium on tuition increases, the Commission emphasized that issuing it might cause some problems.
Executive Director Julito Vitriolo cited Section 42 of Batas Pambansa 232 or the Education Act of 1982 as the lifeblood of private schools.
"The moratorium isn't feasible because there is a law that allows private schools to determine their rate of increase," Vitriolo explained. "This has not been repealed by the Congress."
Licuanan meanwhile gave assurances that the increase comes with an expectation of high quality education. They are also giving scholarships to students in private schools.
Primary and secondary increase
The Department of Education (DepEd) also recently approved the tuition increase in 1,299 private elementary and high schools in the Philippines.
As of May 15, majority of these schools (311) are located in Western Visayas. The lowest increase granted is 1.35% while the highest increase is 35%.
Based on DepEd's 2010 Manual of Regulations, 70% of the increase should go to the teachers' salaries, and at least 20% for the improvement of the school's facilities and equipment. – with reports from Jee Geronimo/Rappler.com