This is AI generated summarization, which may have errors. For context, always refer to the full article.
Napoles says in her affidavit, 'I learned from Cong Butch Abad that NGOs or cooperatives are needed to transact with agencies.' Abad says her claims are 'ridiculous.'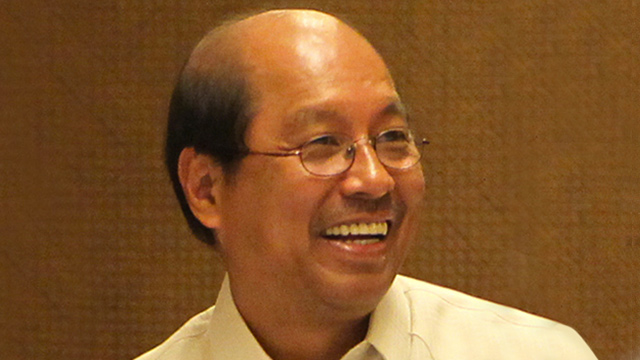 MANILA, Philippines – What is alleged pork barrel scam mastermind Janet Lim Napoles accusing Budget Secretary Florencio Abad of?
Napoles elaborated on her alleged dealings with President Benigno Aquino III's close ally in an affidavit signed on May 26, 2014. Justice Secretary Leila de Lima submitted the affidavit along with another Napoles sworn statement to the Senate, which released the two documents.
In the beginning of her affidavit, Napoles sought to downplay her involvement in the scam, saying she is not the most guilty and only learned about the scheme to siphon funds from the pork barrel of lawmakers from the lawmakers themselves and their agents. (READ: Napoles affidavit names 9 senators)
She said one of them was Abad, a former Batanes Representative.
"May mga taong malaki ang naging impluwensiya sa paglawak ng aking kaalaman at transaksyon sa gobyerno. Kay dating Cong Butch Abad ko nalaman na NGO o cooperative ang kailangan upang makapagnegosyo sa mga ahensya," Napoles said.
(There were people who had a big influence in expanding my knowledge and transactions with government. I learned from Cong Butch Abad that NGOs or cooperatives are needed to transact with agencies.)
In a statement released Tuesday, May 27, Abad dismissed her claims of having a close professional relationship with him as "nothing short of ridiculous." He asked, "How it it possible for Ms Napoles to have a close professional relationship with me when she has been trying – with great effort, it appears – to make my acquaintance for years now?"
Manuel Jarmin as 'agent'
Napoles included Abad in her list of lawmakers who she transacted with and gave money to. She said his agent was a certain Manuel Jarmin.
"Congressman Florencio Abad and I met through Mr Manuel Jarmin. We met in a Japanese restaurant in EDSA Shangri-la Plaza hotel. He showed me a Special Allotment Release Order (SARO) then explained what it was for. I gave him 2M pesos in that meeting," Napoles said in Filipino.
"When the Notice of Cash Allocation (NCA) came out, I again gave him 2M pesos in Cravings, Katipunan," she said in her affidavit.
Napoles said, "When we talked about the implementation of the project, he asked me if I had an NGO or coop. When I said none, he said he will take care of it. In my recollection, he used the Batanes Electric Cooperative to implement the project."
"Eventually, he returned the 4M pesos that I gave him with an additional Php 2M pesos."
In his statement, Abad said he "never dealt with Janet Lim Napoles in any manner, much less through an agent or a middleman. And while I may be acquainted with Mr Jarmin, I have never transacted with him in any capacity. Ms. Napoles' claims about me – that I tapped Mr Jarmin as my 'agent,' and that I taught her how to profit illegally from the bureaucracy – are absolutely not true."
Jarmin, according to a directory of officials as of 2014, is acting director of the Department of Agriculture's (DA) Livestock Development Council. He was listed by principal whistleblower Benhur Luy as among those involved in the illegal pork barrel transactions, and was a nominee in 2007 of the party-list Napoles founded, the Ang Samahan ng mga Mangangalakal sa Ikauunlad ng Ekonomiya (A-SMILE). The party list was said to have figured in the 2004 "Hello Garci" wiretap scandal.
Abad also refuted Napoles' version of events. "She claims that when she met me in 2000, I showed her a SARO for a P10-million project, for which the Batanes Electric Cooperative (BatanElCo) would serve as the implementing arm. But no such project exists in the DBM's [Department of Budget and Management] records. Neither does it exist in the records of the National Electrification Administration (NEA) and BatanElCo. Both NEA and BatanElCo have already confirmed this."
He added, "None of these things took place – this mysterious P10-million project, the clandestine meetings in the EDSA Shangri-La and Cravings-Katipunan, the crash course on PDAF corruption I supposedly gave her in those two meetings, and finally, the happily generous exchange of millions in cash between us – except in the warped, fevered imagination of Ms Napoles."
DBM employees recalled that in 2010, Napoles dropped by Abad's office in an attempt to introduce herself "but was unsuccessful in securing an appointment," Abad said.
Alcala signs docs, Villanueva's project
Napoles also detailed the alleged role of other Aquino allies, and members of the President's official family in her affidavit.
The alleged mastermind listed Agriculture Secretary Proceso Alcala, and  Technical Education and Skills Development Authority Director General Joel Villanueva as among those she transacted with.
Napoles said the agriculture department was part of the "shopping list" of the budget department as it was an agency able to implement pork barrel projects. "It is also here where one can request how and where to implement the project."
She said the project starts when the Special Allotment Release Order (SARO) arrives at the finance department of the agency.
"It is here in the office of [Assistant Agriculture Secretary] Ofelia Agawin (sic) where it is followed up and confirmed whether it is true or not that the SARO already arrived before the proper document can be processed. After the foundation passes accreditation and before we begin processing papers to fix everything, only then will Secretary Alcala sign."
Napoles said in cases where Alcala was not available, Assistant Secretary Allan Umali signed the memorandum of agreement.
In earlier statements, Alcala had insisted  he had  never dealt in any capacity with Napoles. 
Aquino defends his men
As for Villanueva, Napoles said the former Citizens' Battle Against Corruption (Cibac) partylist representative had an agent: Maite Defensor.
"The projects I remember were under [the National Agribusiness Corp.] worth 3 million pesos, DA-CA worth 5M, and TLRC worth 1.3M and 3M in 2008. I talked to Maite Defensor and she was the one who got the commission," Napoles said.
President Aquino has defended and praised Abad, Alcala and Villanueva after they were dragged into the pork barrel scam. He rejected calls to fire the officials.
"The point here is I only have one official family. Do I trust them or not? What is the actual allegation against them?" Aquino asked.
"And I already promised the people – and I think you've seen this – when we have sufficient evidence, we will bring the case to court and that's what happened when we brought the information we had to the Ombudsman."
The President said Napoles' list was only meant to muddle the issue to distract public attention from those facing charges in the scam. 
Read Napoles' May 12, 2014 affidavit covering the first batch of pork barrel scam here: 
Read Napoles' May 26, 2014 extended affidavit naming more officials here:  – Rappler.com