This is AI generated summarization, which may have errors. For context, always refer to the full article.
Through his own inquiries with COA, Manila Representative Amado Bagatsing says he discovered fake letters allegedly from his office to the Technology Resource Center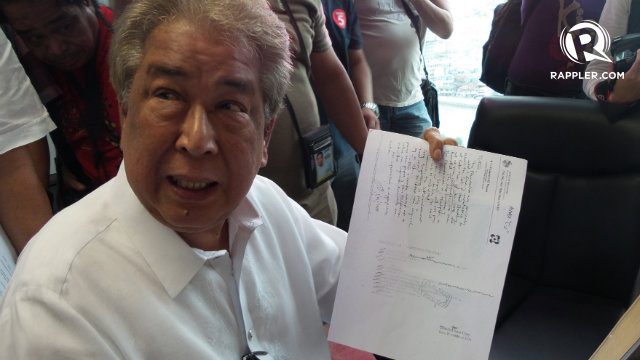 MANILA, Philippines – "Ako ang kanilang minanipula, ako ang kanilang vinictimize." (I was manipulated, I was victimized.)
Insisting on his innocence in the multi-million-peso illegal diversion of lawmakers' development funds, Manila 5th District Representative Amado Bagatsing on Tuesday, June 10, filed a complaint against alleged mastermind Janet Lim Napoles for violating Article 183 of the Revised Penal Code on perjury.
In an affidavit executed on May 26, Napoles said that Bagatsing, through a certain "Mina Nieva" got rebates for a project implemented by the Technology Resource Center (formerly the Technology and Livelihood Resource Center).
"Si Mina Nieva ang kumuha ng rebate para doon sa project na inimplement ng TRC noong mga 2007," wrote Napoles in her affidavit that tagged more than 100 lawmakers in the scam. (Mina Nieva got the rebate for the project implemented by the TRC in 2007.)
Bagatsing filed the complaint before Makati Assistant City Prosecutor Benjamin Vermug Jr on Tuesday morning. Perjury is committed when a person gives false testimony under oath. 
But it would have been impossible for his office to release his Priority Development Assistance Fund (PDAF) in 2007, Bagatsing said, because the first tranche of funds from the Budget Department only came on January 2, 2008.
Bagatsing is on his 6th term as Manila representative. He held the position from 1987 to 1997 and again from 2007 to his present term, which ends in 2016. 
'I don't know Napoles'
If found guilty, Napoles faces between 6 months to 6 years imprisonment. She is, however, currently detained at Fort Sto Domingo in Laguna for allegedly keeping against his will former aide turned scam whistleblower Benhur Luy. 
Bagatsing added that he would also be suing Napoles for damages before a Manila prosecutor within the week.
Asked how much he's seeking to sue for damages, Bagatsing said it will only be a small amount, "just enough to help my constituents," he added.
Napoles is accused of orchestrating the pilferage of the PDAF of lawmakers through fake projects and bogus non-governmental organizations. In two affidavits, Napoles narrated how she, through several "agents" connived with lawmakers – senators and representatives – to rake in millions of pesos in public funds.
Napoles has yet to give details about her alleged transactions with Bagatsing. In a previous interview, Napoles' spokesman said they would not release documents related to the scam unless Napoles is granted immunity from plunder raps.
Nieva, said Napoles, is supposedly the daughter of the late Ernesto Nieva, who was a representative of the 1st District of Manila during the 11th, 12th, and 13th Congress. Nieva also allegedly got rebates from a DOTC-implemented project in behalf of her father.
Speaking to media before he executed his affidavit, Bagatsing denied even knowing Napoles. He also said he did not know of the project he allegedly coursed through her NGOs until after the scam was exposed. "Etong mga dokumentong ito, wala ako. Nakuha ko lang ito noong nag-imbestiga ako sa COA," he said.
(I didn't have these documents prior to the pork barrel scam. I only got them when I investigated with the COA myself.)
Fake letters
Bagatsing showed reporters 4 documents: 3 letters from his office to TLRC Director General Antonio Ortiz and a hand-written note from the TRC Corporate Support Service Group's Franciso Figura.
"Itong mga dokumentong hawak ko ang nagpapatunay na ang aking PDAF na iisang milyon ay minanipula nila, ginamit nila na wala akong partisipasyon. Hindi ko lang sinasabi na hindi ko kilala si Napoles, ang sinasabi ngayon ay ang dokumento mismo nagsasalita na wala akong partisipasyon bagkus napakadumi ng kanilang pagkakagawa," Bagatsing said.
(These documents prove that my PDAF – all P1 million of it – was manipulated; used without my participation. I'm not just saying I don't know Napoles. The documents are saying that I did not have anything to do with the scam and that the letters they wrote are inconsistent.)
The first letter, typewritten on plain paper, was written on October 15, 2007. The letter shows Bagatsing's office asking the TRC to release P1 million to the Masaganang Ani Para sa Magsasaka Foundation Inc "for the implementation of livelihood projects in the Fifth District of Manila." The project was allegedly covered by Special Allotment Release Order (SARO) No. ROCS-070-07630 dated October 10, 2007.
The October 15, 2007 letter, said Bagatsing, was withdrawn because the SARO had yet to be released.
A second letter written a month later on November 15, 2007 bears the House of Representatives letterhead. In the letter, Bagatsing again asks Ortiz to facilitate the release of P1 million for the Masaganang Ani Para sa Magsasaka Foundation Inc for the project covered by the same SARO. Again, the NGO was unable to get the funds.
By January 21, 2008, the TRC took notice of the two "dubious" letters. The TRC's Figura said the legitimacy of [Masaganang Ani Para sa Magsasaka Foundation, Inc] is a "vital issue" because the NGO was unable to submit a Certificate of Good Standing.
Figura added the letter of endorsement from Bagatsing "is only a xerox copy" (photocopy) and therefore advised against the processing of the NGO's papers until necessary documents are submitted.
A last letter from Bagatsing, dated February 26, 2008, informed Ortiz that his "staff apparently misunderstood my instructions" and that "wrong communication was sent to the wrong office." Bagatsing in the letter urged the immediate transfer of his pork barrel. The last letter has the letterhead of the House of Representatives.
Bagatsing in all lists
Bagatsing said his office doesn't use a generic "House of Representatives" letterhead, but one that specifies his office and designation. "Yang' mga pirma yan, hindi ko alam saan galing," added Bagatsing. (I don't know where those signatures came from.)
During a Senate hearing, primary scam whistleblower Benhur Luy admitted they forged the signatures of lawmakers to hasten the release of public funds.
"Halos labing-isang buwan akong nagdusa dahil ako ay nakabit sa pork barrel scam. Napakaliit nga lang na halaga, isang milyon," he added. (I've been suffering for almost 11 months since I was linked to the scam. And it's over a relatively small amount – P1 million.)
Bagatsing is named in several "lists" of lawmakers allegedly part of the scam – the COA's special audit, Yolanda rehabilitation czar Panfilo Lacson's list, a list from Justice Secretary Leila de Lima as submitted by Napoles, the Philippine Daily Inquirer's list, and Napoles' affidavit submitted to the justice department.
The lawmaker was a handwritten addition in both the Lacson and De Lima version of the lists. Lacson's "partial" version was submitted to him by Napoles' family, while De Lima got her version of the list during a meeting with Napoles at the Ospital ng Makati. – Rappler.com