This is AI generated summarization, which may have errors. For context, always refer to the full article.
Auditors have found hundreds of projects anomalously awarded to and implemented by 12 contractors in several regions from 2009 to 2010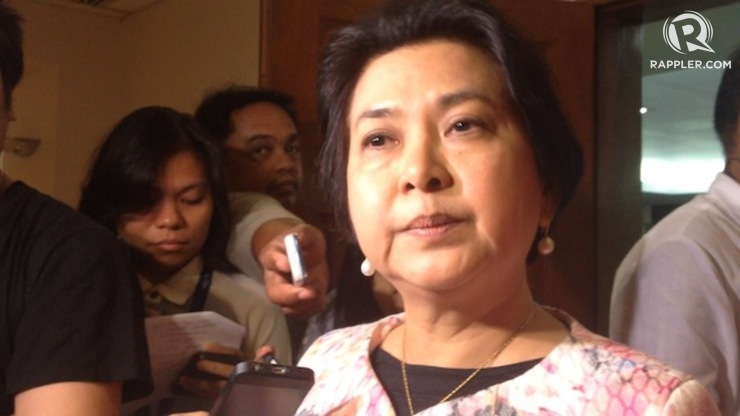 MANILA, Philippines (UPDATED) – Riddled with irregularities.
This was how the Commission on Audit (COA) described the infrastructure projects worth P16.9 billion implemented by 12 contractors selected by the Department of Public Works and Highways (DPWH) from 2009 to 2010.
COA Chairperson Grace Pulido Tan said auditors found "red flags" in various stages of the projects – from the procurement process to untraceable fund release orders, and the lack of monitoring and inspection during and after implementation.
Tan unveiled the results of the probe during a hearing Tuesday, June 10, conducted by the committee on good government and public accountability of the House of Representatives.
The committee is investigating the allegedly missing P30 billion worth of DPWH funds. 
Tan was expected to present a report on P10.2 billion worth of congressional insertions uncovered during the previous committee hearing.
She, however, said the audit reports on the amount were scattered across different agencies and auditors had yet to consolidate their findings. She instead asked for permission to present the special report. 
The audit report – which has been out for about 7 months now – was made upon the request of Public Works and Highways Secretary Rogelio Singson. 
It covered projects awarded to the following contractors from 2009 to 2010: 
In a summary prepared for the House committee, COA said it found that there were 290 projects costing P6.371 billion in Ilocos Region, Cagayan Valley, Central Luzon, and Bicol that did not undergo procurement planning as required under Section 7 of Republic Act 9184, the law governing government procurements.  
Deficiences 
The projects were implemented in different areas, including Isabela, Pampanga, Leyte, Samar, Eastern Samar, Northern Samar, regions I to V, Eastern Visayas, Davao Region, and Metro Manila.
It also included 5 projects costing P67.3 million taken from the Malampaya fund. The projects were not energy-related. 
Some of the irregularities uncovered by COA from the procurement process down to the implementation of the project include: 
In the National Capital Region, the Readycon Trading/Gardiola company started the C-5 extension project worth P578.53 million covering the South Luzon Expressway and the West Service Road-Sucat without a funding cover, a notice of award, and a contract.

No genuine and meticulous contracts post-qualification in different areas; multiple contracts that grossly exceeded contractors' net financing and constructing capacities

Assigning same set of equipment and personnel to multiple, simultaneous projects awarded to E Gardiola Construction, Triple 8 Constrcution and Supply, Three W Builders, I and E Construction, and Ferdstar Builders

3 projects in Calabarzon costing P48.14 million not supported with approved Special Allotment Release Orders (SAROs) for change of location and/or modification 

SAROs for 96 projects costing P1.82 billion in the 1st and 2nd districts of Leyte, 5th district of Samar, 1st district of Eastern Samar, and Northern Samar indicated appropriation codes not identifiable in the General Appropriations Act; auditors could not establish whether these were "duly appropriated projects" and whether the SAROs were in accordance with the GAA
In Bicol, projects had

 no scope of work, plans/drawings, specs, contract duration, procurement schedule, timelines, warranty and bid security, among others.

P843 million worth of projects were signed by the bids and awards chairpersons, who are usually the assistant regional directors or assistant district engineers, when the awarding of contracts worth P20 million and above should be done on a regional level.

Contracts were split to fall within categories. For instance, a project spanning one highway was split into different contracts for just one contractor, with each contract covering different portions of the same highway.

No warranty security required by DPWH for 15 projects costing P413.36 million

Defects in the C-5 extension project implemented by BSP, Gardiola and Readycon, which were included in the quality assurance reports, were not corrected, even if contractors have been paid 98% of the contract price (P553.6 million) and surety bonds have expired. 
COA has issued notices of disallowance for P184.661 million to contractors of the substandard projects:
Region III (Central Luzon) – 12 projects, 9 notices of disallowance involving P29.281 million

Region IV-A (Calabarzon) – 1 project, 1 notice of disallowance involving P14.926 million

Region VII (Central Visayas) – 8 projects, 8 notices of disallowance involving P19.270 million

Region XI (Davao Region) – 9 projects, 9 notices of disallowance involving P121.183 million
Of the amount, only P17.8 million have been returned to the government, Tan said. 
With the amount of anomalies COA uncovered, Tan told lawmakers her agency would subject the findings to a more intensive fraud audit.  
Read the summary of the COA report presented to the House panel below:
'Not intended to malign anyone'
Reacting to the audit report, Eastern Samar Representative Ben Evardone said: "I hope this is not construed as an attempt to cover up the PDAF (Priority Development Assistance Fund) nor the P10.2-billion congressional insertions. Kasi po bigla 'nyo lang itong pinasabog (because you just suddenly exposed this)." 
Tan denied the accusation. 
"For the record, hindi naman po ako pumunta dito para gumawa ng pasabog (I did not come here to make an explosive revelation). I came here because you invited me to be here. As I said earlier, we don't have a special audit of the P10.2 billion (congressional insertions) but we have one on P16.9 billion (worth of projects)," Tan said. 
"It's not my intention here to malign anyone. In fact, before this, nanahimik po itong report na ito. Matagal na po sa amin ito, about 7 months na," she added. (This report has gone unnoticed. It has been with us for a while, for about 7 months now.) – Rappler.com