This is AI generated summarization, which may have errors. For context, always refer to the full article.
The pork barrel scam case is no different from other cases pending before the anti-graft court and does not need to be prioritized, the senator says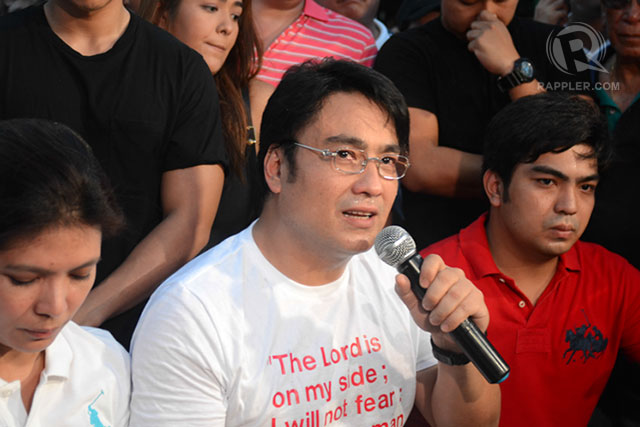 MANILA, Philippines – Senator Ramon "Bong" Revilla Jr is not in favor of creating special divisions within the anti-graft court to hear cases on the multi-billion-peso pork barrel scam.  
In his response to the Supreme Court, Revilla said creating Sandiganbayan special divisions is "discriminatory as it is unwarranted" because there is no "substantial distinction" that would merit prioritizing the case filed against him over other cases pending before the Sandiganbayan.  
Revilla, along with fellow opposition senators Jinggoy Estrada and Juan Ponce Enrile, is facing plunder and graft charges for allegedly channeling his discretionary Priority Development Assistance Fund to fake non-governmental organizations in exchange for kickbacks.
His comment said: "To warrant a treatment different from the rest, there must first and foremost be a valid classification based on real and substantial classification. This classification must not be merely imaginary or whimsical. Simply because the PDAF cases are the hot item of the day, meaning they are the subject of public clamor, does not provide that substantial classication to set them apart from the other cases pending before the Sandiganbayan."  
The senator argues that the proposal violates the Equal Protection Clause since the Constitution "guarantees all accused speedy justice" regardless of the "magnitude and complexity" of the case. 
Revilla slammed the Ombudsman as "biased and discriminatory" for denying his motions. 
He said the Ombudsman's proposal to create special divisions reeks of the same bias. 
Watch this report.
Read his comment below:
Comment of Sen Revilla on the Letter of the Ombudsman
– Rappler.com