Ateneo School of Government Dean Antonio La Viña says the SC should clarify that its ruling on the liability of the architects of DAP is non-binding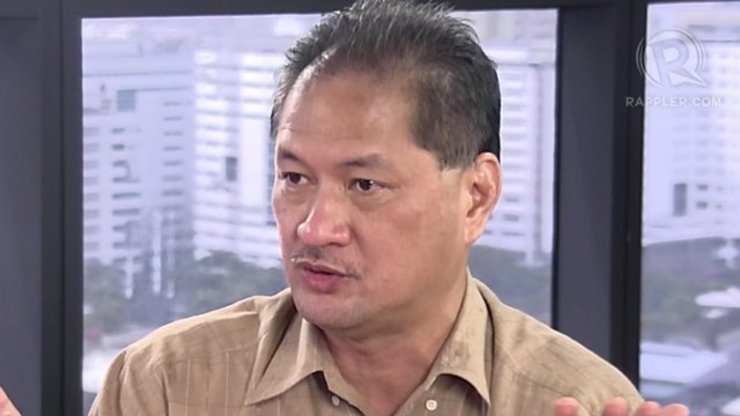 MANILA, Philippines – "You start with presumption of innocence, good faith and regularity. Otherwise, if you start with presumption of bad faith, that's problematic."
A legal analyst said that the Supreme Court should clarify its decision on the administration's spending program, particularly the liability of the authors and implementers of the Disbursement Acceleration Program (DAP).
Ateneo School of Government Dean Antonio "Tony" La Viña said that the High Court can revisit the paragraph when it resolves the motion for reconsideration that President Benigno Aquino III said his government will file.
In its ruling striking down key acts under the DAP, the Court said that the so-called doctrine of operative fact cannot apply to the officials behind the DAP "unless there are concrete findings of good faith in their favor by the proper tribunals determining their criminal, civil, administrative and other liabilities."
In an interview with Rappler's #TalkThursday, La Viña said that this statement is non-binding, known legally as an "obiter." He said that it prompted the President to react strongly in his combative address to the nation on Monday, July 14. (READ the full interview transcript here)
"I think it's best for the Supreme Court to clarify this is not part of the decision. Many of the justices actually don't subscribe to that because it's not fair to make a judgment on good faith, bad faith, or liability. No facts at all to make that determination," La Viña said on Thursday, July 17.
"I would not consider [a clarification] as the SC bowing to pressure but doing the right thing."
Watch the interview below.
On July 1, the Supreme Court declared several acts under the administration's stimulus program unconstitutional, saying transferring savings from one branch of government to another violated the separation of powers. (READ: Understanding the SC ruling on the DAP) 
Militant groups and the president's critics used the paragraph on liability to attack the President and file cases against him and Budget Secretary Florencio Abad.
La Viña explained that the doctrine of operative fact applies only to projects and activities, and does not touch on the liability of officials.
"It simply means that if a project was done under DAP, delivered, then it's over and it's recognized. You don't tear down the building just because it was built by DAP. You don't not pay the contractor."
"Liability is entirely another thing and you're not supposed to talk about liability here," he said. "All the concurring opinions, including Justice [Arturo] Brion's, says we have no finding on facts about liability. There are some speculations [Abad was] a congressman, etc. [He] should have known [better]. It's all speculation and from my point of view, not legally meaningfully."
La Viña though said that Abad and other executive officials can still be held liable in lower courts for the charge of technical malversation.
"Conceivably, that would be the case, and their good faith [argument] actually doesn't even matter there. It's a question of public funds and how they were used."
The Revised Penal Code provides punishment for "any public officer who shall apply any public fund or property under his administration to any public use other than for which such fund or property were appropriated by law or ordinance."
'No economic paralysis'
While La Viña sided with the President on the issue of liability, he rejected Aquino's claim that the SC ruling will cause economic paralysis. He said that the President can instead ask his allies in Congress to immediately pass special appropriations for emergencies.
"I don't buy the argument that the loss of DAP will lead to paralysis because DAP no longer exists. They, in fact, terminated it last year. They said it's no longer needed. In the future, you have to pass special budgetary acts. You can do it fast, I think within a month if you have political will. That's not an excuse."
La Viña also disagreed with the President's interpretation that the SC ruling bars him from using government savings until the end of the year.
"That's not true. Every month, government has savings. Every agency has savings. Those savings can actually be pulled, be used but only to augment existing items."
"But there's really no way around that because if the president chooses what to spend, where to spend, then you're no longer a presidential system. You're a parliamentary system of government," he added.
Defying SC is 'ultimate wang-wang'
La Viña said that the Supreme Court decisions on the DAP and the congressional Priority Development Assistance Fund (PDAF) benefit Congress the most, which now has a greater role in crafting the budget.
"Congress has to be very serious about its role in budgeting. There has to be a congressional office that really does the budget. The budget now is done by the [budget department], given to Congress. It should be the DBM, working with the congressional budget office, which has a permanent, professional staff: economists, governance specialists, lawyers who will do this," he said.
The Court rulings are instructive for both the executive and legislative branches.
"The government needs to be forewarned that we have a strict constructionist constitutional court, a court that will interpret the Constitution to the letter, not just the spirit. We are forewarned about that and therefore we want to be very careful. We want legal reviews even of old practices to be sure they are covered." (READ: Aquino's tirade vs SC seen to backfire)
Using the President's famous metaphor against abusive government, La Viña said Aquino should respect the Court's power of judicial review.
"Because if you don't, that's the ultimate wang-wang, to say. 'I will not obey because I'm right.' I can see people misusing the words of the president and not obeying any court, any lawful order because 'I'm right.'" 
"If you can guarantee me that we will never have a Marcos in this country, that our president will always be as good as President Aquino, as sincere as President Aquino, if you can guarantee me that, let's take away the power from the Supreme Court. But if you can't guarantee me that, then we're better off having a Supreme Court that makes mistakes but is the final arbiter for disputes." – Rappler.com