DepEd expects around 21.49 million students in over 45,000 public schools to conquer the new school year
MANILA, Philippines – On Monday, June 4, students from all levels will start going back to school to start another academic year.
The Department of Education (DepEd) expects around 21.49 million students in over 45,000 public schools alone to conquer the new school year.
For this school year 2012-2013, which also marks the start of the K-12 program that adds adds two more years in the curriculum, what is in store for the students when they go to school on Monday?

Resources

While the lack of resources that students need in school has been a perennial problem, Education Secretary Armin Luistro said in a presentation in March that these are being addressed.
Indeed, the number of classrooms, teachers, and sanitation facilities has been increased. But they are still not enough.
According to DepEd, there is an estimated classroom backlog of 66,800 in public schools, and a backlog of 124,286 toilets for the school year 2012-2013.
Luistro admitted having a higher budget contributes to these developments. The department has been given an estimated budget of P2.4 billion for SY 2012-2013, which amounts to 2.3% of the total gross domestic product (GDP).
This allocation is higher compared to 2011's P207-B budget, or 2.1% of GDP.


In an interview, he also shared a good news: "All students who will come to school on the first day of classes will have a seat and textbook ready for them."
"As we implement the new K to 12 curriculum for Grade 1 and Grade 7 this school year, we made sure that public elementary and secondary schools across the country are ready for school opening" Luistro said.

Curriculum

This year will start the implementation of the K-12 program in elementary and high school.
Under this program, all 5-year old children starting SY 2011-2012 will be required to enter kindergarten.
Also, an additional 2 years (grades 11 and 12) will be added in the basic education level starting SY 2022-2023.
Program implementation will be in phases. Incoming grade 1 and 7 students will be the first batch to fully undergo the program.
Incoming grade 1 students will be taking up 6 subjects, all to be taught in their respective Mother Tongue:
    Reading and Writing
    Oral Fluency in Filipino
    Edukasyon sa Pagpapakatao (EsP)
    Mathematics or Arithmetic
    Araling Panlipunan (AP)
    Music, Arts, Physical Education, Health (MAPEH)

A 7th subject, Oral Fluency in English, will be introduced in the second half of the school year. This subject will be taught for 40 minutes.

Science will be taught in grade 3, but its concepts will be integrated in other subjects like Health (under MAPEH), Math, and Languages in grades 1 and 2. Edukasyong Pangtahanan at Pangkabuhayan will be taught starting in grade 4. All subjects will be taught in English starting grade 3.

For grade 7 students, on the other hand, they will take up the core learning areas (Math; Filipino; English; Araling Panlipunan; Edukasyon sa Pagpapakatao; and Music, Arts, Physical Education, and Health) and the Technology and Livelihood Education (TLE) subject, which will offer various skill-enhancing topics for the entire high school level.

To prepare teachers for the new curriculum, some 73,655 Grade 1 teachers and 70,227 Grade 7 teachers were given trainings in May. DepEd has also worked with various private school associations to cover teachers in private schools.
"The key to the success of the introduction of K to 12 in schools is keeping the public informed and ensuring that schools are prepared to apply the new curriculum," Luistro said.
ID number
Starting this school year, DepEd will also be issuing unique Learner Reference Numbers (LRNs) to each students in public elementary and high schools. The 12-digit LRNs will serve as a permanent ID number which the student will use until he or she finishes high school.

Luistro explained that this will help DepEd track the overall participation rate of students in the country. Based on indicators presented by the education department, participation rate increased in elementary from 89.43% in 2009 to 89.89% in 2010, and decreased in high school from 61.26% in 2010 to 59.86% in 2011.
However, these figures do not include students who transferred to another school or to an informal learning program offered by DepEd.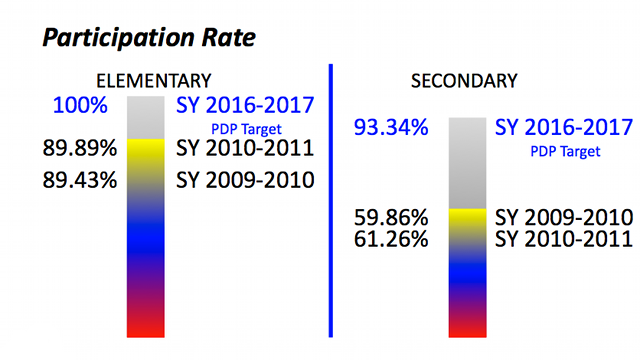 Luistro said that these numbers will help include all students as DepEd measures the participation rate, especially that the department is targeting a higher rate in the coming years.
"[With this number,] it's more valid to track where a student actually go. I think it's a better tracker for our participation rate," Luistro said.
The education department's preparations in providing enough resources and in developing its new curriculum will be tested tomorrow. – Rappler.com
Click the links below for more Rappler stories on education.