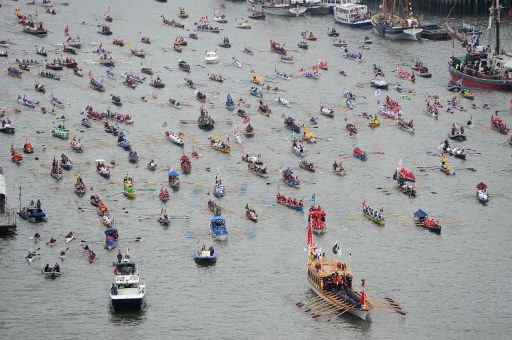 The 4-day festivities for the 60th anniversary of 86-year-old Queen Elizabeth II's accession to the British throne continued to be pompous and splendid during the weekend, and expected to culminate in another ceremonial parade on Tuesday, June 6. On Saturday, June 2, the queen indulged in her love of horse racing, before gracing the Sunday spectacle: a 1,000-boat river pageant on River Thames in London. It was the the biggest of its kind in 350 years, historians and analysts noted as rowing boats, cruisers, steam ships, as well as the Royal Yacht Britannia ship ferrying the queen and her royal family passed by. On Monday, there will be a concert in the shadow of Buckingham Palace featuring Beatles star Paul McCartney and other top names. The Jubilee festivities doubles up as a security rehearsal for the London Olympics that open on July 27.

Read more about the Thames River pageant on Rappler. 

Read more about the Jubilee celebration on Rappler.