Padaca says that she continues to be grateful to President Aquino for the distinct privilege of serving the country as Comelec commissioner for almost two years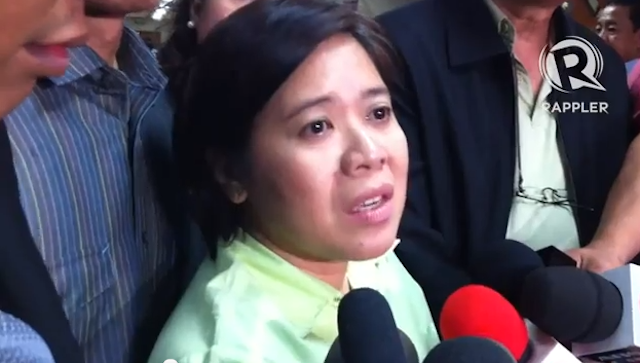 MANILA, Philippines – "There goes another chapter of my colorful life. On to the next one."
Now-former Commission on Elections (Comelec) Commissioner Grace Padaca broke her silence on Sunday, July 27, about her departure from the poll body, saying that she is not upset with President Benigno Aquino III for not reappointing her.
In a post on her Facebook account, Padaca said that she continues to be grateful to President Aquino for giving her the distinct privilege of serving the country as Comelec commissioner for almost two years.
"I was thankful when he appointed me to Comelec. Now that he has decided otherwise, why should I take it against him?" she said.
She also recounted a story about one of her staff members asking why her office was not yet "made beautiful" to serve as a "reflection of her personality in the workplace" like the office of other commissioners.
"I told her, 'It's because we have not yet been confirmed.' I feel no sense of entitlement to it," she recalled.
Padaca was not reappointed by Aquino following the bypass of her ad interim appointment by the Commission on Appointments (CA). On Friday, Rappler reported that Arthur Lim would replace her in the poll body.
Lim was a former president of the Integrated Bar of the Philippines (IBP), and a private prosecutor during the impeachment trial of ousted Supreme Court Chief Justice Renato Corona in 2013. (READ: Who is Arthur Lim?)
Appointed by Aquino in October 2012, Padaca does not think that the graft and malversation charge filed against her before the Sandiganbayan in 2011 was the reason she was not reappointed. (READ: Palace unsure about Padaca's reappointment to Comelec)
"Many people know that it was not an issue with the President when he first appointed me," Padaca said. She also noted that since February, her camp had been submitting evidences to the anti-graft court to prove her innocence.
The P25-million graft case was in connection with a credit facility project for Isabela's rice farmers in 2006. Padaca, who was governor of Isabela at the time, allegedly gave due advantage to one non-governmental organization for the project.
Letter to President Aquino
In addition, Padaca posted the letter she sent to President Aquino on Thursday, July 24.
In the letter, Padaca said that as Comelec commissioner, she was able to understand the country's election system.
"The Comelec has always been a mystery to me, way back when I was a broadcaster and more so when I became a politician… Your appointing me as Commissioner made me look at things from a privileged perspective, complete with authority to relate with senior officers as well as field personnel in all matters pertaining to the institution," she wrote.
Padaca also said that electoral reforms have always been her most important advocacy. In the letter, she asked President Aquino to consider two of her suggestions for the poll body:
A review of the law requiring local government units to provide office space for Comelec field personnel. Padaca says that the current set-up "makes the local Comelec [offices] dependent on politicians."

An increase in the salaries of Comelec personnel, especially those in the field, and the need for additional personnel in accordance with the number of registered voters they serve.
Future plans
Asked about her future plans, Padaca said that it was too soon to have an answer.
"I can only say for now that surely, I will not keep to myself the lessons I've learned from all the experiences and opportunities I've been blessed with. I know the Lord is sovereign and I have faith that everything will work together for good," she said.
Padaca also reported that her office is winding up and turning over documents and case files to proper Comelec departments, noting that it may be finished by the coming week.
"I keep in touch with Chairman [Sixto] Brillantes. I've also been spending some time with people whose opinion greatly matter to me. It is important that they hear from me," she added.
As for her message to the public, Padaca took the opportunity to promote the ongoing voter's registration for the 2016 national elections.
"Please lang po, magpa-biometrics kayo. Para walang sisihan. Importante talaga, maniwala kayo sa akin," she said. (Please validate your biometrics. So that we avoid the "blame game." This is important, believe me.) – Rappler.com