Philippine Health Information Exchange, a project of DOH and DOST will allow easy access to health information across the country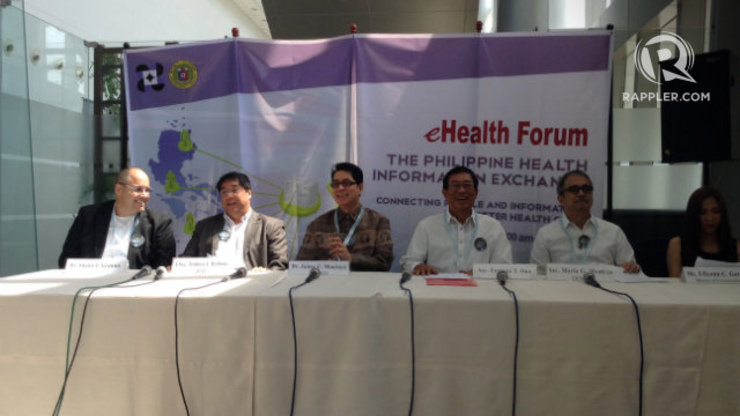 MANILA, Philippines – Inaccessibility of health care services and information, especially those in rural areas, is one of the perennial problems of the country's health sector.
To address this, the Department of Health (DOH) partnered with the Department of Science and Technology (DOST) to create a platform that will allow better access to health services, facilties and information.
The two agencies introduced the Philippine Health Information Exchange, a system that basically allows easy access to health information from the national to the barangay level, during an e-health forum held Saturday, July 26.
The forum, which was part of the 2014 National Science and Technology Week at the SMX Convention Center in Pasay City, also served as a venue to discuss possible ways to improve the health sector of the country through technology. 
Health information at your fingertips
The Philippine Health Information Exchange will store health-related data in the country and can be viewed by authorized health care providers.
Health Secretary Enrique Ona explained that having a centralized health information will help policy makers and health managers formulate better health programs.
Meanwhile, DOH Usec Teodoro Herbosa believes that having a system for shared information will be helpful especially to patients living in rural areas who do not have access to health services. 
"It will provide a single unified view of patients' data records across and between facilities, whether hospitals or clinics, to an interface that is accessible anywhere and anytime. Maybe even in your smartphones," Herbosa added.
Advantages
One of the main concepts of the Philippine Health Information Exchange is having a standard for all health data.
"What the country has at the moment are independent information systems that are unfortunately still subpar to developing international standards,"  Ona said.
Herbosa said having the Philippine Health Information Exchange will:
eliminate double counting very high maternal mortality records that might be inaccurate

prevent under reporting that may result to budget allocated incorrectly

assure reliability of data and avoid using obsolete data

avoid double data collection by different agencies

standardize data to allow ease of sharing and analysis

improve the completeness of data because of the exchanges among different health facilities
Another project in the health sector is the RxBox, a portable telehealth device equipped with sensors that allows patients to consult with health care specialists by simply measuring their vital signs and then transmitting them through a wireless connection.
Others, the android run e-tablet and e-hatid, which allow real-time access to health information for LGUs and health specialists, are also part of the initiatives in the health sector.
"Having these smarter technologies for better healthcare services and the capability to connect health information, we can now guarantee that our health specialists, policy makers and stakeholders will be smarter in formulating policies, and programs for the benefit of Mang Juan and Aling Maria," Science & Technology Secretary Mario Montejo said.
Privacy issues
Having a system that will house all health information in the country, privacy becomes one of the concerns of people.
Ona assured that the system will only consist of information such as the number of people having a particular disease and their age, among other things and will not reveal their identity.
"We've also created a group that [would] also create our standards for privacy in terms of sharing of patient information and patient health data," Herbosa added.
Call for ideas 
Among the other issues raised during the panel discussion were internet connectivity in rural areas, disasters and other factors that may affect the system.
Ona also encouraged stakeholders, policy makers and students to give ideas on how the Philippine Health Informaton Exchange can be institutionalized and what necessary incentives are needed for both the public and private sector to develop it. – Rappler.com