'If the MILF knows some details about it, they can give us information. If these allegations are true, we will look for these soldiers,' Philippine military chief tells reporters in Zamboanga City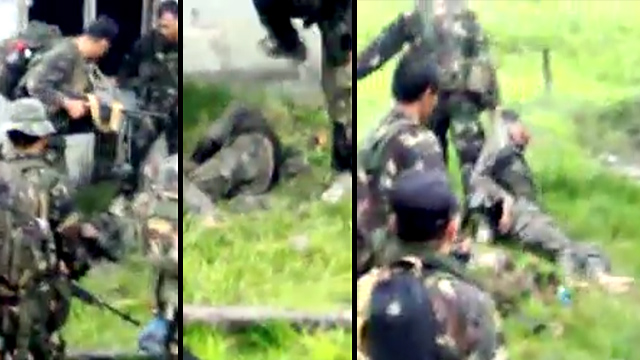 MANILA, Philippines – Armed Forces chief General Gregorio Catapang Jr said the Moro Islamic Liberation Front (MILF) should share to the military any information it might have on the video showing alleged soldiers brutally beating and killing a man. 
"We are checking on that. If the MILF knows some details about it, they can give us information. If these [allegations] are true, we will look for them (soldiers)," Catapang told reporters in Zamboanga City on Saturday, August 2. The new military chief is doing the rounds of military camps.
Catapang said abuses will not be tolerated in the military. "My campaign is: "Kawal disiplinado. Bawal abusado. Dapat asintado (Soldiers are disciplined. Abuses are not tolerated. They should be sharpshooters)," he said. 
The video circulated among MILF members in July likely because the voice in the video identified the victim as one of their members. The MILF investigated and concluded that the perpetrators are indeed soldiers but the victim is a member of the Bangsamoro Islamic Freedom Fighters (BIFF), an MILF splinter group.
The video was supposedly captured in June.  The military, which is probing the matter, believes the video is several years old, however.
Former Armed Forces chief General Emmanuel Bautista ordered a probe into the video a few weeks before he retired and turned over command to Catapang on July 18.
"We're having it investigated. Of course, we have to identify where it happened, when it happened, and what unit is involved. Is this really an authentic video? These are the things we are looking into," Catapang said.
The MILF, which has signed a peace agreement with the Aquino government, said it has submitted its initial findings to the joint Coordinating Committee on the Cessation of Hostilities, a body composed of government officials and MILF members tasked to monitor ceasefire and human rights violations in the area.
For several decades, the Philippine military has had to battle accusations of human right violations. After the fall of the Marcos dictatorship in 1986, the soldiers were made to undergo human rights training. Human rights has since become part of the military curriculum.
But problems persist in the battlefield, according to various human rights groups.
The Comprehensive Agreement on the Bangsamoro is meant to pave the way for lasting peace especially in MILF-controlled areas in central Mindanao. But this has not been easy, given the presence of the BIFF, the recruitment of international terrorists, and the continued presence of factors that fuel rebellion – poverty and government abuses. – Rappler.com