Liberal Party's presumptive presidential candidate Manuel Roxas II points to his poll protest alleging that Jejomar Binay cheated him, indicating he could've won in 2010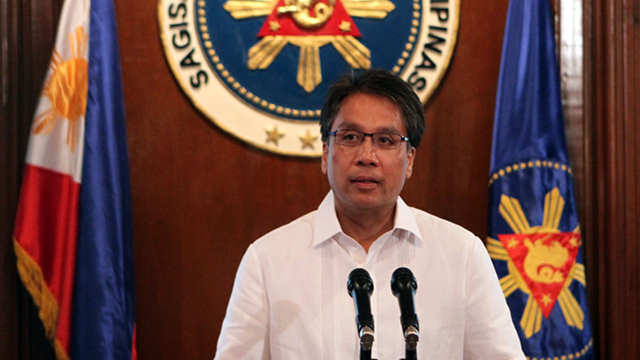 MANILA, Philippines – Come 2016, will the administration's presumptive presidential candidate, Interior Secretary Manuel Roxas II, stand a chance against current survey frontrunner Vice President Jejomar Binay?
Binay was the same man who defeated Roxas him in the 2010 vice presidential polls by less than 1 million votes.
Roxas believes he has a fighting chance.
He indicated this in an interview on "Beyond Politics" on the ABS-CBN News Channel Tuesday night, August 5.
Asked by host Lynda Jumilla if he thinks he stands a chance against Binay, Roxas pointed to the election protest he filed after the 2010 polls accussing the Binay camp of poll fraud. 
"Just to refresh your memory…the gap was just about 740,000 votes. There were 2.5 million ballots in the Visayas, where I'm from, that had a vote for president and none for vice-president," Roxas said.
A press release from the Department of the Interior and Local Government on Wednesday, August 6, said: "[Roxas] didn't say it as much, but he implied he had beaten Binay and would do it again."
Electoral protest
The country held its first nationwide automated polls in 2010 polls. Binay got 14 million votes, based on the tally of the Commission on Elections.
Roxas, who is from Capiz, claims the vote-rich Western Visayas as his bailiwick. The turnout was improbable, he said, highlighting the big number of null votes in the vice presidential race. 
Null votes are registered if the voters did not shade any of the circles corresponding to the names candidates in a particular position, say vice-president, meaning they abstained from voting. But it can also mean the voting machine misread the markings on the ballot. (READ: Politicians show why PCOS doesn't work)
Roxas filed a protest before the Presidential Electional Tribunal to open 26,000 compact flash cards that stored election results. The case is pending.
Roxas was the original Liberal Party presidential candidate for 2010 but he gave way to party mate Benigno Aquino III when there appeared to be a clamor for Aquino to run after his mother, former President Corazon Aquino, died in August 2009.
A matter of destiny
While Aquino won by a landslide, his supporters were split between Roxas and Binay. Political circles during the campaign were rife with talks that Aquino's relatives were supporting Binay, a close family friend, and not Roxas.
On Wednesday morning – after Roxas' guesting on ANC and a day after the Liberal Party issued a statement implying they would not take Binay in – the President's sister Kris Aquino said on national TV that the Aquino sisters are open to endorsing Binay for president in 2016. 
Roxas is currently tailing in the presidential surveys. An internal survey earlier obtained by Rappler shows Senator Grace Poe has bigger chances than him. (READ: Even with Aquino endorsement, more prefer Poe over Roxas)
Roxas has suffered a beating following his dismal performance in responding to big calamities that hit the country last year, especially the government's slow response to Super Typhoon Yolanda (international name: Haiyan).
But Roxas is not giving up. The presidency, he said, is a matter of destiny. What he can promise is he will continue the programs of President Aquino if he is elected to succeed him. 
"Some say it is destiny. To others, it's a gift from the people…but I'm ready to face whatever the future holds in store." – Rappler.com